The Wedge Horse by Fault Line Theatre
At NY's IATI Theater Mainstage
By:
Deborah Heineman

-

Feb 18, 2016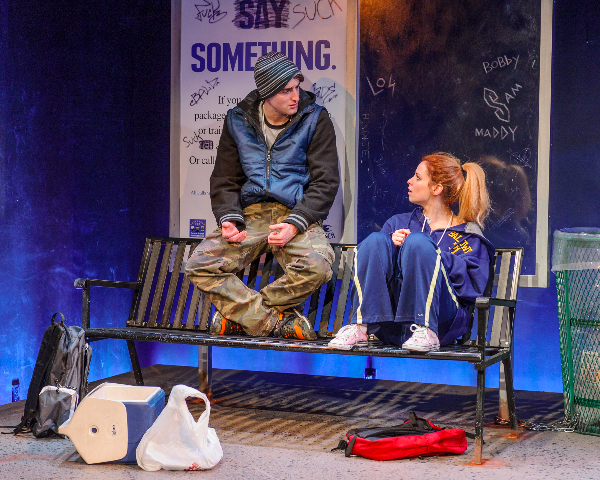 All the action in "The Wedge Horse"by Nick Gandiello, the latest offering from Fault Line Theatre, the collaborative brainchild of Co-Artistic Directors and buddies from Brown University, Craig Wesley Divino and Aaron Rossini – takes place on a typical Long Island Railroad station platform, where graffiti defiles poster ads with four letter words, and local teens gather to plan rumbles with rivals, make out with dates, and dream of getting away from their parents and dead-end lives.
The theme is not new – especially since the dramatic incident that triggers the play's theme of how we react to each other and our world when tragedy strikes is the loss of a loved one in one of the Twin Towers – but the play succeeds because of the remarkably empathetic acting and the down-to-earth, credible dialog.
Bobby (Charles Thurston) and Maddy's (Ali Rose Dachis, who recently starred on Broadway in "Fish in the Dark" with Jason Alexander) older brother – clearly the "golden boy" of the family -- was an intern at one of the firms with offices in the World Trade Center. His buddy, Carlos (Jorge Eliezer Chacon), a Dominican boy from the "other side of the tracks" to whom he stayed loyal even when he started to succeed, has now befriended Bobby and is romantically involved with Maddy – much to Bobby's dismay. All three hang out at the station, bored with their lives and trying to escape the pall of misery and mourning in their homes.
Bobby and Maddy's dad (whom we never see) has decided the proper response to his eldest son's death is revenge. He is actively pressuring his two remaining children for their support. The mother is suffering and grieving silently. The divergent coping mechanisms of their parents are taking a toll on the marriage, on the surviving children. It impacts even on Carlos, who alternates between street hood ready to challenge the rival gang, ersatz older brother and protector of Bobby and Maddy. He's a loyal immigrant's son, who wants somehow to make his family proud.

Chacon does a wonderful job of making Carlos an extremely likeable fellow – despite the intimidating doo-rag and tattoos. This boy could just walk away from the distressed family of his dead acquaintance but that is just not in his brave and caring nature. Chacon makes that subtly clear.
Each character must ultimately decide whether to channel their hurt at the loss of a loved one into either violence or healing. Each must determine what that means for their relationships with the family and friends who still remain.
"The Wedge Horse" is produced by Craig Wesley Divino and Melanie Hopkins, and features scenic design by Tristan Jeffers, with lighting design by John Eckert, sound design by Chad Raines, and costume design by Izzy Fields.will be at IATI Theater Mainstage (64 E. 4th St., NYC) until February 21. Tickets are on sale at http://faultlinetheatre.tix.com