Breach by Antoinette Nwandu
At Victory Gardens Theater in LIncoln, Illiinois
By:
Nancy Bishop

-

Feb 22, 2018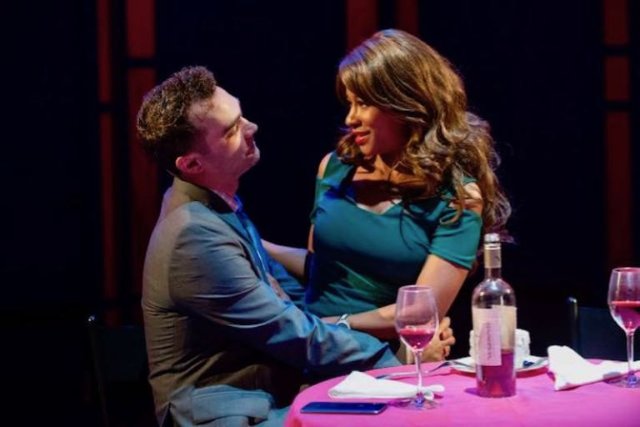 Breach: a manifesto on race in america through the eyes of a black girl recovering from self-hate is a world premiere at Victory Gardens Theater. The play's long title might mislead you into thinking you're going to see a different sort of play. Lisa Portes directs a solid cast of five in this funny, moving, but somewhat predictable play by Antoinette Nwandu.
Breach might remind you of a TV sitcom filmed before a live audience. The short, fast-moving scenes and many lines about love and relationships had the opening night audience laughing uproariously. Or perhaps they were just happy to get away from the IRL news of the week.
The play opens with Margaret (played with nuance by Caren Blackmore) on a date with her boyfriend, Nate (Keith D. Gallagher), an investment banker who loves to talk about his work and his money and doesn't seem to think her work is very important. During the flirtatious conversation, Maggie (as he calls her), remarks that she doesn't date black guys. (When he proposes marriage later and refers to their relationship as a merger, not an acquisition, his fate is already set.)
Margaret is a community college English teacher who just received a minor promotion to make up for the fact that a man was brought in to take the higher-level position she thought was hers. She and Rasheed, the new faculty member, have to share an office while his is being renovated. Al'Jaleel McGhee plays Rasheed with strength and heart. While their relationship is at first contentious, it quickly becomes romantic, although Margaret tries to back away from anything serious. She finds herself torn between her feelings for the two men. But since Nate proves himself a jerk in the first five minutes of the play, the competition is never serious.
The play's two other characters add balance and humor to this love triangle. Carolina, a pregnant young woman who cleans offices, comes in to work in Margaret's office and, in a very funny scene, manages Margaret into doing the cleaning herself. Karen Rodriguez plays Carolina perfectly as a gutsy, sympathetic woman. Rodriguez (you may remember her in Steppenwolf's The Rembrandt or in Hookman at Steep) is a terrific comic actor and fully develops her role as Carolina.
The other rich character is Margaret's Aunt Sylvia (Linda Bright Clay), who lives with her. Sylvia is not well and Margaret tries to help her aunt improve her condition by healthy eating. But Sylvia is having none of that. Starting with an accident of timing. Sylvia and Rasheed become acquainted and develop an emotional connection.
The play's title suggests a serious discussion on race in America, but Breach is a humorous take on romance, dating life and work, both Margaret's and Carolina's. An underlying theme explores the self-hate idea, as Margaret's feelings about her absent father are revealed. However, Nwandu's script isn't persuasive in making us believe in Margaret's personal journey.
Portes' direction and attention to timing are nearly flawless. Linda Buchanan's simple set design is effectively highlighted by Heather Gilbert's lighting. Samantha C. Jones' costuming is low key, except for Margaret's too-much wig in act one.
Nwandu's new play is worlds apart from her brilliant Pass Over, skillfully directed by Danya Taymor last year at Steppenwolf Theatre. Pass Over was a serious riff on Beckett's Waiting for Godot and the biblical Exodus story. Nwandu described Pass Over as "confrontational and deeply unsettling by design." (That could hardly describe Breach, which actually was written earlier even though it is just being staged now.) In commenting on some of the criticism of Pass Over, Nwandu said, "I write plays that hold a mirror up to society, that expose the darkness as a means to finding light. This is necessary work. Healing work." (Spike Lee has filmed a movie version of Pass Over; it was screened at the Sundance Film Festival in January but there's no national release date yet.)
Breach: a manifesto on race in america through the eyes of a black girl recovering from self-hate continues at Victory Gardens Theater, 2433 N. Lincoln, through March 11. Running time is two hours including one intermission. Tickets are $15-60 for performances Tuesday-Sunday.
Posted courtesy of Third Coast Review.