Tosca at San Francisco Opera
On Screen Outdoors
By:
Victor Cordell

-

Feb 23, 2021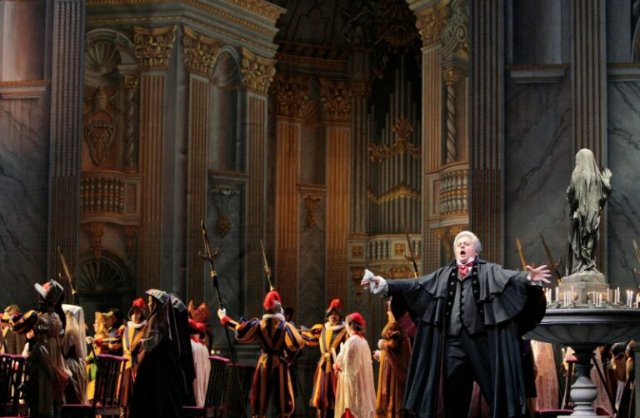 San Francisco Opera's stage at the War Memorial Opera House has remained dark for nearly a year.
Happily, the company keeps touch with its patrons by initiating informative programs and delivering streaming performances of previous productions online. It has now embarked on events to rouse its community out of their chairs and sofas. Last weekend, SF Opera offered four screenings in the drive-in movie format at Fort Mason. The filming was the company's 2009 fine production of Puccini's brilliant "Tosca." A review of the film of a 12-year-old stage production that has completed its drive-in run may seem fatuous. However, it could be of interest to those who might consider viewing a future streaming of the production or buying an electronic copy.
Although not without its detractors, who consider it melodramatic and musically harsh, audience and most music critics' love of "Tosca" have not wavered since overcoming its hostile debut in 1900. In contrast with the lyrical beauty of the other two of Puccini's top three operas, "La Boheme" and "Madama Butterfly," "Tosca's" music and drama are bombastic and conflictual almost throughout. But this opera is also exceptionally artful in many dimensions and includes several masterful arias and love duets.
As specified by the score, the SF Opera's Marco Armiliato-conducted orchestra roars and often punctuates with the deliciously ominous and powerful Scarpia leitmotif. As one of the most demanding roles in the repertoire, the title character demands a soprano with the dramatic vocal power of a Wagnerian, who is able to caress poignant Pucciniesque melody. Oh, and she must possess a full palette of acting colors with an array of emotions. Two male leads must also be of top-caliber.
San Francisco Opera appeals to opera singers as a company, and it possesses one of the great singer development systems, thus performers in support roles are generally excellent.
Since aficionados value seeing multiple productions of the same opera, the notion of a plot spoiler doesn't really exist in this realm. So here's a synopsis of the central plot. In 1800, painter Cavaradossi is a partisan sympathizer opposed to Napoleon's domination of Rome. When caught harboring a political enemy of the state, he is tortured by the police. The scheming chief of police, Scarpia, courts sexual favors from Tosca with the promise of freeing her lover, Cavaradossi. All goes awry. All three die – violently, of course.
Adrienne Pieczonka plays Tosca, and she possesses the vocal and dramatic chops required. She retains pitch control while singing at full power for extended periods, especially during the high tension train wreck of Act 2, full of intrigue, interrogation, intimidation, betrayal, torture, and more. But amidst this melee comes Tosca's beautiful signature aria "Vissi d'Arte" (I lived for art). It emerges after a significant pause which renders an almost dreamlike quality as Tosca seems to imagine herself removed to another place. Pieczonka delivers the aria with confident assertiveness, but the style of a plaintive lament might better fit her ethereal escape.
Antagonist Scarpia is deftly performed and solidly sung by Lado Antoneli, though his "Te Deum" would have benefited from a stronger lower register. The artist's patrician gray wig and unthreatening visage belie his character's nihilistic sadism. Though falsely pious, polite, and proper when necessary, Scarpia's singing "I savor violent conquest more than surrender" reveals his inner rage. Antoneli mines these contradictions well as he punishes Cavaradossi and manipulates Tosca into a compromising position.
Spinto tenor Carlo Ventre is Cavaradossi. Blessed with a warm vibrato, he sings in a manner associated with some Italian singers which is the opera corollary to country music twang. Some listeners may not care for this style which is most evident in his beautiful Act 1 number "Recondita Armonia" (Concealed harmony). But in his Act 3 lament, "E Lucevan Le Stelle" (And the stars were shining), the whine is less discernable, and he excels in this famed aria as he reflects on love and contemplates his imminent execution.
San Francisco Opera appeals to opera singers as a company, and it possesses one of the great singer development systems, thus performers in support roles are generally excellent. This is true of "Tosca," led by Dale Travis as the nervous sacristan. Stage Director Jose Maria Condemi marshals top-ranked creative designers. The opera plays on a world-class set designed by Thierry Bosquet.
Of course, this is a filming of a stage performance, not a movie, and some shortfalls should be expected. A great fear in filming a staged opera is that it will seem static, like a video archival record. In this case, multiple cameras are used, but they shoot from fixed positions — meaning they can zoom and pan, but not dolly. Editing cuts are sharp, so while there is reasonable variety in camerawork, the outcome is somewhat jerky and stilted. In addition, lighting and sound production are designed for the live audience, not for filming, so some deficiencies exist. That said, this is a fine production with a great cast performing one of the great operas in history. It is a worthwhile watch.
"Tosca" composed by Giacomo Puccini with a libretto by Luigi Illica and Giuseppe Giacosa was produced by San Francisco Opera in 2009 and played on-screen outdoors at Fort Mason on February 12-14, 2021. SF Opera has also announced newly-coined "live at the drive-in"—including productions of "Barber of Seville" and a concert of the Adler Fellows.
Courtesy Aisle Seat.