Music Man on Broadway
Thrilling Hugh Jackman
By:
Karen Isaacs

-

Feb 26, 2022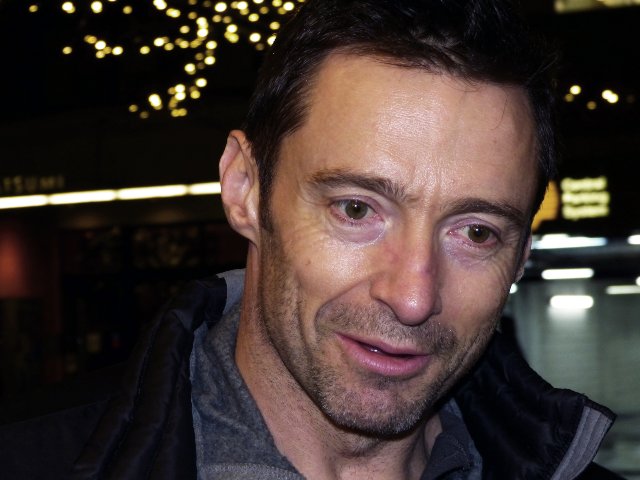 Dear Hugh Jackman – PLEASE keep doing Broadway shows – particularly musicals.
I've gotten a lot of questions if the current revival of The Music Man is worth seeing? After all, some NYC critics gave it very mixed reviews.
Yes, it is worth seeing, even with Broadway ticket prices. Is it a perfect production? No. I'll tell you why later.
Yet, I had a terrific time.
It has one major asset: It stars Hugh Jackman. I admit to being a Jackman fan since I first saw The Boy from Oz.
He is a consummate performer; he can get an audience eating out of the palm of his hand. He can sing and dance up a storm and still look like he's having a great time. The charisma and the talent are there.
Despite my quibbles about some of the elements of the production, I would go see it again in a heartbeat. Jackman is THAT good.
Yet, I do have complaints about some choices director Jerry Zaks made.
The opening number isn't one of them. It is staged traditionally with all the salesman talking shop on the train until one or two complain about the salesman Harold Hill. When the train stops in River City, Iowa, Hill rises from his seat and announces he will try his luck in Iowa.
In case you have never seen the show or the movie, The Music Man is one of the classic musicals of the 1950s. It tells the story of "Professor" Harold Hill who arrives in River City, Iowa on July 4, 1912, and convinces the population that their young people are in terrible trouble that can only be solved by a boys' band. They can purchase the instruments and uniforms from him; he will give the boys lessons. It is all a con; he knows nothing about music and plans to leave town when the uniforms arrive.
In short order, he is trying to romance the local librarian/piano teacher and cozying up to the Mayor's wife.
I will assume you can guess the final curtain.
The original production and movie starred Robert Preston who revitalized a career that had been limited to supporting film roles. He was magnificent in the role. Playing Marion, the librarian/piano teacher was the wonderful Barbara Cook.
Meredith Willson wrote the book, lyrics and music. It was, he said, based on his small hometown in Iowa. He wasn't an unknown – he had been a musician, a bandleader/sidekick on radio, and had written many songs including "It's Beginning to Look a Lot Like Christmas" and "May the Good Lord Bless and Keep You."
It is a joyful musical, with a score that you can hum.
What are the good things besides Jackson? Overall, the supporting cast is excellent. Jefferson Mays as the Mayor, Jayne Houdyshell as his wife Eulalie and Shuler Hensley as Marcellus (Hill's former sidekick), now gone straight. Mays makes the most of a small role – the Mayor mostly blusters and confuses words. Houdyshell keeps Eulalie from being two pretentious and Hensely doesn't play Marcellus only for laughs. The two children – Benjamin Pajak who plays Marion's much younger brother and Kayla Teruel as one of her piano students – are delightfully natural.
The choreography by Warren Carlyle incorporates some of the dances and rhythms of the period. It shows off Jackson's skills and those of Sutton Foster who plays Marion.
I enjoyed the scenic and costume design by Santa Loquasto as well as the lighting by Brian MacDevitt and sound by Scott Lehrer. A special mention to Campbell Young Associates who were responsible for the wigs. Mrs. Shinn's was a marvel.
Now the downsides. First, Sutton Foster is a great talent. I have enjoyed her in all her shows. But here she is seriously miscast. Her voice can't really handle the music, even with keys being lowered. You can hear the strain for the higher notes and the shift between her upper and lower registers sounds rough. The interpretation of the role was also one-dimensional. Marion is a practical woman or perhaps just disillusioned on the outside but a romantic on the inside. Foster only really gives us the outside of Marion. Even when she sings "Goodnight, My Someone" and "My White Knight" you don't feel the longing.
Several cast members seem too old for their roles. If Marion's mother is also the mother of Winthrop who is just seven years old, she can't look as though she is 60. Marie Mullen handles the role well but her costumes, wigs, etc. make her look way too old. In fact, Foster looks too old, as well. It's unlikely that Marion (who looks in her 30s) would have a brother that young.
While Gino Cosculluela is a terrific dancer and fine in the role of Tommy Djilas who is courting the mayor's teenage daughter and helping Hill, he also looks well into 20s.
Zaks has managed to overextend some numbers ("Shipoopi" for example which opens act 2),but he has also short changed others. "The Sadder and Wiser Girl" and "Til There Was You" are rushed through. Plus, he has put Jackson and Foster center stage in almost everything. "Shipoopi" really should feature Hensley as Marcellus but Jackson and Foster take over.
"My White Knight" is the quintessential song of longing: Marion telling us what her dream of an ideal mate would be. I know the song was rewritten scores of times during the show's progression to Broadway, (there were even rumors that another composer did some of it), but I have no idea what version Zaks and music director Patrick Vaccariello used. There is a minuscule credit line saying "additional lyrics by Marc Shaiman and Scott Williams." If they are responsible for turning this beautiful ballad into more of a patter song, I have lost all respect for them.
After reading about all my complaints, you may wonder why I recommend the show so highly. Easy. Hugh Jackman and more Hugh Jackman, the glorious score and the sweetly romantic story.