Christine Goerke Unleashes Elektra
Hezet-Seguin Leads the Metropolitan Opera Production
By:
Paul J. Pelkonen

-

Mar 03, 2018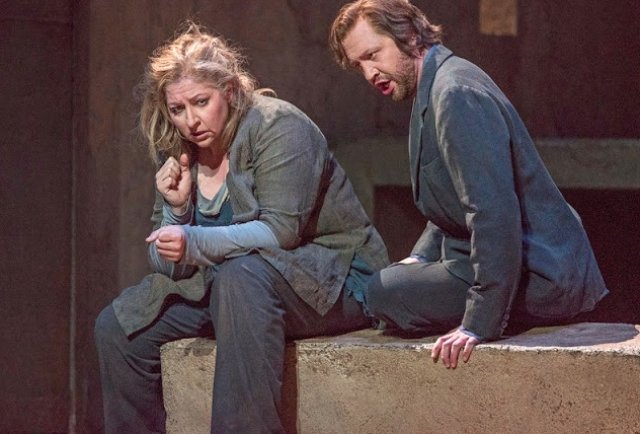 There comes a time in the career of an opera singer when they are the artist of the moment. For Christine Goerke, the American dramatic soprano who sang the title role of Elektra at the Metropolitan Opera, that time is now. Goerke has sung the role on other stages to great acclaim, both here and elsewhere. However Thursday night was a watershed: the dramatic soprano's long-awaited return to singing major Strauss roles on America's largest operatic stage.
Elektra was the first of six collaborations between Strauss and Hugo von Hoffmannsthal. It is an opulent, German-language adaptation of Sophocles' play, in which the bedraggled Elektra plans to revenge the death of her father King Agamemnon at the hands of her mother Klytaemnestra and her mother's lover Aegisth. At 100 minutes long, with a decidedly fatal conclusion, it is an intense ride. Performances can degenerate into a spectacle of shrieking sopranos struggling to be heard over the roaring, bloody tide of Strauss' heavyweight orchestration.
That's not what happened here.
Goerke sang with clear intent and power, delivering a nuanced psychological portrait of the princess. She sang the big moments with the right ring of metal in her plus-sized voice and built huge bridges of sound to reach these lofty peaks. The big monologue moments, starting with the famous "Allein! Weh, ganz allein" were sung with a quality that can only be described as three-dimensional, with Goerke bringing an actor's nuance to every syllable and gesture. This was not a perfect performance: there were some rough patches in her first scene with Chrysothemis, but those flaws only served to enhance the humanity of Elektra: a woman forced into impossible circumstances by forces beyond her control.
Chrysothemis (Elektra's "good girl" sister) was sung by Elza van den Heever. The Dutch soprano showed the audience that behind her bel canto exterior hides a voice of stunning audacity and power. Ms. van der Heever made Chrysothemis into a believable and real princess, caught between her fear of their mother Klytaemnestra and her anxiety about the behavior of her unstable sister. The second scene shared by the two sisters, in which Elektra tries to talk her sibling into murdering their mother, made the flesh crawl with its cloying seduction that quickly turns into sibling-on-sibling domestic violence.
As Klytaemnestra, newcomer Michaela Schuster made her house debut. This is tricky music, where Strauss flirts with the idea of atonality and calls on the singer to produce an astonishing range of vocal effects to create the image of the haunted, sleep-deprived queen. It is nightmarish stuff for the listener and the artist performing it. Schuster rose to the challenge, developing dramatic intensity with Elektra as their dialogue eventually built to threat level. At the work's climax, she let out the all-important offstage death scream, and collaped onstage, ending a strong performance.
In the second half of the show, Elektra realizes that the man who had come to tell her of her brother's death is in fact Orestes himself. Mikhail Petrenko sang this part with firm, round, tone, using his full bass to convey the terror and conflict within the man who was about to become a matricide. In the famous Recognition Scene, soprano and bass ran an astonishing gauntlet of emotions, surfing on the huge wave of Straussian orchestra that was enhanced with the temporary addition of extra violins.
In the pit, Yannick Nézet-Séguin led a detailed performance that had plenty of power but knew when to slow down and let the glowing details of this magnificent score out to play. The supporting cast was notable, with ex-Siegfried Jay Hunter Morris entering, blustering and (thankfully) dying (shrilly) as Aegisth, Lisa Gwyn Daltirus making a notable debut as the Fifth Maid. Patrice Chéreau's staging still works, providing a bland, almost classical backdrop for these events instead of the usual broken columns or haunted House of Atreus. (Reprinted from Superconductor by permission).