Safe House
An Immersive Theatrical Experience in Sarasota
By:
Aaron Krause

-

Mar 03, 2021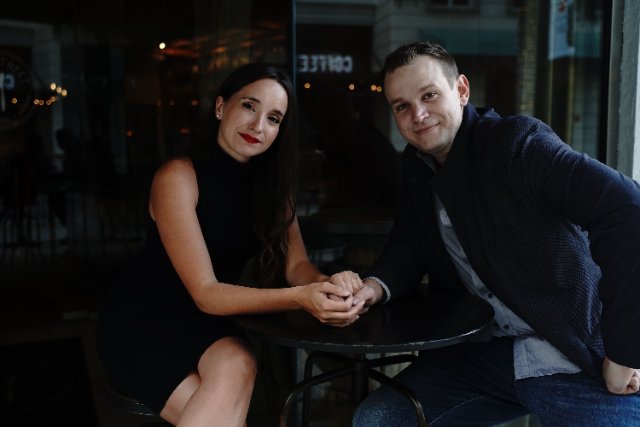 After Fletcher leaves his cybersecurity job with a powerful corporation, he and his wife, Ava, hide with damning company secrets.
Then Ava mysteriously disappears. But where did she go?
Fletcher turns to strangers to find out.
Without a doubt, Safe House, which does not include live actors, is hardly typical live theater. And "audience members" are anything but passive viewers. Instead, they are the strangers to whom Fletcher turns to find his wife.
Like many companies these days, Sarasota's Urbanite Theatre is looking beyond Zoom to create safe, socially-distanced theater that still entertains, enlightens, and moves audiences in some way.
Actually, "audiences" will be on the move for Safe House, which opened recently and runs through April 4.
Specifically, participants will need to interact with an environment in order to propel the story toward its conclusion. That environment includes devices such as TV projectors and IPads, through which you will hear recorded voices. They belong to actors who play Fletcher and Ava, perhaps providing you with clues during your mission. Chris Hayhurst plays Fletcher, while Krystal Millie Valdes portrays Ava.
Safe House's creator, Urbanite Theatre co-artistic director Brendan Ragan, began working on the project back in October, in partnership with Triforce Pictures, a full-service production company. Ragan wanted to create a "fun, exciting" theatrical environment which a couple people at a time could experience. And so, Ragan combined the elements of an escape room and haunted house to form Safe House, an immersive, walk-through experience with pre-recorded elements. The difference between a museum's hands-on exhibit and Safe House is that the latter includes a plot and characters, Ragan said.
He said in some escape rooms, participants can actually fail. But that's not the case with Safe House. If you need help along the way, someone from the theater will try to provide it.
"This type of show is completely unique to our theater," Ragan said.
Normally, Urbanite Theatre stages contemporary plays with five or less characters that playwrights have written within the past five years. But like practically all companies, the pandemic has forced Urbanite Theatre to get creative.
Ragan said he wanted to create a challenge for audience members that wasn't too hard or too easy. He added it took him about six weeks to create Safe House. In fact, he said he's still working on it.
So far, Ragan said the response from audience members and fellow artists has been positive. He added that he's received "great feedback."
"It was super challenging (to create)," Ragan said. "It was a huge mountain to climb."
Basically, he had to create a hybrid between a film and a live theater piece.
"If a theater show and an escape room and a movie were to have a baby, it would be Safe House," Ragan said.
Safe House's run time is about 40 minutes, but will vary with each group's experience. Urbanite Theatre will limit each viewing to four patrons. Masks and temperature checks are required. For tickets, visit https://web.ovationtix.com/trs/pr/1035537. And for more information about Safe House, or Urbanite Theatre, visit https://www.urbanitetheatre.com. By telephone, you can reach Urbanite at (941) 321-1397. The company is located at 1487 2nd St. in Sarasota.