Annual Steinberg Awards Finalists
Juried by American Theatre Critics Association (ATCA)
By:
Charles Giuliano

-

Mar 04, 2017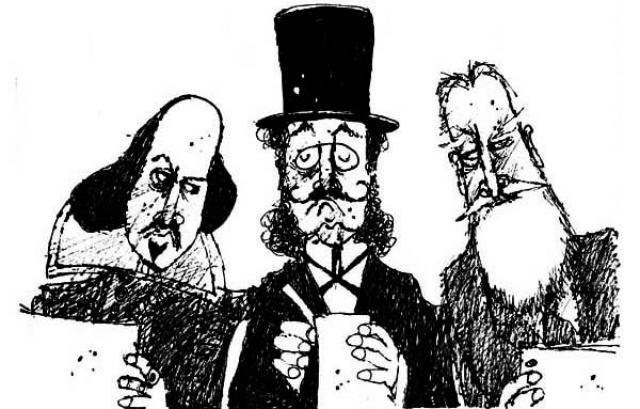 The American Theatre Critics Association (ATCA) has selected six finalists for the Harold and Mimi Steinberg/American Theatre Critics Association New Play Award, recognizing playwrights for the best scripts that premiered professionally outside New York City during 2016.
The top award of $25,000 and two citations of $7,500 each, plus commemorative plaques, will be presented April 8 at Actors Theatre of Louisville during the Humana Festival of New American Plays. At $40,000, Steinberg/ATCA is the largest national new play award program of its kind.
In 1977, ATCA began to honor new plays produced at regional theaters outside New York City, where there are many awards. No play is eligible if it has gone on to a New York production within the award year. Since 2000, the award has been generously funded by the Harold and Mimi Steinberg Charitable Trust.
The finalists, alphabetically by play (including comments from the judging panel):
in a word, by Lauren Yee – "Important and honest questions are being asked, here," commented one panelist. "Yee's masterful drama about a mother's living nightmare after a child's disappearance is a mystery of word puzzles" that are "lyrical and haunting and very well-constructed." "To have an ending that is satisfying dramatically but still appropriately unresolved is a tough nut to crack and this one does it." "in a word," received a rolling world premiere via the National New Play Network at the San Francisco Playhouse, the Cleveland Public Theatre, and Chicago's Straw Dog Theatre.
The Ice Treatment, by Nate Eppler – "Compelling, with fast moving story and well-constructed dialogue…plus a cosmonaut," opined one panelist of Eppler's darkly funny take on celebrity, concerning a "modern day, working-class monster—or is she?" "Always on the verge of careening out of control, the tonal shifts are wild," chimed in others of this "interrogation of the American Dream" as an ice skater "writes her own story, regardless of the truth. "The Ice Treatment" had its world premiere at Actors Bridge Ensemble in Nashville, TN.
Man in the Ring, by Michael Cristofer – With "the inexorable feel of a classic tragedy," this drama "with its Caribbean songs and its rhythm and thrust, seems at first to be a play of beautiful and utter simplicity. But au contraire." Based on the true story of a boxer who killed a man in the ring, "the playwright threads through guilt and tragedy, weaving past and present together seamlessly." This rich play stays "within the playwright's total control while allowing for the frayed edges that make it feel alive and not premeditated." "Man in the Ring" premiered at Chicago's Court Theatre.
Mary Page Marlowe, by Tracy Letts – "Generous and incredibly specific," Letts' play drew panelists in "by both the flawed, multifaceted woman at the play's center and how the non-linear storytelling painted this vivid picture of her." Added others: "The beauty of this play, the originality, the well-crafted scenes – with a scope so much larger than so many 'issue' plays" brought to life "an imperfect, fascinating, stalwart character…who doesn't yield her story to any of the people around her." "Mary Page Marlowe" premiered at Steppenwolf Theatre in Chicago.
Time is On Our Side, by R. Eric Thomas – Who gets to tell our stories? And why do they tell them? Those are some of the questions asked in Thomas' tale of podcasters who discover a hidden diary. The play features "fantastic language," and "sharp wit" that "could have become a sentimental mess at any moment but somehow always saved itself." "Time is On Our Side" premiered at Philadelphia's Sympatico Theatre.
Visiting Edna, by David Rabe – With "extraordinarily constructed dialogues and monologues that are simultaneously wide-ranging and super specific," Rabe's play is primarily focused on a dying mother and her son but with characters including her TV…and Cancer itself. "While aging and dying may be all around us in the theater, right now," commented one panelist, "I found this play particularly brave and honest and deep, without getting sentimental or trying to be existentially profound, about what it means to face death (both for mother and son). I can't shake this play. And I don't want to." "Visiting Edna" had its world premiere at Chicago's Steppenwolf Theatre.
These six finalists were selected from eligible scripts recommended by ATCA members from around the country. They were evaluated by a committee of theater critics, led by Lou Harry of the Indianapolis Business Journal/IBJ.com.
Other committee members are: Misha Berson, Seattle Times, American Theatre (Seattle, WA); Bruce Burgun, The New Orleans Advocate (New Orleans, LA.); Lindsay Christians, The Capital Times (Madison, WI); Michael Fischer, The Milwaukee Journal-Sentinel (Milwaukee, WI); Pam Harbaugh, BrevardCulture.com,florida.theatreonstage.com (Indialantic, FL); Michael P. Howley, theatremontgomery.blogspot.com (Montgomery, AL); Erin Keane, managing editor, Salon.com (Louisville, KY); Mark Lowry, TheaterJones.com, Fort Worth Star-Telegram (Dallas, TX); Jonathan Mandell, NewYorkTheater.me, DC Theatre Scene (New York, NY); Julius Novick, veteran critic and professor (New York City); Marjorie Oberlander, The Shakespeare Newsletter (New York, NY); Kathryn Osenlund, Phindie, CurtainUp (Philadelphia); Wendy Parker, freelance (Midlothian, Va); David Sheward, ArtsinNY.com, Theaterlife.com (Jackson Heights, NY); Martha Wade Steketee, Howlround.com, TDF Stages (New York, NY); and Perry Tannenbaum, Creative Loafing, CVNC.org, (Charlotte, NC).
"The opportunity to experience outstanding work from around the country is one of the great pleasures of working on this project," said committee chair Lou Harry. "Another is to participate in debates among learned colleagues with a wide range of theatrical experience. The result, I'm proud to say, is that awards will be going to deserving playwrights who are adding to the theatrical wealth of the world. Thanks to the Steinbergs, these plays will have extra light shining on them."
Since the inception of ATCA's New Play Award, honorees have included Lanford Wilson, Marsha Norman, August Wilson, Arthur Miller, Mac Wellman, Adrienne Kennedy, Donald Margulies, Moises Kaufman, Craig Lucas, and Robert Schenkkan. Last year's honoree was "Vietgone" by Qui Nguyen. For a full list of all of our winners and runners-up, go towww.americantheatrecritics.org and click on Steinberg-ATCA under Awards.
The Harold and Mimi Steinberg Charitable Trust was created in 1986 by Harold Steinberg on behalf of himself and his late wife. Pursuing its primary mission to support the American theater, it has provided grants totaling millions of dollars for new productions of American plays and educational programs for those who may not ordinarily experience live theater.
ATCA was founded in 1974 and works to raise critical standards and public awareness of critics' functions and responsibilities. The only national association of professional theater critics, with several hundred members working for newspapers, magazines, radio and television stations and websites, ATCA is affiliated with the International Association of Theatre Critics, a UNESCO-affiliated organization that sponsors seminars and congresses worldwide.
ATCA also presents the M. Elizabeth Osborn Award, honoring emerging playwrights. It also administers the $10,000 Francesca Primus Prize, funded by the Francesca Ronnie Primus Foundation, honoring outstanding contributions to the American theater by female artists who have not yet achieved national prominence. Annually, ATCA makes a recommendation for the Regional Theatre Tony Award presented by the American Theatre Wing/Broadway League and votes on inductions into the Theater Hall of Fame. For more information on ATCA,visit www.americantheatrecritics.org.
For more information on the Steinberg/ATCA Award, contact Lou Harry, ATCA New Plays Chairman, Arts & Entertainment Editor/Indianapolis Business Journal/IBJ.com, lharry@ibj.com or Wm. F. Hirschman, chairman of ATCA executive committee muckrayk@aol.com