Boston Rock Archivist David Bieber
Collection of 600,000 Objects
By:
Charles Giuliano

-

Mar 07, 2019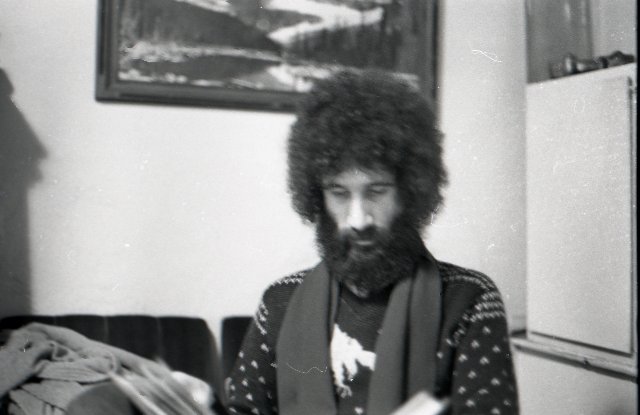 Archivist David Bieber discovered Billboard Magazine while an avid rock fan in high school. In college he became a campus correspondent for the music magazine. That continued when he matriculated to Boston University for a graduate degree in communications. For research and writing he collected Billboard and other print media.
He wrote a 150 page masters thesis on the rise of alternative media. It became a calling card resulting in the position of music director for WBUR FM. While expanding freelance writing he went on to promotion and marketing positions at WBCN and the Boston Phoenix.
With limited assistance he is engaged in organizing and cataloguing a collection of some 600,000 objects. He was also instrumental in placing the archive of former Boston Phoenix entrepreneur, Steven Mindich, with the library of Northeastern University.
In a wide ranging dialogue Bieber provided an intensive overview and insights about the counterculture of the arts and media in Boston. He was an invaluable resource for the Bill Lichtenstein film WBCN: The American Revolution.
David Bieber I have known you as long as anyone in Boston. You haven't missed a beat and present very realistic challenges as we discussed the other night.
Charles Giuliano When you were in graduate school at Boston University there was no archive to do the research for your thesis. As I understand it that's when you started to collect issues of Billboard Magazine and related music industry materials.
DB It started before then. I was at Miami University in Ohio as a business major. I had seen my first issue of Billboard Magazine in Cleveland in the spring of 1963. I was a high school student and one of those teenagers who had to have every copy of the Top 40 list from WHK. I was completely unaware of how chart positions were established even on local play lists.
If I was at summer camp I would compel my parents to go to the record store so I would not miss a week's hit survey. When I found Billboard in a downtown store it demonstrated to me and my parents that there was a music industry. There were publications like 16 Magazine. They were just teen magazines nothing like later Rolling Stone, Creem, Fusion, and Crawdaddy. Just to see Billboard was a substantiation of the record business.
I looked at that with expectation of something I could get into. When I got to Oxford (Ohio) that fall I asked the library to subscribe to Billboard. I went to the library each week looking forward to the current issue.
There was a notice that they were looking for campus correspondents. I had a Billboard reporter's card and I was off to the races. The first two people I interviewed were Cannonball Adderley and Nancy Wilson.
In high school I had enjoyed English class but never written an article. In college I had an academic load and was taking business courses. But I was thrilled and excited to have this opportunity. On campus they were presenting a mature and diversified range of talent. It was all over the map regarding who I interviewed.
The Billboard experience went on for the next four plus years. I interviewed everyone from Dick Gregory to Frankie Valli and the Four Seasons, Chad and Jeremy, and Johnny Carson. It became a lot more real to me than even some of the classes.
During my sophomore year I took a theatre class which involved making speeches. I used Billboard as a resource of information to do a speech on my fascination with the development and quick success of Red Bird Records. They had the Dixie Cups and Shangri-Las.

(The label's first release was "Chapel of Love" by the Dixie Cups, which quickly reached number one on the Billboard Hot 100, a feat matched later that year by the Shangri-Las' "Leader of the Pack". Eleven of the first 30 singles released by Red Bird reached the Top Forty. Red Bird Records was founded by songwriters Jerry Leiber, Mike Stoller, and George Goldner in 1964. Though often thought of as a "girl-group" label, female-led acts made up only 40% of the artist roster.)
I did theatre, public speaking and also a journalism class. The problem with Miami University is that the journalism class was given by the English department. There was no course of study in journalism. The professor was friends with the ten Los Angeles Dodgers manager Walter Alston. He brought him to class and we had to "cover" him as an assignment.
Through Billboard I discovered that I had an affection and affinity for writing. It was a time of making decisions and transitions. I realized that I wanted to do journalism more than business. I transferred to Kent State which offered journalism. I was writing, doing investigative reporting, and covering all kinds of concerts on campus from Ray Charles to the Temptations. Photography was a mandatory part of studying journalism. I have many pictures from that period of artists I was covering.
I did a multi part series on drugs on campus. Another was theft on campus. They ran in the campus paper and wound up in local papers like the Akron Beacon Journal. They wound up winning some national awards. A Hearst award and a publication which gathered student articles and a nationally released book called Stories. Their claim to fame was that they were first to publish Norman Mailer back in the 1940s.
The Vietnam War was going on so I stayed in school as the machine was wanting more and more young men. Perhaps I might not have gone to graduate school otherwise but it allowed me to continue my education and not be drafted.
When I came to Boston I had one suitcase. Things were very relaxed unlike today's real estate stampede. I was accepted at the School of Public Communications at Boston University. I found a third floor room in a beautiful house on Bay State Road.

I took a year of classes and connected with a guy named John Hockheimer. He did an overnight show on WBUR where anything goes. Coming from Ohio I was totally intrigued by WBCN. I quickly discovered that Boston had never had anything like it. WBCN went on the air on March 15, 1968. I came to Boston that September.
At WBUR there was a guy known as Uncle T (Tom Gamache). He preceded WBCN. Boston University was unique in that they had WTBU which was an AM station you could only get in certain dorm rooms. But it also had WBUR which was a 50,000 watt powerhouse station but not licensed for commercials. I believe Uncle T started with that station in 1967 maybe 1968. Like Frank Zappa he had the look of that era. He did a specialty show that was not the format of WBUR. He came out of WTBU but then had a much bigger megaphone with the FM station.

( Tom Gamache's show on WTBS was "T Time." His show on WBUR was called "The Freedom Machine.")
CG What was his on air style? Where does he fit into the narrative of progressive radio?
DB It was freeform and underground. The whole sense of programming was highly individual if it was Uncle T or WBCN. Later he spent a couple of months at WBCN but it didn't work out. With the advent of FM there was a change as artists were focused on putting out albums rather than just singles. That came before with Beatles and Stones releases. But there was still rigidity on the AM side of the dial. They were playing even fewer songs. I was in Ohio but WBZ would have somebody like Dick Summer on a Sunday night. If it was a clear night the power of that station from Boston would be heard all over the country. I could pick it up and you could hear things like Phil Ochs that weren't on AM radio.
(New England audiences know Summer best for his mid-'60s stint at WBZ, where in addition to working the overnight shift, he hosted a Sunday folk music show at the Unicorn Coffee House. The show morphed into "Dick Summer's Subway," and Summer became one of the city's first DJs to play Bosstown Sound groups Orpheus, Ultimate Spinach and The Beacon Street Union.)

There was a transition for groups that might have a hit single, or perhaps two or three. They weren't just putting them on albums with other cover versions. There was thought going into creating albums with musical responsibility. The Beatles, Stones and Dylan were doing that but there was an expansion with the next wave of British acts and the San Francisco bands. There were valid songs on albums above and beyond what the record companies deemed as singles.
It was a matter of economics as well. If you could sell an album at $3.98 for mono and $4.98 for stereo you could make more money compared to ninety nine cents for a single.
CG Not just Uncle T, when WBCN went from classical to rock, DJs were recruited from college radio.
DB Yes. Tommy Hadges, Joe Rogers under the name of Mississippi Harold Wilson. Later Charles Laquidara who had been at Pacifica non profit radio. In LA he had been a classical DJ. Sam Kopper had been at a Syracuse radio station. It was like let's have some fun for a year or two before starting our careers. Tommy Hadges was going to dental school. There was the seduction and lure of free albums and free concerts. You were a part of the media. In addition to playing the music there was the opportunity to meet the people who were making the music.

As the Beatles song goes "I am he as you are he as you are me and we are all together." We were all rooting for each other in a peer group sensibility.
CG Where did you come in?
DB I discovered that some of my masters degree writing corresponded to the media I was responding to and enjoying. I wrote about WBCN and got to know the people there. I wrote articles that served two purposes. I was writing for Billboard, Boston Magazine, and Fusion which was the East Coast counterpart to Rolling Stone. The publisher of Fusion was Barry Glovsky and the editor was Robert Somma.

I wrote about what I enjoyed, got academic credit, and I was paid. By 1970 I wrote a book length thesis. It had ten chapters ever one of which had been published as a feature article. The theme was underground media with an emphasis on radio and print and how it was impacting traditional media. It was a rough and tumble era as the traditional media was intent on dismissing it. They were resisting change as much as they could. They were protective of their media fiefdoms. The counterculture and baby boomers were taking the reins. We didn't have to play by the old rules and regulations. We could open up the medium which we choose to be a part of.
By 1969 or 1970 the powerhouse of Top 40 AM radio was WABC in New York. They were playing 15 to 20 records in rotation. Whereas WBUR and WBCN would be playing spoken word, and underground ESP material like The Fugs before they were on Reprise. Charles knew classical music particularly well. Jim Parry was doing four train songs segueing one into the other. There was no predictability particularly with British bands. The first stops they made in America were either New York or Boston. They were either playing The Tea Party or The Psychedelic Supermarket. It was one hand washing the other, washing the other. WBCN was playing and exposing the music while the clubs were providing chances to see them. Papers like Broadside, Avatar, and Boston After Dark/ Phoenix were displaying ads, writing previews and reviews. It gave a sense of expectation in wanting to see the shows. Or regret reading a glowing review and you missed the show.
I went to the Globe and talked to arts editor Gregory McDonald who later created the Fletch series. I just said I want to write. He pointed to a drawer in his desk and said "You don't want to write. In that drawer and every desk in the building is a bottle of whiskey. People drink all the time and hate what they're doing." He gave me two albums to review and paid $10 for each. One was "The Best of the Blues Project" and the other was The Velvet Underground.
I reviewed them in the spring of 1969 and a couple of weeks later went to a Billboard convention in New York. I ran into Steve Sesnick, who was the manager of The Velvet Undergound, and Lou Reed. Because they had so little conventional media coverage they remembered the byline and my two paragraph article. We spent the day together and went to listen to the album the Velvets were working on at the time. It took Ocean close to 20 years to come out.

It took discipline to pursue my degree as well as, at the same time, hanging out with the people who were making WBCN what it was and writers at various publications. That's where I was heading.

As a Billboard writer I got a comped subscription. I saved them as well as other publications which became a great resource for what I was writing. It was important when I was writing my thesis in 1970.
When I graduated I had a calling card of a 150 page thesis. WBUR was expanding and becoming more aggressive about raising funds. There was more programming in diverse musical directions. I gave my thesis to Clark Smidt who was the assistant general manager. Will Lewis was the general manager. The segue was perfect as I got my degree in August of 1970, and in September, became the music director of WBUR. I would do occasional programs.
There were wonderful people coming through town on various promotional adventures. Andrew Loog Oldham, manager of The Rolling Stones, had just started a custom rock label financed and distributed by Motown. A pre American Pie Don McLean talked about working with Pete Seeger. There was an early promotional junket with David Bowie. He spent several hours at WBUR.

He was still on Mercury Records before the RCA promotion kicked in. The Mercury PR guy was Bill Coleman. Jon Landau was writing for either The Cambridge Phoenix of Rolling Stone about Bowie's first American visit. We were driving down Commonwealth Avenue when Coleman's car broke down. We were headed toward WBUR. Landau lived over in Cambridge the other side of the bridge there at BU. He gave up the ghost and said "I'll walk home." Coleman and Bowie walked with me to WBUR. The big regret was that we had a terrific interview but the station was so impoverished that we didn't have any tape to capture the interview.
Stranger things have happened. When Bill Lichtenstein was open sourcing his film WBCN The American Revolution he put out a call for tapes and images. Many things have come out of the woodwork. If you believe the myth that every broadcast is echoing somewhere in space that Bowie interview does exist.
Before YouTube all that content was hiding somewhere. Someday we will relive that Bowie interview.
CG When we were teenagers I looked forward to Your Hit Parade on Saturday night with Snooky Lanson and Gisele McKenzie. There was a suspenseful countdown of the top ten hit songs of the week.

(The program was heard from 1935 to 1953 on radio, and seen from 1950 to 1959 on television. It was sponsored by American Tobacco's Lucky Strike cigarettes.)

DB It was a white, middle class take on pop music. Just as that TV show was presenting the music in a sanitized way the record companies were doing the same thing. There was music being unleashed that could not be repressed. They had Pat Boone doing cover versions of Little Richard. You can't believe the disparity between those two performers.

CG Clearly you have a passion for the music but also an interest in the business aspect. The third component in your case is a commitment to collect the related ephemera.

DB You are right to observe the multitude of ways that this resonated with me. The discovery was the machine behind all that. At 17 showing Billboard to my parents was demonstrating that there was something substantial behind this. There was a need to dig under the mainstream and find the music that was emerging.

There was the Payola scandal that Morris Levy was the mastermind of. He was the head of Roulette Records and Strawberry Records a retail operation in Boston for many years. He owned Birdland and recorded everyone from Frankie Lyman and the Teenagers to Count Basie.

The take of Levy on the Payola scandal was to divert attention from the television quiz show scandals. (When it was revealed that Charles Van Doren was fed answers to The $64,000 Question the show was cancelled September 14, 1958.)
CG Wasn't Levy mobbed up?
DB Yes. Godfather of the Music Business: Morris Levy (2016 by Richard Carlin), from of all places University of Mississippi Press, is well worth reading. His life was eerily similar to that of Hesh Rabkin on The Sopranos. Including the horse farm and putting his name on records for writer's credits. He was behind Alan Freed when he was promoting rock and roll on radio. He was brought down by the Payola scandal. He was getting writing credits that monetized his air play.

CG My parents were successful so in the summer we lived in a very waspy community. The soundtrack of life in the 1950s was Patti Page, Eddie Fisher, Johnny Mathis, Frank Sinatra, Dean Martin, Julius LaRosa and Perry Como. It was all very safe. For my generation of teenagers in America we were straight, white, and naïve. We made out but few went all the way.

DB Then Elvis changed everything.
CG When the changes came with the counterculture of the mid to late 1960s there was a sense of danger.
DB There were prices to be paid. Whether you knew it or not we were coming out of a very repressed period. If you listen to some of the R&B songs from the 1950s they were very coded. If you listen now you realize that we had no idea of what they meant. But our parents did. Little Richard, Chuck Berry and Elvis Presley got through. They had very clever messages that we were not responding to with complete awareness.

I never was censored by my parents but wanted to embrace the music I was loving. There was one radio in our house on the kitchen table. It would have been logical for my parents to give me a radio which I could listen to in my room. That didn't happen. I was buying records but we didn't have a record player. There was a disconnect with collecting.

Our first turntable was 1968 when I was learning music for my Bar Mitzvah. The rabbi, as a little side business, made a recording of what you were supposed to sing. You bought it a few months before and just played it and played it. You learned to sing along with it in Hebrew. I found a used turntable and plugged it into the television speaker.

The '60s begin with the assassination of President Kennedy and ends with the resignation of Nixon. Consider all of the social and cultural changes that occurred during that time. In music we went from the Beatles and the British Invasion to Dylan and folk rock. There was Vietnam escalation, Civil Rights, and the sexual revolution. Every couple of months something was happening. By the mid 1970s America was exhausted.

In the months after the Kennedy assassination, as a reader of Billboard, they were tipping the fact that the Beatles were coming. Beatlemania and hysteria already existed in England. I was looking at the British charts and surprised at how dominant the Beatles were during the fall of 1963. This was leading to their appearance on the Ed Sullivan Show. He had an intense rivalry with Jack Paar who had a Friday night show. Paar obtained Beatles footage and ran it even before Sullivan. It played into a frenzy that was building. There was a DJ in Washington that managed to get a copy of "I Want to Hold Your Hand." He played it even before it was available. That was destroying the Capitol Records game plan. There were already things out on Vee Jay Records.
(The company Vee-Jay obtained Beatles material through British EMI. Introducing The Beatles was the first Beatles album released in the United States. Originally scheduled for a July, 1963 release, the LP came out on January 10, 1964, on Vee-Jay Records, ten days before Capitol's Meet the Beatles!. The latter album, however, entered the U.S. album chart one week before the former.)
There were one off deals. Swan Record in Philadelphia, which Dick Clark was affiliated with, had "She Loves You." Capitol of Canada had licensing agreements. The Beatles were on the Ed Sullivan Show February 9, 1964. By Spring of 1964, the Beatles had eleven songs on the Hot 100 including the top five. It was unprecedented.

When Kennedy was assassinated the number one record was "Dominique" by the Singing Nun. (Jeanne-Paule Marie " Jeannine " Deckers -17 October 1933 – 29 March 1985- better known as Sœur Sourire, " Sister Smile" was a Belgian singer-songwriter and a member of the Dominican Order in Belgium.)
Despite the Beatles there were a lot of carry-overs from the 1950s. Perry Como and Dean Martin had hits into the 1970s.
CG Speaking with John and Leah Sdoucos, they described the disaster for Barry and the Remains, who they represented prior to the band touring with the Beatles in 1966. It was the last Beatles tour so that's a really small window from Sullivan in 1964 to becoming a studio band in just two years.
(In January 1969 they met to rehearse and write new material for their first live show in three years. Only McCartney appeared to be motivated. He said "There's only two choices: We're gonna do it or we're not gonna do it, and I want a decision. Because I'm not interested in spending my fucking days farting around here, while everyone makes up their mind whether they want to do it or not." There was no response and that was that.)
Some of their music was recorded in 1962 and 1963 but consider how much they produced by 1969. Some of the singles were compiled for records in the U.S. which didn't exist in the U.K.. It was a time when bands were putting out two or three albums a year as well as a number of singles.
It was the wild west as record companies were making a lot more money selling albums instead of just singles. People were getting a lot of bang for the buck. The shows that were coming through sold from $2.50 to $4.50. Not like $250 today. For Heart which is touring this summer, at what was Great Woods now the X Finity Center, the top price is $350.

The inside back pages of Billboard gives the box office gross for the top 25 concerts. For the Taylor Swift tour, for example, the per show gross is seven to eight million dollars. The top tier ticket is $499.
In January, 1969 Led Zeppelin did four shows at The Tea Party. If you bought a ticket in advance it was $3.50 and at the door $4.50. Given the capacity of the venue, the gross potential was in the range of five thousand dollars. Today, that wouldn't pay for a tech guy on the following spot. When, absent John Bonham, they did a benefit (The Ahmet Ertegun Tribute Concert in memory of music executive Ahmet Ertegün at the O2 Arena in London, December 10, 2007.) the first day of offer there were twenty million requests for tickets. The three surviving band members were guaranteed a hundred million each if they would tour. Robert Plant stated that he had another commitment.

The financial model changed but I don't think that anybody involved in the business realized the potential for revenue that developed. Of course, in later years, there have been challenges. The zenith year was 1999. Along came Napster and the mantra that music was free. The artist became the lowest person on the pecking order in terms of being rewarded for the art. Like the late 1960s "The music belongs to the people" when fans would storm the stage and rush the gates. Even $3.50 was too much to pay.
There were festivals like Woodstock and the disaster of Altamont. It's curious that as decades passed England has done really great pop festivals.
In the States there were occasional festivals that Bill Graham and others would do. Think about Fenway Park. It was the early 2000s before there was a concert there. In 1973 or 1974 I saw a charity event at Fenway. You couldn't put staging on the sacred Fenway turf. The new owners (after Tom Yawkey) allowed a show per season. You could do one Springsteen or Rolling Stones show. This summer the licensing is for twelve shows.

CG Why does Boston get no respect for their role in the counterculture?
DB When I came to town there was the Bosstown Sound fiasco. It was a bad idea. It was a record company creation based on the success of San Francisco bands. They were not on the same label but there was an interconnectivity of the performers socially, musically and communally. That was not the case in Boston. There was marketing that the Boston bands were something that consumers should buy into. The feedback and resistance to the bands was especially strong in Boston.
It wasn't until the debut album of the J. Geils Band on Atlantic that it blew away the bad air of the Bosstown Sound. The promotion was a benefit to the underground press, Rolling Stone, Creem, Crawdaddy, Fusion in terms of record company ads. There was local retailing, but on a national side it was editorial coverage that was driving supporting and funding alternative media. Hopefully, there was not too much compromise involved. I remember Fusion running a cover with two balloons. One was inflated with Bosstown Sound written on it. Next to it was a collapsed balloon with that inscription.
It was an editorial comment that there was no Bosstown Sound. When J. Geils emerged there was a renewed comfort level that great music was coming out of Boston. On WBCN Maxanne Sartori was a champion of Aerosmith. That was in 1972 when Columbia Records was giving up on the band. She gave them the airplay and attention that they deserved and she was like that with other acts. The first Bruce Springsteen radio interview is with her on WBCN. (There is a clip of that in WBCN: The American Revolution.)
Every four years there is turnover of the quarter million college students in Boston. Most of them relocate to other parts of the country bringing with them music and counterculture. Some stay on and start careers here including in the arts and media. Unlike in other cities the youth market is not fixed. It is in constant flux. In the mid to late 1970s Boston was embracing the punk sound. The music was unique to New York, London and Boston. There may have been a punk scene to a lesser extent in San Francisco or Los Angeles.

CG Are we talking about Spit and The Rat?
DB Spit was later. That was the 1980s. The Rat was '76, '77, and '78. The Paradise just celebrated its 40th anniversary. They started in September, 1977. They weren't focused on punk like The Rat, Cantones and other clubs. If you look at Paradise programming the first night was John Pousette Dart and Livingston Taylor. The fourth or fifth night was Tom Waits and the sixth night was John Mayall. It was very diverse. There was kind of a punk underground railroad that existed between New York and Boston. The scene in NY was CBGB's and Max's Kansas City and in Boston The Rat and later The Channel.
Look at ads in back issues of The Phoenix and Real Paper and you see the spectrum of talent that was playing here. (That is possible in Brian Coleman's book Buy Me Boston: Local Ads and Flyers 1960s-1980s.)

Again everything was affordable. Today it all costs ten times what it did in the 1970s. If you add a zero to the price of a candy bar or a movie that's what it is today.

CG Where were you in all this?
DB I spent a year as music director of WBUR. Then John Silber became president of Boston University. Overnight our staff was reduced from 32 to three. He wanted to take back control of the radio station so he let everyone go.
I knew prom guys Roger Lifeset and Charlie McKenzie. They recommended me to Danny Lippman who had a company called Music Promotions. He was doing advertising for Warner Elektra Atlantic. He had the accounts for Orson Welles Cinema (Cambridge). We were doing one off projects for RCA Records and ABC, Impulse, and various other labels. Danny also had a relationship with Jonathan Richman and The Modern Lovers. He pretty much entrusted day-to-day operations to me.

It was the first time I was doing creative work and ads. There was a graphic artist, Lynne Staley, who had worked at Boston After Dark and later The Cambridge Phoenix/ Real Paper. Then she was art director of the Boston Globe before moving to Newsweek Magazine.

There was no supervision and ads we were creating went back to the home offices of the major record companies. We were getting great feedback from the marketing departments of the labels. Things weren't solidified with The Modern Lovers and Music Promotions closed in 1973.
I continued to do freelance work for record companies in '74 and '75 as well as print supplements for radio stations. WBCN was not really paying any money. It was heartbreaking for me to work for their competitors which I did. In '75 I worked for WCOZ. In '77 I did some work for WEEI FM. There was a very effective campaign under the umbrella term of Soft Rock. There were a lot of great catch phrases like "The Eagles without the Turkeys" and "Mac without the Yak."

These stations were eating away at and eroding the WBCN audience. It was wandering in the desert. It wasn't until 1977 that T. Mitchell Hasting yielded to having a new general manager, Klee Dobra. He told Hasting that you have to invest in the station or face being totally eclipsed by competitors. Hastings gave Dobra the opportunity to hire people. One of the first new people brought on board was Charles Laquidara. (He was with the station from 1969 to 1976.) By his own admission Charles had taken a year off to explore other opportunities.

Charles returned rather tentativel and unsure of his radio sea legs. So he returned as Duane Ingalls Glasscock. There was enough budget to hire me as creative services director of WBCN where I started in March of 1978. I knew that people at WCOZ were disenchanted so I was able to convince Mark Parentau to come onboard. Then, a year later, we hired Ken Shelton.
We had Charles doing morning, Ken midday, and Mark for afternoon drive time. That was the nucleus of the air staff well into the 1990s.

It was circumstantial, but within a month of my being hired, Hasting decided to sell the station to Mike Wiener and Gerry Carrus. They were staring to build their radio empire. This was their third station. They had an AM station in Florida and an FM station in San Jose, California. They bought WBCN for the stated price of $3.4 million. Hastings being a crafty entrepreneur did an end run around the minority share holders. He made a deal as a consultant with an annual salary of $50,000 for ten years. So he got an additional half million dollars.

He abruptly ended the budget for Klee Dobra. Hastings wasn't going to invest his own money in a property he was selling. The new buyers, Wiener and Carrus, couldn't invest in a company they didn't own yet. The FCC had a very extended evaluation period regarding the suitability of the new owners. The announcement of the sale was May, 1978 but the closing did not occur until February, 1979.

We were left to our own devices for that ten month period. We were trying to do things and came up with the name for The Rock and Roll Rumble. There was discussion of whether WBCN, The Inn-Square Men's Bar, or Sweet Potato magazine would pay for the pencils used by the Rumble's judges. The Rumble, with WBCN long gone, will have its 40th anniversary in April of this year. It's been kept going by Anngelle Wood.

Bieber Interview Part Two.