Verdi's Otello
At Livermore Valley Opera
By:
Victor Cordell

-

Mar 07, 2022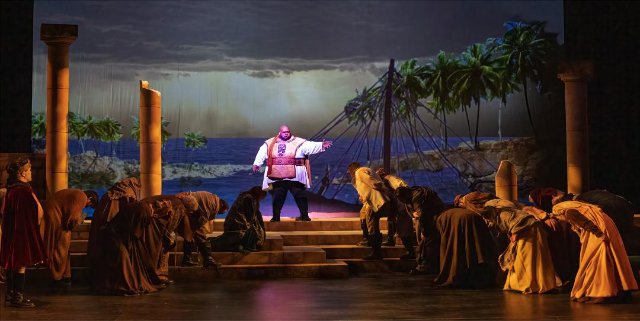 Sixteen years had passed since the premiere of "Aida," Verdi's penultimate tragedy, and the maestro clearly had time to adopt some of the new practices in opera composing, while honing his traditional skills. Many feel the resulting "Otello" is the composer's finest masterpiece and unquestionably in the pantheon of the greatest in all of opera. Livermore Valley Opera celebrates its 30th Anniversary with its fine execution of this challenging work, proving once again that this mid-sized company can deliver a most compelling artistic product.
Despite its musical and dramatic excellence, "Otello" has never achieved the audience popularity of "Aida" or Verdi's great middle-period trio of "La Traviata," "Il Trovatore," or "Rigoletto," which are among the most performed operas year after year. Given how superb this opera is, perhaps two reasons explain this sad anomaly. The easier to explain is that the title role is considered one of the most difficult tenor roles in the repertory – a serious voice-killer that most who might conquer the role won't attempt until well into their careers. The other two leads are also highly demanding. Accordingly, the opera is hard to cast, thus less likely to be produced.
The other issue has to do with audience response to the structure and character of the music. Following Wagner's innovation and unlike the Italian tradition that continued into the 20th century, "Otello" employs a form of continuous music, with no breaks for applause. It does, however, contain separable arias and ensembles of great complexity, beautiful music, and poignant emotion. But these pieces are perhaps more subtle and a little less accessible than the direct and memorable melodies from Verdi's more popular operas. Thanks to LVO for undertaking this glorious and important work and doing it justice.
The orchestra's pandemonious opening as a battering storm brews upon Otello's victorious voyage home signals that tumult will follow. Otello is a Moorish general and leader of Venice's presence in Cypress. His trust in the treacherous Jago will lead to Otello's betraying his captain, Cassio; murdering his wife, Desdemona; and turning the knife on himself. (For those not familiar, plot spoilers are okay in opera reviews, on the presumption that readers have seen other productions or read the synopsis elsewhere, but are generally not okay in movie and theater reviews – except for classics like Shakespeare, which gives this spoiler a second okay.) Although the ship was righted quickly, early moments on opening night were inauspicious. One minor principle was not in good voice; Otello's voice seemed cloaked on his downstage entrance, which didn't bode well for the evening; and the output from the men's chorus was anemic. This last deficiency was overcome when the women's chorus and orchestra joined in to provide a rich, balanced sound.
Otello is performed by Limmie Pulliam, and he attacks the singing with total abandon. Of his many vocal trials, the best known is probably the Act 2 finale, "Si, pel ciel," his conspiratorial duet with Jago to exact revenge on Desdemona and Cassio for what Jago has claimed was a dalliance. Pulliam's control and accuracy when he is so often high in his vocal range and extremely high in volume is mind boggling. It is remarkable that he would have anything left at the end of a performance.
Elaine Alvarez is Desdemona, and like Pulliam, some of her best work is also on the high wire. Their Act 3 and Act 4 duets are verbal combat. But Desdemona's signature aria, the most famous piece from the opera, is her lengthy lament and prayer soliloquy as she anticipates death in Act 4. It might be even more famous if everyone could agree what to call it. But it's variously known as "The Willow Song," "O salce, salce," "Piangia cantando, "Mi parea," or simply Desdemona's aria, while the prayer portion is also called "Ave Maria." It is one of the most haunting and gut-wrenching pieces in opera. Alvarez gives an engaging rendering and the audience broke protocol to reward her with applause.
Oddly, the driving force and central figure whose perspective is most prominent in the opera is not the title character, but rather the conniving, manipulative, hateful, vengeful Jago, who pulls Othello's strings like his marionettist. As Jago, Phillip Skinner dominates every scene he is in with a riveting presence and powerful singing. His great Act 2 soliloquy, "Credo in un Dio crudel" prompted the other out-of-order audience applause.
Two secondary principles deserve mention as having the most mellifluous voices – Alex Boyer as Cassio and Layna Chianakas as Emilia, whose emotional conflict is that she is the wife of Jago and the maid of Desdemona. She also doubles as the Stage Director! Quite a demanding working arrangement.
Verdi offers many more musical treasures in "Otello," including an involved double duet in the handkerchief scene and an even more complicated Act 3 finale, a stunning ensemble of seven or eight individual vocal parts plus chorus. Credit Arrigo Boito for crafting a superb libretto that some would argue is a step above the source material, despite its coming from Shakespeare.
"Otello," composed by Giuseppe Verdi, with libretto by Arrigo Boito and based on the play "Othello" written by William Shakespeare, is produced by Livermore Valley Opera and plays at Bankhead Theater, 2400 First Street, Livermore, CA through March 13, 2022.