New Federal Theater Probes Leroy aka Amiri Baraka
Weighty Ideas and Dazzling Characters Entrance
By:
Susan Hall

-

Mar 10, 2019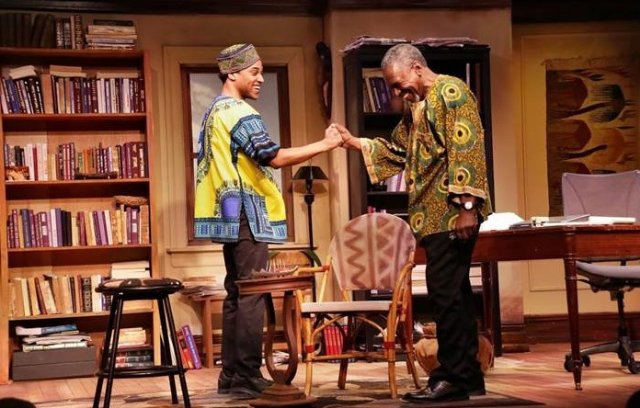 The New Federal Theater and Castillo Theater are presenting Looking for Leroy, a fascinating and enthralling exploration of the work of Leroi Jones aka Amira Baraka. Written with a masterful combination of character detail and theoretical exploration, Larry Muhammad has created a forceful, touching and provocative work.
Muhammad is the director of the Kentucky Black Theater so he has tangled with the issues staged here. What does a black playwright owe his brothers? August Wilson didn't read playwrights past but looked only to his own present. Ed Bullins was minister of culture for the Black Panthers.
A young intern (Tyler Fauntleroy) is hired on the spot by Baraka (Kim Sullivan). Intern Taj has recited one of the master's poems with perfect conviction and timing. Much will be made of pacing as the play progresses. Fauntleroy is a dazzling performer.
The play is set in the 2000s. The set by Chris Cumberbatch is Baraka's home office in Newark. It is orderly and conventionally dressed with books and a work desk piled with papers and a laptop computer. Baraka is working on his final play about W.E.B. Dubois. It is 500 pages long when intern Taj enters his life. And why shouldn't it be, asks Baraka. Eugene O'Neill's Long Day's Journey Into Night lasts for four. But O'Neill was a white man.
Jones/Baraka's life has a curious arc, from Greenwich Village beatnik to political radical, all the while writing poetry, plays and essays. The Dutchman, his most famous play, was written and produced in his beatnik period. He had less success in the theater as he became more political. His most potent influence, he tells Taj, was Antonin Artaud.
We move from the presentation of the life of one's community to the mounting of political advocacy. Baraka came to feel that his brothers could not advance from slavery without universal health care and income equality.
Over many months the intern moves from adulate to brave playwright to disillusionment over his idol. A mark of the playwright's talent is the ability to create a rich, deep intellectual dialogue without over taxing the audience. The creation of fully developed characters who constantly intrigue may be why this show is so moving and fun.
Jazz on the radio provides intermittent musical accents. The costumes change scene to seen. Taj first appears in a black suit with a thin black tie. He quickly converts to a brightly colored African shirt and finally a universal beret. Baraka too changes, from African shirt, to a blue workman's shirt and then a conventional jacket. Kathy Robertson's costumes keep us on our toes as scenes change.
Directed with just the right pacing by Petronia Paley, this is a terrific evening of theater.
Looking for Leroy is running through March 31.