Groupmuse Now Musician Owned Cooperative
Inspired by Covid
By:
Susan Hall

-

Mar 10, 2021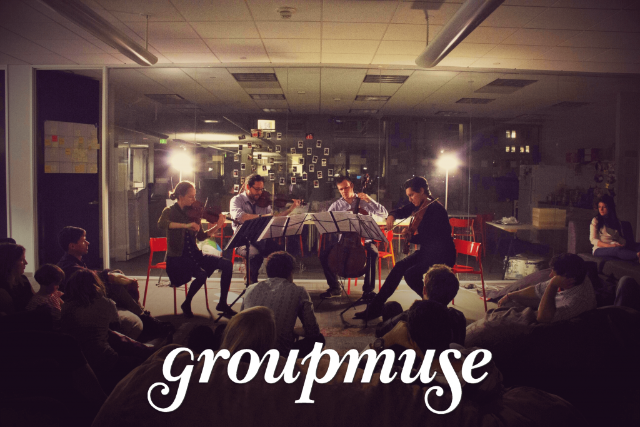 Groupmuse, the community-building startup that aims to adapt the concert experience, announced their plan to become a musician-owned cooperative. They have assembled a Founding Council made up of ten diverse young musician activists. ranging from international prize-winners, to artists who have played over 150 concerts through Groupmuse, to social justice activists fighting to bring about a more equitable and inclusive concert music ecosystem.

Since the pandemic began, Groupmuse has organized over 400 virtual concerts and earned their musicians over $200,000 at a time when most gigs have evaporated. Between now and the cooperative's launch this summer, the Musician Council will develop and determine the parameters and bylaws for the cooperative. In addition to restructuring their leadership, the Groupmuse cooperative will allow active community musicians to be owners with the power to allocate funds, share resources throughout the community, and determine organization-wide policies, such as how and when in-person concerts can safely resume.

Said Groupmuse Founder Sam Bodkin: "This latest step is the logical extension of the values that Groupmuse has been bringing into the world for almost a decade. We empower local musicians and communities to define their own musical and creative culture. The pandemic has laid bare what we've known for a long time — musicians have been structurally disenfranchised and disempowered for decades, and it's time for a transformational paradigm shift so that they never find themselves in so perilous and precarious a position. Moreover, some months back Groupmuse became a worker-owned cooperative, so adding the musician-owner stake-holder group is an intensification of a process already underway. "

The Musician Council includes flutist Adrienne Baker, pianist Cristian Budu, cellist Dara Hankins, violinist Kiyoshi Hayashi, cellist James Jaffe, flutist Sooyun Kim, violinist Katherine Kyu Hyeon Lim, violinist Eric Silberger, violinist Max Tan, and pianist Audrey Vardanega.

Groupmuse aims to transform the traditional concert experience into personalized, intimate performances taking place in non-conventional spaces, such as audience members' homes. Throughout the past 8 years, their community has grown to include over 6,000 musicians located in 30 cities across the country.
Before COVID-19, Groupmuse would organize hundreds of chamber music concert house parties (called groupmuses) every month. Over the years, they've brought tens of thousands of people closer into their communities and tens of thousands of new listeners to chamber music, they've raised millions for young musicians, and their work has been featured in TIME, the Guardian, the Boston Globe, NPR, and many others.

When the Pandemic struck, they quickly moved all our operations online — giving musicians a container with which to hold their live-streamed performances in a socially connective way.
Groupmuse believes that heartfelt performances deserve more than an odd flick-through on a Facebook Newsfeed. A live streamed performance is a performance and Groupmuse is building a new ritual around shared listening so that this art form can thrive during socially isolated times.

In the past year, Groupmuse organized more than 500 virtual groupmuses, earning musicians over $250,000.