Pictures from Home by Sharr White
At NY's Studio 54
By:
Karen Isaacs

-

Mar 11, 2023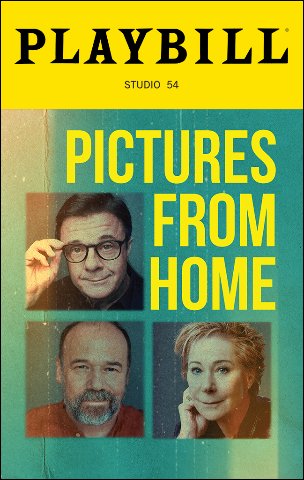 Image and reality. Perception and truth. Can a two-dimensional photograph ever get behind the image? Is the image the truth, only part of it or none of it?
Pictures from Home explores these questions with humor and, in the end, some pathos.
It is based on a book of photographs taken by Larry Sultan of his parents over a period of 10 years (1982-92).
How do you turn that into a play? Sharr White has managed by creating the conversations between the son (Larry) and his parents (Irving and Jean ) during the many visits he made to them.
Let's admit that the play has some resemblances to Death of a Salesman. Irving is a traveling salesman gone weeks at time, just as Willie Loman was. He is also a flawed man. His relationship with his son is contentious. Like Linda in the Miller play, his wife is loyal to him but aware of the realities he can't quite admit and tries to keep the peace between him and Larry.
The set by Michael Yeargan creates a mid-century modern home in southern California. Larry flies down from his home in the San Francisco bay area at least monthly and spends the weekend on "his project." We quickly learn the basics – the family is from Brooklyn and moved to California in the late 40s for more opportunity. Irving sold men's clothing for quite a while before joining Schick Safety Razor Company first as a salesman and later as a vice president.
Sultan used both posed pictures, candid shots, and stills from the home movies the family had taken over the years.
The purpose of the highly praised book showed a mundane middle-class family and how society views its older citizens.
What raises this play is the fine performances and direction. Bartlett Sher demonstrates his usual touch in bring out the themes of the play without hitting us over the head with them. He lets Nathan Lane find all the humor that is in the play – and some that isn't – without it becoming schtick. Lane is a fine actor who never totally hides Irving's pain beneath the surface humor.
Danny Burstein reminds us that he is a fine actor, not just a fabulous musical theater performer. He manages to make us understand Larry's vision and passion for this project; something that the playwright could have made clearer. Zoë Wanamaker appears to fade into the background. Don't be deceived; she subtly shows the balancing act that Jean manages quietly. Keeping piece between father and son, understanding all for Larry's faults, but holding him and their life together.
If the sign of a good play and of a fine production, is that you are still thinking about it long after you've seen it, then Pictures from Home gives that sign. I still return to ponder the questions of reality, illusion, image and the masks we all wear.
Pictures from Home is at Studio 54, 254 W. 54th St.