Jennifer Warnes' Legendary Album Jennifer
Her 1972 Third Album Reissued
By:
David S. Rubin

-

Mar 13, 2015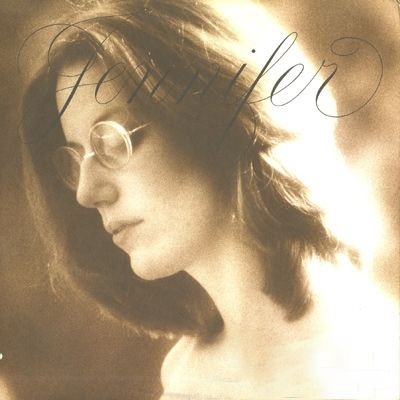 In 2013, Reprise Japan finally released Jennifer Warnes' 1972 third album, Jennifer, on CD. With the album having been locked in the vaults for forty years and only recently made available again, I wish to share some thoughts on why this brilliant collaboration between Warnes and John Cale has brought me so much gratification over the years.
Warnes, of course, is best known for Famous Blue Raincoat, her highly celebrated 1986 album of Leonard Cohen tunes, as well as for her hit single "Right Time of the Night" and her movie duets with Joe Cocker and Bill Medley, which earned Grammys and Oscars . She is currently working on her first release in several years, collaborating again with Roscoe Beck, her co-producer of Famous Blue Raincoat. Cale was a pioneering member of Andy Warhol's Velvet Underground. When the two came together to create an album in 1972, a magical union was formed.
Produced by Cale, Jennifer is a vibrant, richly textured, and poetry infused album. Beginning with Barry Gibb's "In the Morning" and culminating with Procol Harum's "Magdalene (My Regal Zonofone)" the album is filled with radiant musical gems. Each and every song is a catchy tune, sung by Warnes in the agile, angelic voice for which she has become well known. Once one has listened to this album, snippets of sound and word, so beautifully matched to one another, will resonate in one's mind and imagination.
I was introduced to this album when I heard Warnes singing Jackson Browne's "These Days" on the radio in 1972 while driving through Beverly Glen Canyon of Los Angeles. Warnes performs the song as an introspective narrative, a journey that moves rhythmically through active and passive moments, the way our thoughts do and echoing to some extent the movements of my car as I was driving through the canyon. Characteristically, Warnes is impeccable in form as she sings Browne's words about contemplating the past, present and future. With her clear and crystalline phrasing and unexpected variations in pacing throughout, a listener can be taken along several sensory paths, while experiencing a variety of warm sensations.

"In the Morning" is the perfect opener for the album. Related to "These Days" in theme, the song is about the enjoyment of living in the moment. It is a song about being young, one that offers a lesson about learning to be patient and looking forward with optimism to what lies ahead. Here too, Warnes holds on to some words longer than others, as if she is telling a story or giving advice. As always, she uses her classically trained, golden-toned, and acrobatically dexterous voice to march us through this anthem for aspiring youth

The five tunes that follow "In the Morning" are incredibly melodic, making the ride through the album pleasantly upbeat in tempo. Beginning with John Cale's "Empty Bottles," Warnes explores a variety of issues and feelings associated with relationships and life's challenges. With a rhythmically undulating musical intro and exit, "Empty Bottles" takes us through the ups and downs of coupling, as the lyrics come to terms with the Stoic recognition that building a solid relationship is a process that takes time. "P.F. Sloan," Jimmy Webb's lament about the rise and fall of the now legendary singer-songwriter, is a very catchy tune with topical references and many vivid images. In her performance, Warnes shines as a musical storyteller who never misses a beat when it comes to knowing which words and notes to emphasize.

Similarly, in Donovan's "Sand and Foam", Warnes' rendition inspires picturesque and hallucinogenic imagery, and her voice seems electrically charged as she introduces each new phrase. With Andy Fraser and Paul Rogers' "Be My Friend" Warnes really nails the meaning of genuine friendship. A very reflective song like "These Days," "Be My Friend" is sung with steady repetitive rhythms, like a mantra. The song also showcases Warnes' strength at putting emotions convincingly into sung words. If one wants to up their motivation to be loyal to their friends, this is the song to listen to. And Warnes moves effortlessly and lyrically through Gunston and Dove's "Needle and Thread," a hopeful tune about attaining a rich and fulfilling life, "a tapestry to take the breath away."
Warnes next shifts into introspective mode with her own composition "Last Song," where she sings with gusto about a songwriter's struggle to draw inspiration from the spiritual zones. The spirits do seem to guide her through Jimmy Webb's "All My Love's Laughter", a song about living a righteous life. Here Warnes sings in a mood of devout religiosity, foreshadowing the direction of Famous Blue Raincoat. A serious tone continues as we move through the contemplative "These Days," and conclude our journey with "Magdalene (My Regal Zonofone)". Reminiscent to some extent of a funerary march, the song is about the ending of a cycle, the waiting for the next one to start, and the pain that accompanies being in transition.
In short, Jennifer is a beautiful album about life's lessons. Like the tapestry visualized in "Needle and Thread," it is artfully graced throughout with interconnected pearls of wisdom, sung so masterfully and eloquently by Warnes.
To learn more about Jennifer Warnes and her current activities visit www.jenniferwarnes.com

David S. Rubin is an independent curator, writer, artist, and longtime fan of Jennifer Warnes. He has been active in contemporary art for 35 years and has held curatorial posts at the Contemporary Arts Center, New Orleans; MOCA Cleveland; Phoenix Art Museum; and the San Antonio Museum of Art.


© David S. Rubin