Corneille's L'IIlusion Comique
Adapted by Tony Kushner for North Coast Rep
By:
Jack Lyons

-

Mar 13, 2017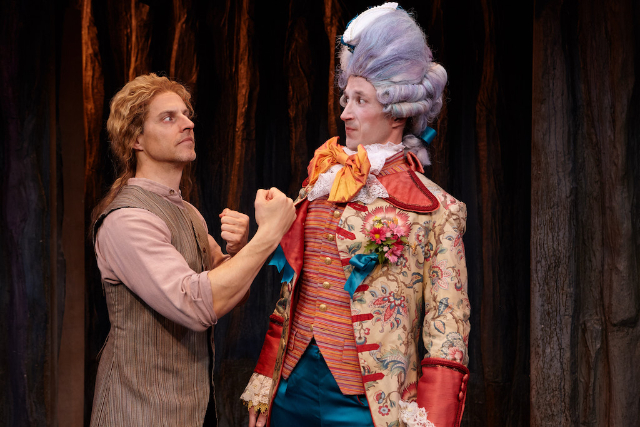 Tony Kushner, one of the country's premiere intellectual playwrights is an award-winning dramatist who is best known for his monumental Tony Award and Pulitzer Prize winning, two-part epic "Angels in America". In that play, he tackled the worldwide Aids epidemic.
In the current North Coast Repertory Theatre production he switches 180 degrees to translate and adapt 17th century French playwright Pierre Corneille's "L'IIlusion Comique" into a delicious and superbly acted French soufflé of a comedy/farce called "The Illusion".
French comedy/farces have not fared well with American audiences over the years. Even the great comedy playwright Moliere couldn't win over American audiences. European society with its rigid rules of the 'master-servant relationship', a key component in French comedy and farce, never resonated with the independent, rugged, 'self-made man' image that is the hallmark of American society.
North Coast Repertory Theatre Artistic Director David Ellenstein, however, does indeed understand the rules of French farce; having acted in 'The Illusion" himself some twenty years ago. He has orchestrated his flawless cast of comedy farceurs in a way that plays to their strengths. All the elements of theatre that deal with romance, intrigue, love, yearning, insight, and magic, plus a little sword play thrown in for good measure, are embodied in this splendidly performed production.
The tale in short, follows a clueless, but contrite, father, Pridamant, a lawyer of Avignon, nicely played by John Herzog, who is seeking news of his prodigal son from the sorceress Alcandre (wryly and cleverly played by Kandis Chappell). In her cave setting wonderfully realized by resident set design wizard (no pun intended) Marty Burnett, Alcandre conjures three episodes for Pridamant from his young son's life. Inexplicably, each scene finds the son in a slightly different world where names change and allegiances shift. Pridamant watches, sometime confused and sometime aware, but only when the strange tale reaches its conclusion does he learn the ultimate truth about his son. Sorry, but no more spoiler alerts here. You'll just have to come and see for yourself.
In comedy/farce, there are always pretty girls who tempt the men and then immediately fall in love in their search for excitement and romance. "The Illusion" is no exception. Two women play three different characters in the three conjured scenes. Sharon Rietkert, portrays upper-class Meliba, Isabelle, and Hippolyta. I have fond memories of her sultry femme fatale role in "Gun Metal Blues" at NCRT and her memorable portrayal of Elinor Dashwood, in "Sense and Sensibility" at The Old Globe in 2015.
The servant/companion roles in the conjured scenes of Elicia, Lyse, and Clarina, are winningly played by a pert Christina L. Flynn, along with a twinkling smile that also displays her classic training, timing, and delivery in comedy/farce. Ms. Rietkerk and Ms. Flynn are easy on the eyes and a delight to watch as they work their magic on the audience.
The gentlemen in the production also get to strut their stuff. Michael Polak, as Clindor, the son of Pridamant in scene one, and Calisto, in scene two, and Theogenes, in scene three, plays a suitor who gets the girl in all three scenes. Lucky fella.
The bumbling buffoon character Matamore who is decked out in a costume fit for a Cardinal Richelieu guardsman is wittily played by energetic farceur Andrew Ableson. Every 17th century comedy/farce has to have one character who is the comedy relief. Fortunately, for us, Mr. Ableson is that character.
John Greenleaf as The Amanuensis, the mute servant to the sorceress Alcandre in scene one, also portrays Geronte, the unsympathetic and harsh father of Isabelle in scene two and as an actor, Mr. Greenleaf could easily draw boos from any audience for his cruel treatment of his daughter if this play were an old fashion melodrama. Ah, the world so dearly loves theatrical villains, and so do the actors portraying them. Paul Turbiak, also plays the characters of Pleribo, Adraste, and Prince Florilame, a rival of Clindor, Calista, and Theogenes. It may sound confusing in words, but it makes perfect sense when viewed by an audience.
In the technical department, Marty Burnett's production design that is set in a cave and other locations, is up to his usual high standards, along with Matthew Novotny's lighting design that lend both a properly eerie mood when called for by the action in each of the play's various locations. These two creative professionals continue to amaze me as to how cleverly they solve the challenges that "Illusion" director Ellenstein and visiting directors require when staging a production at North Coast Repertory Theatre.
The sleek, and at times, rich costume designs by Elisa Benzoni are eye catching and pitch-perfect for the time period. The costume for the character of Matamore, for example, looks as if it just came from the MGM costume department. Melanie Chen is the sound designer, and the realistic sword fighting scene is courtesy of actor Michael Polak.
"The Illusion", is a highly entertaining production which performs at North Coast Rep Theatre, Solana Beach, and runs through March 19, 2017.


Posted courtesy of Jack Lyons and Desert Local News.