Exploring Antarctica
Bottoming Out on the Globe
By:
Victor Cordell

-

Mar 13, 2023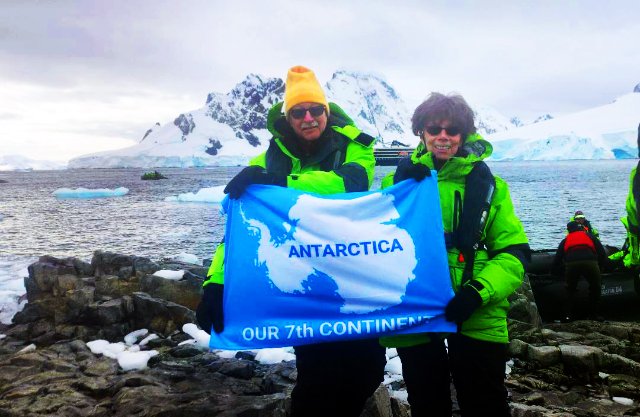 The voyage started inauspiciously with a 12-hour departure delay because of high seas in the Drake. Our itinerary was unaffected, but the first day in the Drake was sheer misery - just what we feared. Motion sickness pills held our nausea at bay, but I was totally wiped out from a combination of conditions and slept any time I wasn't eating or at a lecture. If that wasn't bad enough, on the return, the cruise truncated the Antarctica portion, skipping two landings because of heavy winds and seas. Then we endured 92 mile an hour winds (i.e., hurricane force) on the Drake, which the ship's captain had never witnessed in 10 years in the region. We also confronted 35-foot waves, some of which T-boned the ship, while head-on is preferred. After passing through the heart of the storm, I asked what height of waves might be cause for concern for structural damage or capsizing, and the navigation staff said that they were concerned. For this, we waited 40 years before visiting our seventh continent!
"The Skinny" - Visitation Facts First
There's no denying that visiting the White Continent is a special experience. The pristine, austere, chilling environment has still been visited by very few people. With the foresighted international treaties and practices that protect its character, it is a privilege to enjoy this extreme environment. For those interested in Antarctica, note that currently, only ships with pax capacity of under 200 are allowed to land passengers. Larger vessels cruise by only with no up-close and personal. Depending on the specific destination, we sometimes had the choice of specified short hikes, milling around the landing site, or zodiac cruising. Kayaking and standup paddling were available where safe for a fee.
Far more than most, Antarctica is a tourism crap shoot. Though the Expedition Leader plans an itinerary, the Ship's Captain is the final authority, with weather playing the determinant factor. We had four days scheduled for the Antarctic, and the first three were good to beautiful, with temperatures around freezing, some sunny patches, and modest winds. The fourth was the beginning of the epic struggle.
For those who are most interested in the wildlife, Antarctica offers a deep dive into a narrow range of animals. One of the biggest highlights was seeing our first penguin colony on the continent, though we had seen temperate-climate varieties in South Africa, New Zealand, and the Galapagos. As with all species, visitors are to remain 15 feet away from the animals, but it doesn't seem that the penguins got the memo. They often intruded on our space recklessly! We saw beaucoups of penguins in rookeries (as it was the season) and beyond - mainly gentoo and chinstraps, but a couple of out-of-place kings as well. They are charming and fun to watch, with many chicks in their baby fuzz.
The observations were virtually all smiles, except that one of the staff did capture and share a video of two predator brown skuas snatching a penguin chick from under a parent with no resistance from penguins around (chickens!). Then the skuas ate the carcass right there in the rookery. When you think about how species adapt to their environments, perhaps a lot of species seem odd. But among other factors, penguins need flatish, rocky areas without snow to incubate eggs, which would seem to make an Antarctica residence a stretch. And unlike, say, Rocky Mountain Sheep who gracefully bound and navigate treacherous rocks, penguins look like fish out of water in their chosen terrain with their wobbly gait and flailing wings. But they sure are cute!
A key factor in the distinctive fauna of Antarctica versus the Arctic is that the latter attaches to lower latitudes by continuous land, so that you get a continuity of animal species. Antarctica is separated from other continents by the vast Southern Ocean, so that the species found there are water migratory or pelagic, which is why you don't see wolves, antelopes, and such. We did see several other types of birds from the gull, albatross, and cormorant families, as well as the graceful Antarctic and Arctic Terns (yes, they migrate the length of the globe). We saw only two mammal types. There were onesies and twosies of three types of seals that were pretty lethargic. But the biggest excitement apart from penguins was numerous sightings and breechings of humpback whales, both from the ship and from zodiacs. Among the citizen science projects that pax could engage in was a humpback identification project. Each humpback has a unique tail fluke, and any photo captures can be shared with a research data base to learn more about family association and migration.
In addition to the wildlife, the white wilderness is striking. The only other natural colors to be seen are the gray of the rocks and aqua blue in glacier crevices which results from great depth of ice and pressure over time. Many glaciers come down to water. We had seen calving, when ice sheets sheer off glaciers into the water in Alaska but did not experience it here. We did however see icebergs with stunning blue striations as well as auto-sized, clear, egg-shaped ice rocks with honeycombed surfaces that come from pressure forcing air bubbles to the surface.
The most interesting panorama was Disappointment Island. It is a large active volcanic caldera with a live vent and enough of a gap in the circle of mountains to allow capable vessels to enter the caldera. It's quite a sight to be in surrounded by a circle of white mountains lurching up from the sea. We were scheduled to have land and zodiac excursions there, but our disappointment was that conditions didn't allow getting off the ship. Although the water surface was pretty flat, it was covered with mini-whitecaps from 50 mph winds.
Our connection with civilization was seeing a couple of people on the deck of a wreck-hunting vessel. We passed two research stations, one Argentinian and one Spanish, but we saw no people outside. We also saw a rusting shipwreck from over a century ago.
Shipboard Experience – For Those Considering the Voyage
Probably all carriers that offer landing privileges in Antarctica fit a similar profile. I can only speak specifically to Atlas's World Navigator and say this. The experience is luxury quality. Staterooms are large and well appointed. Dining offerings are aspirational, and it's remarkable how they can keep the quality up for nine days without reprovisioning. They offer the obligatory afternoon tea but have no specialty dining venues. Internet was spotty and slow, and while I could sometimes surf, I couldn't use email at all for almost the full voyage because the Yahoo server is so slow loading. General shipboard service is high quality. You won't get entertainment that is on offer from the Obesities of the Sea. Piano bar, torch singing, amateurish staff performances, and guest dancing can be expected, along with voyage-relevant movies. We were disappointed that they didn't have competitive name-that-tune and trivia kinds of activities. Bridge, anyone? No. There are two "biggest d***" activities – the polar plunge, a few seconds spent in the Southern Ocean for anyone and for free, and camping, an expensive overnight with small capacity and a wait list. One of our usual meal companions, retired Iranian-American architect, Raheem, did both – at a healthy age 82.
At our age and condition, we passed on both extreme activities. For me, the condition was that I had severe cold/flu/covid symptoms from early in the cruise. Karin followed by a few days. We've both gone through periods of voluminous phlegm production, hacking coughs, total enervation, and in my case, limited appetite for food and drink (what timing!). Each of us tested negative for covid, but my guess is that we either tested too late or had a variant that wasn't captured. It's also noteworthy that while covid was mentioned in various staff presentations, it was only in historical context, never with concern for normative behavior. We wore masks when not eating or drinking to protect other people, but only a few other passengers did, and we know that others had some symptoms.
You quickly begin to appreciate why these cruises are so expensive – high staff to guest ratio; small guest capacity and thus little financial leveraging of resources; special facilities and special equipment. And then there is the expedition staff. We had 12, of which at least three had polar station or expedition experience. One was on the force that located the sunken Endurance, lost over a century ago (see below for more specifics). They were a highly skilled team that led excursions and gave briefings and lectures on all aspects of polar exploration. I was very impressed that Atlas had assembled such a team and offered such a flawless experience in their very first season in Antarctica.
In the seventh continent, we had two scheduled excursions per day. Each activity involved one hour off the ship and required probably an hour-and-a-half of combined preparation and winddown. So when you think about it, the financial expenditure relative to the essential experience is even higher than you might suspect. Pax get to keep the cozy parkas but not the provided boots. The only real cold we felt was on the face (Balaclavas or the like would help) and fingertips (battery-powered hand warmers come in handy).
In a sense, this is similar to a repositioning cruise in that there are no days off the boat investigating various cultures. Here, the only culture pertains to the stories of the brave people who have spent serious time on the continent.
Antarctic Exploration and Lore
It's hard to be not totally awed by the unparalleled courage of the early Antarctic explorers. You can't imagine any exploration having more risk, more sacrifice, more painful conditions with chronic frostbite and gangrene among the concerns. Two names associated with successful Antarctic exploration are Norwegian Roald Amundsen, who won the race by leading the first expedition to reach the South Pole in December, 1911, but who was criticized for seeking only personal glory and serving no societal purpose. The other in pursuit was Britisher Robert Scott, who did have research objectives. His expedition launched in the same season, but facing particularly adverse conditions, Scott reached the South Pole a month later. In one of the great "what-ifs" in history, Amundsen decided to return from the Pole with a tank of kerosene that his party would probably not need. The alternative was to leave it behind in the expectation that Scott's party would find it and might need it given the worse conditions that Scott would have faced from the late start. Sadly, Scott's men could have used Amundsen's excess fuel to unfreeze food on their return. Scott and all of his men perished instead. You can only imagine the unfolding tragedy.
But ask anyone steeped in Antarctica, and one man is revered above all as a leader, despite the fact that he never accomplished his exploration objectives. That was Englishman Ernest Shackleton. No expedition leader put the safety of his men before his own glory like Shackleton. To lighten load when weight was essential, he dumped precious gold memorabilia and a bible given him by the Belgian royalty. When a man's gloves were lost, Shackleton threatened to drop his own fur-lined gloves into the sea if the man didn't take them.
His expedition in 1907 would have been the first to reach the South Pole, but calculating that a shortfall in provisions from continuing would result in the deaths of one or more men, he turned back only 90 miles from the goal. On another expedition, his vessel, Endurance, was strangled by trap ice in the Weddell Sea and eventually forced by the relentless ice down into a watery grave. The description of the inescapable, constant whining and grinding sounds of the ice imposing its will on the wood was chilling. Shackleton and a few men improvised an escape from Antarctica in a powerless, rudderless lifeboat, and in a heart-stopping adventure they were lucky enough to make landing at South Georgia Island. Had they missed this spec in the ocean, sure death would have followed. Not only did Shackleton return to rescue the rest of the force which wintered in Antarctica, but he also led another harrowing rescue mission that would add nothing to his resume or marketability for financing future expeditions but showed his dedication to his men. I believe that he never lost a man in spite of overwhelming challenges and hardships. I'm a little dubious about self-indulgent, high-risk adventurers, but I find Ernest Shackleton to be the most admirable expedition leader ever.
Travel Tie Ins
Many people simply did the cruise, which did include air charter from Buenos Aires to Ushuaia. We figured that if we went that far, we might see other stuff in the area, so we spent a few days each in Buenos Aires and Santiago, both of which we had been to before. For having many parallels, they are very different. I won't go into that except to say that we like BA which architecturally has a vibrant mix of Parisian formality with an organic naturalism. Santiago is similar to Johannesburg, dominated by suburban communities that look like fairly prosperous South Florida – many high-rise residences surrounded by lush greenery, but with a downtown that is graffiti-ridden and dangerous. However, there are interesting excursions from Santiago. For the nature types in either country, Patagonia is the best bet. Both also have nice wine regions, but Santiago's is much more convenient.
Verdict
Waffling is us. Of course, whether Antarctica makes sense for you depends on you. On the good versus great distinction, it was good for us, though I admit that the reflection involved with writing this piece raised my appreciation level. Reasons - For us, we were mostly wildlife driven, and after eight or so wildlife-dominated vacations with huge variety in animals in most, we would rank this among our less interesting. It is very expensive relative to alternatives. If you take a traditional cruise, you have four pretty dead days on the Drake except for any lectures. If you're subject to motion sickness, it is a big gamble, but the yet more expensive option is to Fly the Drake.
Most people rave about Antarctica, but you have to wonder if there isn't a little cognitive dissonance in operation for some people. However, for those with a special interest in the area or for the bucket-list driven, it is the brass ring. Go for it!