Huang Ruo and Basil Twist Team-up in New York
St. Ann's Warehouse Holds Magical Moments
By:
Susan Hall

-

Mar 18, 2022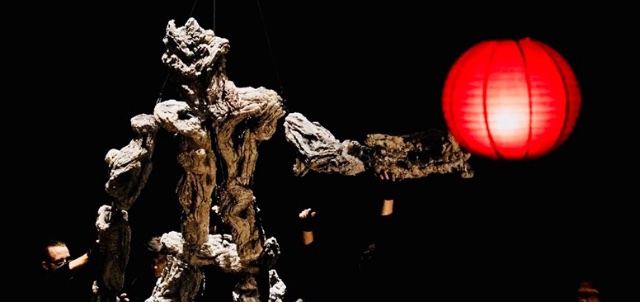 Book of Mountains & Seas, a new opera by Huang Ruo and Basil Twist, takes us out of ourselves and our space into a new and exotic world. Yet we are anchored in human concerns.
Huang Ruo originally adapted The Book of Mountains and Seas, a work created in China in the 4th century BC and set its spirit in a vocal opera for twelve singers. Full of good humor and infinite curiosity, Ruo comments on the visions possible with this unusual number: 2, 3, 4, 6. He uses all the combinations seamlessly. First produced in Copenhagen to rave reviews. "Basil Twist's performance Book of Mountains and Seas with Huang Ruo's tones in the mouth of Ars Nova Copenhagen, is the epitome of Feng Shui - the movements of life energy throughout the universe."
Ars Nova had scheduling conflicts by the time a New york prmeiere date was set. Trinity Choir stepped in on a few weeks notice. They are on book so the language, a new one invented by the composer, could be accurate. Conventional vowels abound, but so too do accents strange to the Western ear. The music itself is distinctly non-Western, but according to the composer, not written to eastern modes and harmonies. It is beautiful, yet removes the ear from its comfort zone into another more exotic space. All of this heightens our attention, and our pleasure.
Twist is funny too as he talks about writing with a live composer. His most famous partner is Hector Berlioz (d.1869). His production Symphonie Fantastique in a 1000 gallon tank is a universal bucket list item.
The elaborate puppets Twist creates are elaborate because they are created by a fertile, ranging mind. In fact, the materials Twist uses are simple. Silk is his moving material of choice. He likes to have a hard contrast, here choosing driftwood. While he thought of travelling to the Outer Banks of North Carolina and scouring beaches, he resisted. Instead he chose to combine paper and cardboard. The work opens with parts made of this material sprawled in the center of the stage, limp on the ground. Two bright eyeballs stare out at us.
We are in a very black room, as dark as it can be. The singers appear as heads only, lit by the faces of their iPads. At first, they appear to be hand-made puppet heads emitting glorious non-Western tones.
The work is divided into four parts. We are introduced to Pan Gu, who created the world, in abstract forms. Then Nu Wan, drowned ar sea, exacts her revenge on the waters.
In the third section, one after another sun appears, each a glowing orange. Finally there are ten suns. When they decide to fly together, earth's crops are shrivelled. An archer is called in to kill off the suns. He does, until ony one remains, to light the earth. Terrified of the archer, the sun obeys a day and night rhythm so the earth does not become overheated.
At last we meet a giant, Kua Fu, who is disturbed because he cannot find the sun at night. In the fruitless quest of chasing the sun, he dries up the earth's waters and dies himself. This giant creation of Twist's is a magnificent assemblage of handmade driftwood, rising to full height and then collapsing.
Anthony Minghella gave us a wonderful puppet child in his Madama Butterfly. Twist created a huge witch for the Houston Grand Opera produciton of Hansel and Gretel. Julian Crouch made the puppets for Philip Glass' Satyagraha, deliberately created from humble materials. Here the puppets join with the music on if not equal footing, definitely demanding equal time. The collaboration is thrilling.
Huang Ruo has contributed mightily to music and to our understanding of the Asian dilemma in this country, with An American Soldier and The Vietnam War Memorial portion of Written in Stone (now at the Washington National Opera.) In Book of Mountains & Seas, he transcends himself, giving us Chinese myths that enrich our undertsnaind of the now. He conducted the complex work from the back of the theater at the St Ann's Warehouse. He was master of all about him. His own M. Butterfly is up next in Santa Fe.