Brecht's Resistible Rise of Arturo Ui
Chicago's Trap Door Theatre
By:
Nancy Bishop

-

Mar 20, 2017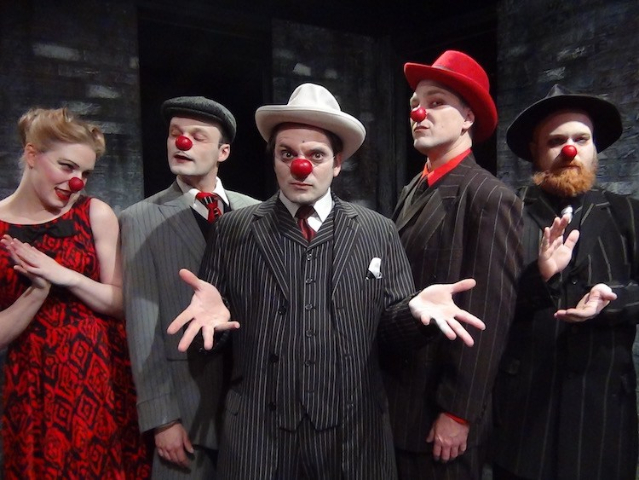 Chicago gangsters fight over the ownership and expansion of the cauliflower trust into Cicero. You may think that sounds like a farce, but The Resistible Rise of Arturo Ui is a vehicle for Bertolt Brecht and Trap Door Theatre to satirize the rise of a fascist dictator in the 1930s….and perhaps today.
The play is 105 minutes of fast-paced Brechtian dialogue and gangland-style murders, a brutal and not always subtle satire laced with literary and dramatic references, and performed in a highly physical way. Director Victor Quezada-Perez uses his "mise en clown" style to emphasize the buffoonish behavior of the cauliflower trust. The son of Chilean exiles, Quezada-Perez blends a commitment to citizens' rights and the need for rebellion with a strong ensemble directing style and a madcap approach.
The 12 cast members, in costume and makeup, are on stage when the house opens 15-20 minutes before curtain time. In a semicircle, they move and sway and gyrate, sometimes interacting with each other, while 1930s-era radio news plays. You'll note that the color scheme is black and white with slashes of red in dress, shirt or hat. And the actors all wear red noses.
Master of ceremonies David Steiger begins the play by intoning Brecht's rhyming prologue, introducing the story, its Chicago setting, and its characters.
"And lastly Public Enemy Number One.
Arturo Ui. Now you'll see
The biggest gangster of all times,
Whom heaven sent us for our crimes
Our weakness and our stupidity."
Those lines suggest the political theme of what Brecht calls "a parable play." Yes, it's gangsters in the city of Chicago (and Cicero) but the character and his rise are parallels to the rise of Adolf Hitler and the Third Reich in Brecht's native Germany.
They also suggest our new chief executive, who may be "the biggest gangster of all times" and certainly was sent to us because of our "weakness and stupidity." Brecht equated Arturo Ui with Hitler and most every event in the play suggests an actual event in history. There's a produce warehouse fire (the Reichstag fire of 1933) and the gang's takeover of Cicero (the Anschluss of 1938, which annexed Austria to the Reich), for instance. Today Brecht and Quezada-Perez would equate Ui with the threat posed to our democracy by our twittering TV-obsessed president and his henchmen. (In my copy of Arturo Ui, background notes by Manfred Wekwerth point out that "one of the dangerous things about Hitler was his immensely stubborn logic, lack of understanding, and half-baked ideas.")
Quezada-Perez doesn't create a drab political diatribe. The Trap Door production is smart, crazily entertaining and thought-provoking. Antonio Brunetti plays a colorful and emotional Arturo Ui, determined to defeat Chicago's cauliflower trust and bring vegetables to the people of Chicago and Cicero. Casey Chapman is his trusted sidekick, Ernesto Roma, until he isn't. And the hitman extraordinaire is Bill Gordon as Emmanuel Gori, who dons the hat he removes from each corpse. (The killers remove the red nose from each corpse too, in a ritualistic symbol of death.)
Lyndsay Rose Kane plays Clark, a cauliflower trust leader in a slinky red dress. It's a part that Brecht intended for a male actor but Kane gives it plenty of executive power.
Set design by Stefan Roseen and lighting by Richard Norwood make the most of Trap Door's small stage. Rachel Sypniewski's costumes carry out the color scheme in 1930s style male and female apparel. Ui wears a white fedora, Al Capone's trademark hat. And Guiseppe Gobola (Kevin Webb), a florist, wears red gloves and a rose boutonniere. (He's patterned after Capone's rival, Dean O'Banion, leader of the north side Chicago gang and a florist.)
Bertolt Brecht left Germany in 1933, soon after Hitler was named chancellor by President Paul von Hindenberg. Brecht wrote Arturo Ui in 1941 in Helsinki. The play was not staged until 1958, two years after his death. His company, the Berliner Ensemble, staged the play first, although Brecht intended it for American audiences. Its first US production was in 1963. For some reason, Brecht had an interest in Chicago, although I can't find any evidence that he ever visited our city. His plays In the Jungle of Cities (1923) and St. Joan of the Stockyards (1931) also are set here.
The Resistible Rise of Arturo Ui continues at Trap Door Theatre, 1655 W. Cortland, through April 22. Performances are at 8pm Thursday-Saturday. You can buy tickets for $20-25 online or by calling 773-384-0494.
Posted courtesy of Nancy Bishop and Third Coast Review