The Barber of Seville
At Livermore Valley Opera
By:
Victor Cordell

-

Mar 20, 2019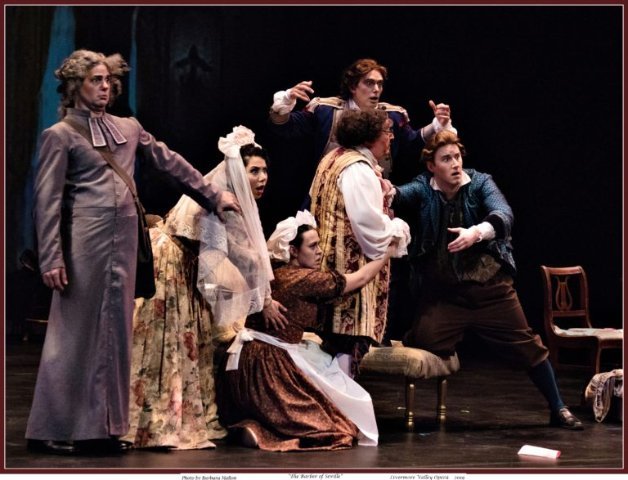 After suffering a bumpy ascent to acceptance, The Barber of Seville has long been recognized as one of the true masterpieces of opera buffa. However, in 1816, Rossini's groundbreaking raucous comedy was novel and initially discomforting to audiences, and the voicing of the young maiden Rosina's role as an alto seemed incongruous.
One of the great challenges in mounting a war horse is that some experienced opera goers are looking for something new to refresh their interest with a non-traditional setting or interpretation. Others are offended by changes from the composer's intent. While Livermore Valley Opera's rendition is traditional, Stage Director Robert Herriot gives it vibrancy as he teases every bit of humor out of the material, inducing fine comic turns from all of the performers through physical humor, gesticulation, articulation, and use of props. He also successfully employs devices such as the discordant tuning up of a motley band and slow motion scenes. Even the "interpretations" of the text in the supertitles add to the fun. Lines like "Your macaroni has been cheesed for you," are probably not literal translations from Sterbini's libretto.
In the opera canon, The Barber of Seville is one of relatively few that can ease many unfamiliar with opera into enjoying it. In the on-stage introduction, Artistic Director Erie Mills asked those in the audience who were attending an LVO opera for the first time to raise their hands, and the number was quite surprising. Based on the appreciation shown for some individual arias and at the final bows, a number of the first-timers will come back.
The central story line, an adaptation of Beaumarchais' comedy of the same name, is a familiar comic setup. A young woman is ward to an old man who plans to marry her against her wishes. She falls in love with a young man, and plots ensue to bring the young lovers together. In this case, there is also hidden identity as the suitor disguises as a student, a soldier, and a music teacher to trick both his intended and her guardian.
It doesn't hurt that the score contains some memorable and highly pleasing melodies. The composer also challenges singers' virtuosity with an array of rapid patter, runs, trills, and other coloratura embellishments that please the ear and the humor. In addition to exquisite arias, Rossini's ensembles are highly engaging. Weaknesses from a modern-day perspective include the repetitiveness of the ending music to set pieces. Also, the many variations of otherwise entertaining ensembles at the end of Act I go on and on.
The opera opens with the jaunty and well-known overture which should please most music lovers. Also, the signature vocal number, "Largo al factotum," (Make way for the top man – Figaro's famous and funny aria about all of the services he provides) occurs very soon after the opening, before a skeptic's interest may wane. And baritone Alex DeSocio delivers a stunning accounting of it and the whole role of Figaro. Not only does he display power and beautiful tone throughout his range, but he delivers the energy and comic aspects of his part with great skill and assurance.
Perhaps the next most popular aria follows not too long after as we get a full introduction to Rosina. In her lovely and lively "Una voce poco fa," (A voice echoed in my heart) talented mezzo soprano Shirin Escandari successfully negotiates the runs and vocal extremes matching the mood shifts of the lyrics, in which Rosina first claims to be docile and respectful but then avows to be a viper if wrongly treated.
In his exemplary portrayal of the guardian, Dr. Bartolo, Peter Strummer provides another brilliant characterization for LVO of a foolish old man looking to regain his youth by marrying a younger woman. In 2017 at the Bankhead, he played with equal relish Bartolo's bel canto bookend, the title role in Donizetti's Don Pasquale.
Adding to the delight are Thomas Glenn as Count Almaviva (fine acting, but sometimes vocally strained), Kirk Eichelberger as Don Basilio (excelling in another highlight, "La calunnia è un venticello" – Slander is a little breeze), Deborah Rosengaus as Berta, and Ryan Bradford as Fiorello. Alexander Katsman leads the orchestra through its interludes with panache. The instrumentalists also meet the challenges of keeping pace with Rossini's scoring and the singers' patter flourishes. Staging is adequate, but the cost-saving projection screen on the back wall suffered technical glitches several times at this performance. Still, the stellar direction and fine performances of a sparkling score make for a rewarding evening.
The Barber of Seville composed by Gioacchino Rossini with libretto by Cesare Sterbini is produced by Livermore Valley Opera and plays at Bankhead Theater, 2400 First Street, Livermore, CA through March 17, 2019.
Courtesy of For All Events.