Irreversible Presented by The Red Fern Theatre Company
Jack Karp's Intriguing Play about Oppenheimer
By:
Susan Hall

-

Mar 23, 2015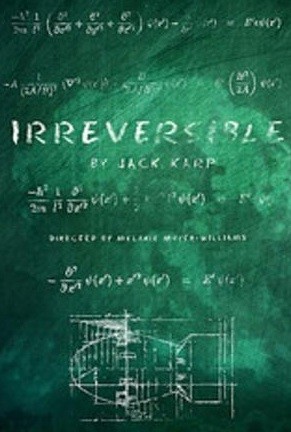 Irreversible
By Jack Karp
Directed by Melanie Moyer Williams
The Theatre at the 14th Street Y
New York, New York
March 22, 2015 (thru March 29, 2015)
Cast: Jordan Kaplan (Robert Oppenheimer), Josh Doucette (Frank Oppenheimer), Laura Pruden (Kitty Oppenheimer), Hugh Sinclair (General Groves), Dan Odell (Dr. Niels Bohr), Amelia Mathews (Jean Tatlock).
Andrew Mannion (Scene Design), Rebecca L. Welles (Costumes), Marie Yokoyama (Lighting).
The play Irreversible starts with Oppenheimer speaking in complete darkness. Black holes were a specialty of Oppenheimer's, and his work on them might have produced the Nobel prize he coveted. A polymath who quoted John Dunne and the Bhagavad Gita, Oppenheimer was hired to work on a 'gadget' to end the Second World War, and achieved his goal.
The moral aftermath is suggested at the end of the play. Oppenheimer's brother circulated a petition among scientists at the lab to demand that the bomb not be used. Oppenheimer would take this to Washington and meet with Truman. Truman reacted badly. "Don't ever let this man in my office again."
But while Oppenheimer was working, he was a man obsessed. He did not sleep. He drank coffee. And he demanded the same of his researchers. Science can be best be realized by obsessives.
Oppenheimer is a large and complicated figure, to say the least. Playwright Karp's idea is that the man's brilliance could barely be contained. In some ways Oppenheimer knew how to deal with a mind bursting its seams by constantly occupying and pressing it with math, with physics, with black holes, with the 'gadget' as the bomb was called. This was the only way he could survive. Post mortem psychiatric diagnosis is fruitless. Crazy people can manage if they know themselves.
Oppie did in some way. He was weak for Jean Tatlock, but as drawn by Karp, who wouldn't be? Beautiful. Seductive. Highly educated. And wild for Oppie. Amelia Mathews plays the role in a star turn.
Karp has drawn 'Oppie' as a character who also managed a general and a huge team of scientists at Los Alamos. To get what he wanted, which was a bomb to end this war and all wars, he knew how to manipulate, charm, humor and prod.
Jordan Kaplan leads us through the many parts of Oppie. While sometimes cruel to his less talented brother, he could sufficiently control himself to get what he wanted. Of course it coincided with what General Groves wanted. Josh Doucette creates a sympathetic, somewhat lost Frank.
Hugh Sinclair as Groves is towering. Full of humor and unusual flexibility, he gets along with Oppie as an equal. Clearly dealing with his demanding wife makes Groves welcome more challenging company.
Kitty is harder in outline than John Adams' creation in the opera Dr. Atomic. Yet this portrait suits her counterpoint to Oppie. Laura Pruden catches her love and her hurt, as she watches Oppie switch back to Tatlock, her predecessor and successor rolled into one.
Niels Bohr played by Dan Odell is historian of the group, and political meddler. He is our hero, but one that seems ineffective. Churchill sends him away when he suggests sharing the secrets of the bomb with Russia.
Los Alamos may have been the high point of Oppenheimer's life. He was in New Mexico, with which he'd fallen in love when his father sent him there with a tutor to recover from colitis as a young man. He was with his wife Kitty, who he loved, if not quite as much as other women, enough to stick with her to the end. And she him. He was her fourth husband.
The consequences of the bomb did not become clear until the first one as detonated. Animals around the bomb site lost their eyes and skin before they died excruciating deaths. At first Oppenheimer could not move from the satisfaction of mission accomplished to its meaning.
The play ends with a dramatic and inescapable pictorial of Japanese victims.
Another play on Oppenheimer is opening soon in the West End. Its subject, "the personal cost of making history."
That is not the Oppenheimer story. His is a struggle to tame his mind—his wild, brilliant mind. And he did it. He was committed to defeating Hitler and the Nazis. In Irreversible we are in the Jimez Mountains and the very intensity of the place, of being trapped there, increases the dramatic viability of Karp's play. It is really terrific and should have its own life.