La Cage aux Folles
Produced by Altarena Playhouse
By:
Victor Cordell

-

Mar 27, 2022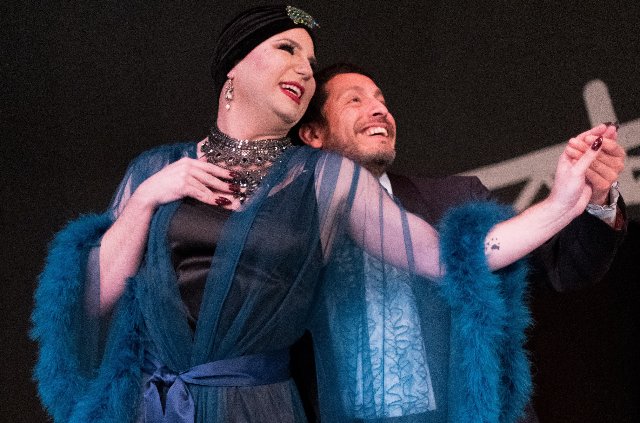 Most of us have probably known people who are embarrassed about their parents. The cause may be divorce, addiction, violence, or low socio-economic status. Imagine France in the 1970s. A young adult who has flown the nest, Jean-Michel is bringing home the girl he wants to marry, along with her parents. Her father is leader and political candidate of the Tradition, Family, and Morality Party, committed to cleaning up "immorality." Oh, and by the way, J-M's father refers to himself as a regular homosexual. The person who acted as his mother for his whole life is a male drag queen homosexual. And he was brought up in his parents' apartment above the drag queen nightclub his father owns and operates, La Cage aux Folles (the cage of drag queens.) Anybody detect trouble on the horizon?
Even for the (rare?) audience member who is not familiar with this work or its Americanized version, "The Birdcage," the message resonates from the opening number. Les Cagelles, a chorus and dance line comprised of drag queens at the club, performs "We are what we are," and the stage is set. The action then revolves around the couple's apartment and the club, where grounded Georges emcees and manages the business, and drama queen Albin manages the household and is the club's lead performer, Zaza.
Conflict arises as J-M determines that his father, Georges, can be made presentable for the visitors, but that his "mother," Albin cannot. So, J-M invites his birth mother, who had a one-night fling with Georges and who never lived with sire or son, to feign a current marriage with Georges while the fiancée's delegation is in town. J-M asks Albin to disappear for 24 hours. Needless to say, Albin is heartbroken. And, needless to say, the "best-laid schemes o' mice an' men gang aft agley."
While each plot point is not predictable, the overall story arc is pretty much as expected. But that's not the point. "La Cage" is a delight because of its joy and its empathetic treatment of marginalized people, not to mention the role it played in advancing understanding to many people who had little familiarity with or compassion for the community represented in the story.
Albin is thematically the central figure, and the success of "La Cage" relies heavily on an Albin who commands the stage in a faux-dramatic fashion. Joshua Beld offers all of the necessary traits. At once, fantastically funnily flamboyant and infused with mock arrogance, he also captures the sensitivity of compassion and the pathos of disappointment. His high-pitched giggles belie a deep, trained baritone singing voice that serves well in numbers like "Song in the sand" and "I am what I am," the latter done in a growling, raspy style.
Let it be said that Altarena offers a fun show. Director Noah Haydon distills a complex production amiably. Casting and acting are not as consistently outstanding as would be expected of deep-pocket companies, but most are fine. The other highlight performance is from Max Thorne as Albin's exuberant and highly protective butler/maid – the moustache in the maid's outfit. One false note is that J-M doesn't need to be played as unsympathetically as he is when confronted with some of his challenges. Although "La Cage" would benefit from a large stage for elaborate dance numbers, this venue's physical size compounded by the elevated runway in the set limits the possibilities. Nevertheless, Leslie Waggoner's choreography makes good use of the squeezed space.
The musical ran on Broadway for over four years, garnering six Tonys, including the most coveted – Best Musical, Best Score, and Best Book. Accordingly, any production of "La Cage aux Folles" starts with great material. Although there is not huge style and tempo variation in Jerry Herman's score, it is full of tuneful music with lyrics that pluck the heartstrings. Finally, Harvey Fierstein speaks with total authenticity in the adaption of the book which balances humor and issues well.
"La Cage aux Folles" with book by Harvey Fierstein and music and lyrics by Jerry Herman is based on the play of the same name by Jean Poiret, is produced by Altarena Playhouse, and appears on its stage at 1409 High Street, Alameda, CA through May 1, 2022.