Sweat by Lynn Nottage
Award Winning Play Finally Reaches Broadway
By:
Herbert Simpson

-

Mar 28, 2017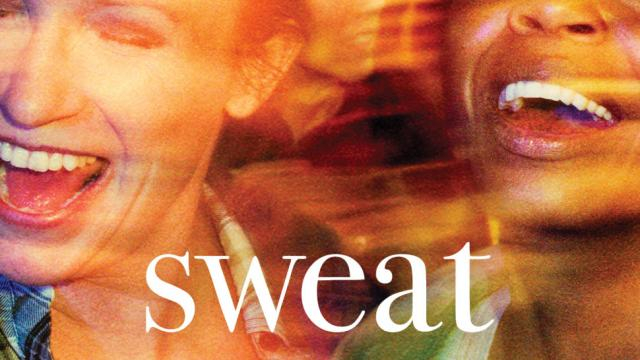 Sweat
By Lynn Nottage
Director Kate Whoriskey
Studio 54
254 West 54th Street
844-483-9008
Cast: Carlo Alban, James Colby, Khris Davis, Johanna Day, John Earl Jelks, Will Pullen, Lance Coadie Williams, Michelle Wilson, Alison Wright
Set: John Lee Beatty; Costumes: Jennifer Moeller; Lighting: Peter Kaczorowski; Original Music and Sound: Rob Milburn and Michael Bodeen; Projections: Jeff Sugg; Hair and Make-up: Leah J. Loukas; Fight Director: U. JonathanToppo
Finally, Lynn Nottage's powerful, timely play is on Broadway, officially opening March 26, 2017. I read it for an award-granting committee in 2015 and got detailed reports on its sold-out productions at Oregon Shakespeare Festival and Arena Stage in D.C. They got rave reviews. Then I saw this same production at the Public Theatre in New York, which also sold out and got raves. Now it's moving intact to Studio 54 with only one cast change.
Like her Pulitzer-Prize-winning Ruined, Nottage developed Sweat from many on-the-spot interviews with people in this predicament, whose stories and comments flesh out the drama that connects and thrusts home its meaning and impact. Essentially, it is the now-common tragedy of the death of local industries which centrally created and developed our manufacturing towns. As machines replaced workers and were exported to locales where labor was cheaper, their towns died. For the workers for whom that labor and employment were an historic way of life, this gradual demotion until total loss of employment became an inexplicable, unanticipated plague.
We start with scenes in 2008 centering on two unhappy, attractive young men separately imprisoned for some terrible, unidentified crime. Evan, the parole officer for both, is harsh in demanding peaceful obedience from rebellious Jason, but more concerned about helpfully instructing Chris, a fellow black man, who is emotional but anxious to please. Later, we will see Chris trying to please his mother, Cynthia, who distrusts him, and Jason trying to get money from his mother, Tracey.
Jason, volatile and depressed, is still appealing in Will Pullen's commanding performance. Khris Davis makes Chris a lively, especially likable man.
Back in 2001, we see their mothers interacting for much of the middle of the play, mostly at the bar in Reading, Pennsylvania, celebrating birthdays or gathering with co-workers from their steel-tubing factory. Johanna Day's Tracy is glamorous and sarcastic, but her friendship with Michelle Wilson's charming and strong-minded Cynthia is strained when Cynthia, a black woman, is chosen over her for an upgrade to manager from their floor jobs. Tracy questions whether their happy past birthday celebrations at the bar will continue. As the factory workers start to be laid off, such rifts in these happy gatherings deteriorate. We meet Cynthia's drunken husband, Brucie, who became an addict after his factory locked out his union for almost two years.
The bright, underprivileged Hispanic immigrant, Oscar — immensely appealingly played by Carlo Alban — works behind the bar and is more underpaid than the others. But when he considers taking a very low-paying job at the factory, the others are infuriated and want to attack the "scab."
The bar owner, Stan, a retired, partly handicapped former factory worker, hosts these increasingly tense meetings. He encourages Oscar. James Colby is low-key and ingratiating as Stan, until our final realization of what happens to him results in heart-stopping shock.
These connected scenes of the town's deterioration eventually end in the violent attack that has yet to be detailed. We see the workers and their families trying to deal with the aftermath, which brings a kind of resolution in united understanding, but no salvation. Lynn Nottage's script and Kate Whoriskey's direction move from ascending power to enriching and clarifying interpretation.
Matching the potency and perception of its writing, direction, and acting, Sweat is memorably designed. I'd confess prejudice because lighting designer Peter Kaczorowski is an old friend and graduate of the college where I taught for decades, but that irrelevance is obvious in my less-wordy friend, critic Linda Winer's description, "an ace designing team." The basic set is the bar, but the emotional and factual variety is suggested by considerable complexity and grabbing effects through lighting, projections, shifting stage and costume designs, and sound. It's a stunning production.
After all the varied development of the curse of the failed town business, Jason and Chris, beaten down but resigned, meet again in 2008 and forgive each other wordlessly in an embrace almost too charged with meaning. We finally see exactly the awful result of the two men's anger. I saw people leave before the ending – maybe worn out by the weight of the drama. But I also saw a number of people leaving at the end, crying.
So that's it. We've started with terrible results and unhappiness, and then gone back to see causes, developments and climax. Now we end with remorse but no resolution. Lynn Nottage knows how to indict, explain, understand, and warn. And her play scores a knockout. There was fun, and unhappiness, and even understanding and affection along the way. But, as one critic wrote, this play ends with the single most horrifying "Thank you" we've ever heard.