Prurience at the Guggenheim Museum
A Pseudo Porn Therapy Session
By:
Susan Hall

-

Mar 28, 2018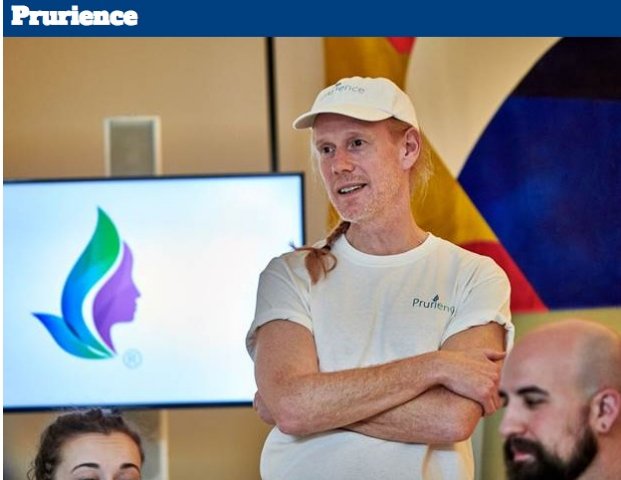 Prurience
Christopher Green
Works & Process
Guggenheim Museum
New York, New York
Through March 31, 2018
Prurience. Maybe we should linger on the title of a docu-play running at the Wright Restaurant in the Guggenheim Museum. A group consisting of planted actors with written roles and an audience who have bought tickets expecting to participate in a porn addiction recovery session, are directed by the work's creator, Christopher Green. This gentle psychodrama had a sold out run on London's South Bend. The idea is a hoot.
After interviewing neuroscientists, sociologists, addiction experts, and therapists, Green creates an immersive experience inviting audiences to attend a fictional self-help group that takes a playful look at how sex and pornography are consumed. Do we know sufficiently before entering the room that this is a fictional session? My guess it that someone buys a ticket to Prurience because they are a bit prurient. Not obsessively so, but a remove from prudery for sure.
Every night the performance is different. When I was there, no audience member admitted to porn addiction, although some of the actors told sad and moving stories. One woman was prompted to hug an actor/confessor. When asked why she stood up, turned and held the actor, she replied: "I thought I should." She had been sucked into the reality of the unreal moment.
We are prurient because we are in the Wright restaurant at the Guggenheim. AA meetings are sometimes infiltrated by curious outsiders, attending for the show. Will they see a celebrity stand up and confess? Discussing sex is titillating on the face of it. Hearing a celebrity admit to tawdry acts is thrilling.
Yet we are at a theatrical performance. We do not know who the actors are and often react to them as though they were expressing their own feelings and not ones designed for them. Early on issues of what is and is not real are raised.
On other evenings, is the audience more engaged? I wrote a note which was placed with others in an expectation bowl. The bowl was passed around and people read aloud the entries. "Nothing." "I hope to be turned on."
We know 12 step meetings or 12 step family support groups from personal experience. Green denies that he has created a 12 step event. Yet the fact that we don't get advice but rather suggestions and we are encouraged to walk the walk with the others, but do not direct, is very twelve step-ish. Green is teetering on a tightrope which hovers between invitation and invasion.
There is something awful about psychodrama which was developed in the late 1960s. In these dramas, a person got up on stage and re-enacted traumatic events from her life. If she collapsed during the process, no one was there to hold her up. Green carefully avoids this kind of moment, but in being so careful to do this, a lot of the potential of natural drama does not come to the fore. This is unfortunate. When people who aren't just prurient but are really addicted show up in the audience and 'share', I imagine the event would be much livelier, sad as this is to say.
What is fascinating is the urgent need of people for live seemingly real experience. Time consumed in the virtual space of Facebook, Pinterest and Twitter can not, apparently, satisfy the need for connection with genuine human beings. Are the actors in this production stand-ins for the unsatisfying fake connections we make all day long? Does the yearning to sit shoulder to shoulder with a neighbor yield this kind of experience? My guess is yes.
Green states that he is really exploring an addictive and morally suspect society and not sex. Sex is the draw, however, for attendance at Prurience. Drama is not created when actors can not ignite an audience. The creators seem to be casting their net wide with the title and then pulling back to safety in the real event.
The event lingers. You find yourself wondering about it days later. Green says this is his true goal. The first thought in people's minds as they leave the theater should not be, "Now where we do we go for dinner." Provocation. Lingering questions. Those Prurience delivers in spades.