Old Stock at 59E59 Theaters
Mixing Klezmer and the Bible
By:
Susan Hall

-

Apr 01, 2018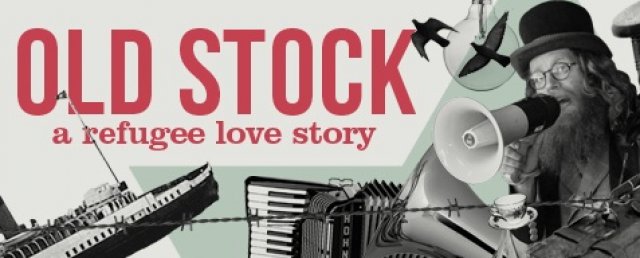 Old Stock
By Hannah Moscovitch
2B Theater Company
59E59 Theaters
New York, New York
Through April 22, 2018
A big box sits on the stage at 59E59 Theaters before the show begins. Has an Amazon drone has delivered it before the audience is admitted? Curtain time and the door of the box swings open to reveal a band, playing their hearts out in familiar klezmer style, impassioned and soulful. A sign reads, Halifax, Nova Scotia. A boat load of immigrants has landed, with all the hopes of a new life threaded into the notes of song.
The storyteller, who also sings and plays stringed instrument is Ben Caplan, a big man with a beard. He morphs into a rabbi when necessary for big occasions, weddings and deaths.
Christian Barry directed a perfectly paced mix of song and story and is also partially credited with the box set, to which Louise Adamson also contributed. While occasionally the actors move into the audience, by and large, the play remains within the box. We feel the intimacy and beauty of a Joseph Cornell creation within its contents, which happen to be live.
The story has been told before as we are reminded by the storyteller. It is the story of the Moscovitches, Chaim and Chaya, who would never be taken for Old Stock. They were beneficiaries of the begats, of course, and by the end of the play, through plagues and pogroms they have survived for at least five generations. This generation fought hard to be Old Stock.
The phrase was once restricted to immigrants from France and Britain. During an election year controversy in 2015 in Canada, 'old stock' became a hot topic. A black descendant of refugees from the war of 1812 remarked, "The true 'old-stock' Canadians are the First Nations and Inuit and Metis. Many divergent ethnicities were also present in colonial Canada, from African slaves in muddy York, to 'German' settlers on the South Shore of Nova Scotia, from the Chinese merchants present in Nouvelle-France to the Portuguese and Basque fishermen of Newfoundland. Personally... I think the current Prime Minister is unsure about his own identity and possibly nervous about the true, multicultural, multilingual, multiple-faiths and multiracial Canada that now beautifully, proudly, lives and flourishes."
The prime minister retreated, "Canadians who have been the descendants of immigrants for one or more generations are 'old stock.' "
The Moscovitches have made it. And their talented descendant has presented this family history for us to appreciate.
It is a lively evening of theater. Chris Weatherstone, who plays the woodwinds in addition to playing Chaim, portrays an enormously sympathetic character, a good judge of character not squashed by adversity yet allowing us to feel his pain.
Mary Fay Coady who plays Chaya is simply brilliant. Although the edge to the character might be off-putting, Coady brings humor and spot on pacing to her interpretation and makes her character irresistible.
We can not be reminded too often of the spunk and fortitude of the original immigrants to this continent. When packaged in such a smart, engaging style, it is a real treat.