In to America by Griffin Theatre
World Premiere in Chicago
By:
Nancy Bishop

-

Apr 05, 2017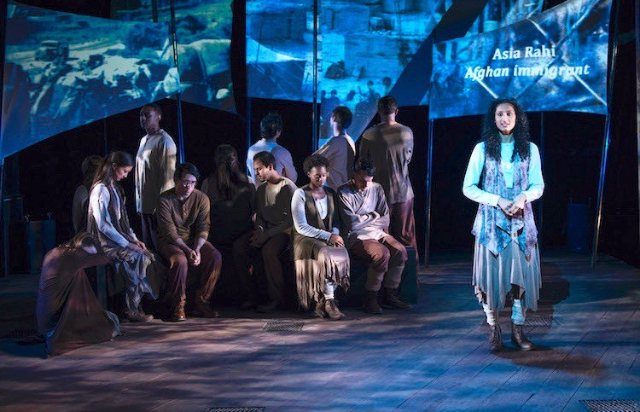 In to America, the world premiere production by Griffin Theatre, is America's origin story, a documentary-style production that tells our history of immigration and multiculturalism, in all its glorious and cruel aspects.
William Massolia, Griffin's artistic director, has compiled a richly researched story of 400 years of American history–drawn from oral histories, letters, diaries and biographies–with more than 60 personal stories of immigrants from 30 countries.
The 13 actors, under Dorothy Milne's skillful direction, play many characters, shifting accents (usually successfully) with their origin countries. The 100-minute production is staged simply with crates doubling as suitcases and projections displaying imagery and names and native countries of the storytellers.
In to America is ambitious in its reach and successful in its entertainment and information value. Along with the immigrant stories, we are reminded of the laws, court decisions and customs the U.S. has instituted over the years that discriminate against immigrants and minority groups.
The Dred Scott decision of 1857 declared free Africans to be non-citizens. The Chinese Exclusion Act was passed in 1882 and renewed in 1902. In 1903, anarchists, epileptics, polygamists and beggars were ruled inadmissible. The Immigration Act of 1917 barred all immigrants from Asia and the Quota Act of 1921 limited immigrants to 3 percent of each nationality present in the U.S. in 1919. And on and on to today's bans on travelers from certain Muslim countries. Griffin's playbill has a helpful three-page timeline of U.S. immigration policy. (The 2017 Trump administration ban is not touched on.)
The story is organized loosely into thematic sections, such as The Journey, American Fever, Binding the Nation Together, The Lady in the Harbor: Ellis Island, The Mexican Revolution, the Great Migration, The Undocumented and The Refugees.
The brief narratives cover a wide range of experiences. An Englishman (Jason Vonrohn) tells of being sold as an indentured servant to be a schoolmaster for a family in Virginia; he reads letters to his wife, expressing his yearning to bring her and their child to America. An Irish immigrant describes his experiences working in a caisson at the bottom of the river to build the Brooklyn Bridge. Cuban and Vietnamese immigrants tell of harrowing journeys on small boats to safety: for the Cuban, it was landing in Miami; for the Vietnamese, it meant months in a refugee camp in Malaysia. Other stories are told by African slaves, Jewish immigrants, Mormon immigrants from Wales, and Chinese immigrants who came here to build American railroads in the 19th century.
Phylicia Rashad (Anesia Hicks), descendant of African and European immigrants and Native Americans, tells how she learned of her family's history. "I was descended of ancestors in Africa, Europe and America. In my heart I embraced them all. Now as a woman with a family of my own, I feel that we are truly a modern family, having the capacity to accept many cultures with love and respect. Our greatest power is ourselves, because together we are one."
John H. Johnson (Christopher W. Jones), who later founded Chicago's Johnson Publishing Company, tells of his family journey from Arkansas during the Great Migration:
"Like millions of other migrants, we followed the curve of the river, going from Little Rock to Memphis to St. Louis to Chicago…. I was captivated by the tall buildings, motorcars, and bright lights. I wanted to get off at Little Rock. I wanted to get off in Memphis. I had to be physically restrained in St. Louis. When, late at night, we finally arrived at the Illinois Central Station at Twelfth Street and Michigan Avenue, four blocks from what is now my corporate headquarters, I stood transfixed on the street. I had never seen so many Black people before. I had never seen so many tall buildings and so much traffic."
Despite the fact that their new country was not always welcoming, the immigrants' thrill at reaching America is palpable throughout the play.
The closing lines, projected on the backdrop, are from a poem by Langston Hughes.
Let America be America again,
Let America be the dream the dreamers dreamed,
Say who are you that mumbles in the dark?
I am the poor white, fooled and pushed apart,
I am the Negro bearing slavery's scars,
I am the red man driven from the land,
I am the immigrant clutching the hope I seek,
O, let my land be a land where,
Equality is in the air we breathe.
In to America by Griffin Theatre runs through April 23 at the Den Theatre's Heath Main Stage, 1333 N. Milwaukee Ave. Tickets are $38. The Den Theatre now has valet parking for $12.
Posted courtesy of Nancy Bishop and Third Coast Review.