Chicago Theatre Critic Nancy Bishop
Sharing a Life in the Arts
By:
Emma Terhaar

-

Apr 06, 2018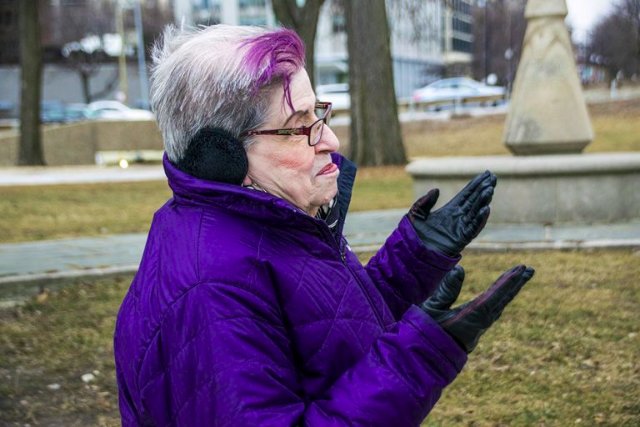 Why did we meet here?
I love this place. [Talking about the pavilion] It was built in 1957, so it wasn't here when I was growing up. The guy who invented the Hammond organ donated $90,000 to the city to build it.
The city thinks the structure has been degraded by cold weather and water. There was a plan a few years ago to demolish it and build some kind of public use facility. This infuriates me.
Nancy points out the sculptures of difference chess figurines and describes the people that have come to this stretch of beach to play chess and checkers for years.
[Pointing at Navy Pier] That's my alma mater down there.
She pauses and looks at me, happily taking in my confusion.
UIC used to be there. It was a two-year school, and then I went to Mizzou (the University of Missouri) for my journalism degree. The Pier didn't have a ferris wheel then. Just a mile of classrooms with a gym at the east end.
At this point in the interview we begin walking over to the second location selected by Nancy, the Chicago History Museum.
[Pointing out a Beaux Arts apartment building at the corner of State Parkway and North Boulevard] I was a docent for the Chicago Architecture Foundation for 10 or 12 years, and this was one of the buildings on the Gold Coast tour. I once went to a political party here. I went only because I wanted to see the apartment. The apartments take up full floors. It was built for rich suburbanites who wanted a pied-à-terre.
We're at the northern edge of the Gold Coast, the neighborhood where Nancy lives. Like any docent deeply fond of her territory, she points out a section of Lincoln Park bordering the museum and explains that this area was once a cemetery, and a single crypt remains from one stubborn family who refused to move their dead.
How long have you lived here?
Twenty years. Before that I lived in Lincoln Park and Uptown. I had a lovely apartment in Uptown, a six-flat on Sheridan and Gunnison.
Where else have you lived?
I was born and raised on the far northwest side of Chicago, the neighborhood is Montclare. My parents were Republican, but by that I mean conservative. At Steinmetz High School, I was editor of the Steinmetz Star during my senior year. I loved that, especially going to the printer to read proofs.
When I went to college in Columbia, Missouri, I outgrew the Lutheran church and the Republican party. After college I got married, moved to Cortez, Colorado, where both my husband and I wrote for the Montezuma Valley Journal. After that we moved to River Falls, Wisconsin, and also lived in St. Paul and Minneapolis, and Athens, Ohio, then DeKalb. As a single, I lived in Louisville before moving back to Chicago in 1984.
How many jobs have you had?
When I lived in DeKalb, I worked at Northern Illinois University; that's where I got my master's degree. My husband was on the journalism faculty. I worked in PR and publications for the university. Then I worked for five years at Montgomery Ward in Chicago, first doing internal communications and then press relations.
I worked for KFC in Louisville for a year a half. I did PR for them, and they sponsored bluegrass festivals and gospel championships and well… that's more fun than a job should be. Next I worked at A.T. Kearney in Chicago. I was essentially a ghostwriter and speechwriter. That was really fun and a great place to work. I also worked for a large law firm.
My whole career—when I worked for money—I had full-time jobs that paid pretty well. That doesn't necessarily happen any more. It's hard for young writers to get their careers started
Now that I'm retired, I probably work six days a week. That includes writing, editing and administrative stuff for Third Coast Review and attending and reviewing plays. One day a week I spend as a volunteer mentor for SCORE, helping startups and small businesses.
The theater critic business is really changing. There aren't that many newspapers left in the country that have full time theater critics; but theater criticism is growing online. I belong to the American Theatre Critics Association and it's adjusting to the changes too. I was just named to the membership committee.
What are your favorite theaters in Chicago?
As a theater critic, I really can't have "favorites." But I do especially like some of the smaller theaters like Trap Door, Steep, Raven, Eclipse and the Irish Theatre of Chicago. And I've been going to Steppenwolf for decades, first as a subscriber and now as a reviewer. I first started going when it was at the old St. Nicholas Theatre on Halsted Street.
Do you ever think about living in another city?
There aren't any other places I've considered living. I love Chicago. I do like Boston, San Francisco and New York of course. Or London, if someone sent me there I'd go.
On playwrights…
My favorites are Eugene O'Neill, Sam Shepard, Arthur Miller, Tennessee Williams and Bertolt Brecht. I especially like dark and grim theater.
On directors…
I really got into film when I started reading Roger Ebert's columns. He made me aware of directors and how important they were. I'd never thought about that. First, I went through all of Robert Altman's films because of Ebert. Then I watched all of Federico Fellini and Luis Buñuel, who inspired David Lynch's work, who inspired Guy Maddin. I wrote about Maddin for Gapers Block when he came to the MCA. The house was packed. It was me and a bunch of film students. I was surprised. I thought "who else knows who this guy is?"
On beloved writers…
If I have heroes they're probably all writers.
I read a lot of essays now, and poetry too. I particularly loved Paterson, the Jim Jarmusch movie because I'm mad about his films and I like the poet [Ron Padgett] who wrote all of the poems. I have a couple of Padgett's books. I've seen all of Jarmusch's films.
I think what Kevin Coval is doing to get young poets writing and performing is great. The young people in Louder Than a Bomb are fantastic. One night I saw Coval read from his book The People's History of Chicago at the Driehaus Museum. It was so Chicago-y, the irony of his street poetry and that elegant mansion. Oh, I loved it and I like seeing young people interested in poetry.
Richard Powers is a novelist that more people should read. His dialogue can be wooden and his characters aren't well developed and I think that's why his books are not more popular. But his books are fascinating stories where science, technology and the arts intersect in different ways. What Powers book would I suggest you read first? Maybe Galatea 2.2, about a professor who teaches a neural network to talk. Or The Gold Bug Variations, about the discovery of DNA and Bach's "Goldberg Variations." Powers is an artist in residence at the U of I. I also enjoy Mordecai Richler, Jose Saramago, and that American writer who should win the Nobel Prize but never will [Philip Roth]…
On architecture
I have five friends who I went through docent training with–that was six months of architecture history, design and structure with papers and tests. Now we go on architecture excursions. We went to Wright's Falling Water near Pittsburgh and we've been to see his buildings in Racine a couple of times. We went to Beverly Shores, Indiana, where the Century of Progress homes from the 1933 World's Fair were moved. We spent a weekend in Columbus, Indiana, which is a mecca of architecture. It has many buildings designed by famous contemporary architects.
On a thoughtful note…
Life is raw material… I think I made that up. It's a blogger's motto.
On the Winter Olympics…
I like curling. I don't know what it is about curling but it's meditative.
On Bruce Springsteen…
Nancy is an out and proud Springsteen fan.
I became a fan when I moved to Louisville in 1983 to work for KFC, and I had cable tv for the first time. I was mesmerized by MTV and I started buying Springsteen music. I bought all his early albums on vinyl, and now I have everything on CD plus a bunch of bootlegs.
My nephew Brad bought his aunt a ticket in '99 when Bruce and the E Street Band were on the reunion tour–that was my first live Springsteen concert and I've been going to see him ever since. We go on road trips to see him. Over the years I've been to 35 concerts, and he plays 3.5 to 4 hours each time.
I've also been to three Bruce Springsteen symposiums–academic conferences about his work. I'm going to another one this month at Monmouth University in Long Branch, New Jersey.
I love the stories he tells during his concerts. You can listen to the Live '78-'79 album when he tells stories in addition to singing. Sometimes he'll take arena anthems and transform them into acoustic ballads and they become something quite different. Some of my favorite songs are "Racing in the Street,' "Jungleland" and "Tenth Avenue Freeze Out." I love it when Tom Morello plays with him–he"s a fabulous guitarist.
Recently I saw Springsteen in Louisville and Nashville but he hasn't been touring lately. I love what he puts into every show, it's every ounce of energy in his body. Plus I like his politics.
On her grandsons and other important things …
My 10-year old grandson sometimes writes poems and stories. We have a back and forth about writing. I have three little grandsons who live in North Carolina and my favorite thing is reading stories with them. My other grandson lives here. He's a sophomore at Dominican University in River Forest.
Politics and civil liberties are an important part of my life. I've belonged to the ACLU since I was old enough to vote–more than 50 years. And I've never missed voting in any election.
I would like Third Coast Review to do more live lit events like Kill Your Darlings in 2016 and Censored! last year, when we read from banned books. I read a racy excerpt from Henry Miller's Tropic of Cancer.
Posted courtesy of Third Coast Review.