August: Osage County
By Tracy Letts at San Jose Stage
By:
Victor Cordell

-

Apr 07, 2022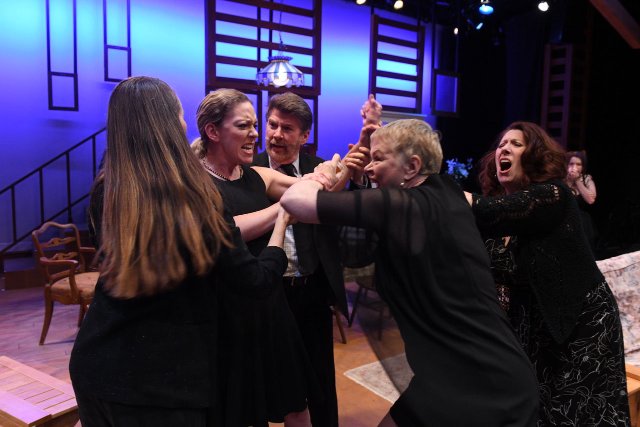 In "Anna Karenina," one of his finest novels, author Leo Tolstoy notes that "Happy families are all alike; every unhappy family is unhappy in its own way." In "August: Osage County," the greater Weston family of greater Tulsa, Oklahoma and beyond covers most of the bases for unhappiness – suicide, addiction, adultery, separation, betrayal, incest, and more. But at least they pursue their unhappiness with a certain quasi-intellectual flair and rapier-sharp wit (complemented by an abundance of f-bombs) as the family abounds with writers, teachers, and a librarian.
Playwright Tracy Letts' Pulitzer Prize and multiple Tony Award winning play concerns the family reunion from hell. The family doge, Beverly, was a prominent poet in his younger days, but settled into a long life as a disgruntled teacher and acknowledged but likeable alcoholic. Several days after his unexplained disappearance, Violet, his wife and family doyenne, musters the troops. Her sister and three daughters, each with their own family attachments in tow, arrive at the family homestead, and the mayhem begins.
Letts has mastered dramedy. The events could not be more serious, yet the constant flow of laughable moments seems totally organic and averts the dark descent into another "Long Day's Journey into Night." San Jose Stage stays true to the play's intent and delivers an absolutely riveting production with captivating performances that make the time fly by, though run time could be the play's most common criticism. Along with fine contributions from the creative team, this is an excellent rendering of an excellent play.
From the outset, we understand that we're dealing with a family that has issues. Director Kenneth Kelleher has cleverly designed the opening scene in which Beverly is interviewing a Cheyenne woman, Johnna, to be a live-in cook/maid for the cancer-suffering Violet. All the while, he scours the premises trying to fill his glass from hidden bottles of Jim Beam with dregs remaining in them. Bev shares with the prospective employee that he and Violet have a contract – he has his booze and she has her pills. Randall King as Bev milks the incident for all it's worth, avoiding the static nature of a conventional sit-down exchange.
The dysfunction and division within the Weston family is palpable, but why shouldn't it be? As Ivy, the demure librarian sister observes, relatives are accidental - "a random collection of cells." Why is the family even together after Bev disappears? Habit? Custom? Inheritance? Violet notes that they didn't gather when she was diagnosed with cancer, but they did when they thought Beverly might be dead. The playwright explores these and other issues of being part of a family, like who takes responsibility for being around and for caring as well as social standards.
As Violet, Judith Miller brims with bombast, stalking about like a crazed lioness, sometimes loopy from the alphabet soup of uppers, downers, and sideways that make things copacetic and quell the pain of mouth cancer. Her modal communication style is screaming, and her modal message is belittling, mostly venting hostility on the daughters who have disappointed her. Barbara is a professor in Colorado and married to a professor, but she could have aspired to more. Ivy, who stayed near home, is single and in her forties, but refuses to dress in a manner to attract men. Karen, who moved to Florida appears to be the airhead in the family. She's brought her three-times-married fiancé with her and either doesn't get or doesn't care why he is a serial husband.
The household remains in a constant state of siege as one character after another acts divisively or reveals some secret, though there is one family member who appears to know even the most private of those embarrassments. Of the daughters, it is Barb who carries the greatest baggage, and whom Violet blames for some of Beverly's errant behavior because of her abandoning the family for the last several years. Alison Rich portrays Barb (an appropriate sobriquet) with self-absorption and great ferocity, attacking with similar breadth and intensity as Vi. She goes toe-to-toe with her mother and will ultimately challenge her rule in the pride.
This is a family that may be extreme in its drama, but the characters and situations will feel uncomfortably familiar to many. An effective production of "August: Osage County" depends on crack timing, which Kelleher's actors provide. The director also oversees realistic overlapping dialogs and simultaneous conversations to great effect. And the choreography of the chaotic no-household-crevice-unexamined pill search is a scream. (Note: there is a vignette told about a family member conveying contraband in a bodily crevice!). Kudos to all of the actors, but in addition to those mentioned, special recognition goes to Marie Shell as Vi's sister Mattie Fae. In all, the company brings it home, offering a most rewarding theatrical experience.
"August: Osage County," written by Tracy Letts, is produced by San Jose Stage and plays in its theater at 490 South First Street, San Jose, CA through April 24 2022.