Sam Gilliam: Full Circle
Hirshhorn Museum and Sculpture Garden
By:
Hirshorn

-

Apr 07, 2022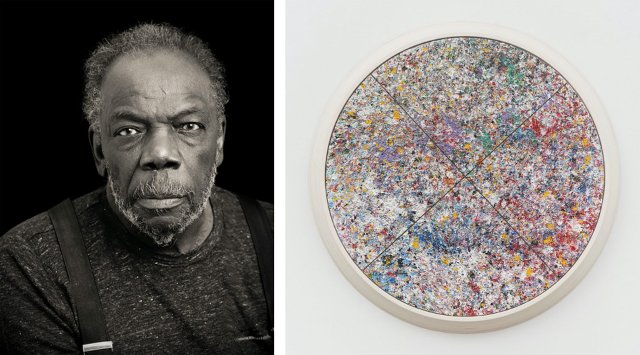 This spring, the Hirshhorn Museum and Sculpture Garden will present an exhibition by pioneering abstractionist artist Sam Gilliam. Between May 25 and Sept. 4, "Sam Gilliam: Full Circle" will pair a series of circular paintings (or tondos) created in 2021 with "Rail" (1977), a landmark painting in the Hirshhorn's permanent collection. Filling the museum's second-floor inner-circle gallery, Gilliam's first solo exhibition at the Hirshhorn will reflect the breadth of his multilayered practice and mark the first exhibition in Gilliam's chosen hometown of Washington, D.C., since 2007. "Full Circle" is organized by Evelyn C. Hankins, the Hirshhorn's head curator.
In the 60 years since moving to Washington, Gilliam has produced a prolific body of abstraction across media through which he has continually pursued new avenues of artistic expression. He initially rose to prominence in the late 1960s making large, color-stained manipulated, unstretched canvases. Gilliam continues to experiment with staining, soaking and pouring pigments, elaborating on the process-oriented tradition of Morris Louis, Kenneth Noland and other Washington Color School artists. In 1972, Gilliam represented the United States at the 36th Venice Biennale, and returned in 2017 with "Yves Klein Blue," a draped work that welcomed visitors to the Venice Giardini. Gilliam's approach focuses keenly on the cornerstones of abstraction—form, color and material—from which he creates artworks that reflect his career-long engagement with art history and the improvisatory ethos of jazz.
"The Hirshhorn's institutional support for Sam Gilliam began with the acquisition of his landmark painting "Rail" within a year of its creation," said Hirshhorn Director Melissa Chiu. "The museum has since championed his practice by presenting this and other major works in exhibitions. "Full Circle" shows Gilliam's most recent works in recognition of his indefatigable vision, presented in his chosen hometown on the National Mall at the national museum of modern art."
"I am greatly looking forward to premiering this new body of work," Gilliam said. "The tondo series introduced in this show encapsulate many of the ideas that I have been developing throughout my career. Just as importantly, they reflect my current thinking about color, materials, and space. These spaces determined by color and texture are limitless."
Sam Gilliam's most recent engagement with the Hirshhorn reflects his tireless propulsion of the through lines of abstraction. His tondos expand the body of beveled-edge abstract paintings that Gilliam first pioneered in the 1960s. Ranging in size from 3 to 5 feet in diameter, each tondo begins with a beveled wood panel, which the artist loads with layers of dense, vibrant pigments, their aggregate effect heightened through the addition of thickening agents, sawdust, shimmering metal fragments, wood scraps and other studio debris. Using a stiff metal rake along with more traditional tools, Gilliam then abrades, smears and scrapes the coarse surfaces to reveal a constellation of textures and colors below.
The series will be shown alongside "Rail" (1977), a stellar "Black" painting by Gilliam in the Hirshhorn's collection work that marks some of the artist's earliest experiments with pronounced materiality. With its immense scale of more than 15 feet in length, stained underpinning, pieced canvas structure and deep tones, "Rail" offers a resonant counterpoint to the artist's recent tondos.
About the Artist
For six decades, Gilliam (American, b. 1933, Tupelo, Mississippi) has created groundbreaking work in a range of media. After earning his Bachelor of Arts (1955) and Master of Fine Arts (1961) from the University of Louisville in Kentucky, he moved to Washington in 1962 and has since lived and worked here. Gilliam's work has been exhibited internationally in solo and group shows at institutions and biennials such as Tate Modern, London; the Kunstmuseum Basel, Switzerland; the Museum of Modern Art, New York City; the Museum of Contemporary Art, Los Angeles; the Whitney Museum of American Art, New York City; the San Francisco Museum of Modern Art; Dia Beacon, New York; the Venice Biennale, and the Studio Museum in Harlem, New York City, among others. His work is held in the collections of major museums worldwide, including the Musée d'Art Moderne de la Ville de Paris; the Metropolitan Museum of Art, New York City; the Art Institute of Chicago; the Menil Collection, Houston; the Solomon R. Guggenheim Museum, New York City; and the Louisiana Museum of Modern Art, Denmark.
About the Hirshhorn
The Hirshhorn Museum and Sculpture Garden is the national museum of modern and contemporary art and a leading voice for 21st-century art and culture. Part of the Smithsonian, the Hirshhorn is located prominently on the National Mall in Washington, D.C. Its holdings encompass one of the most important collections of postwar American and European art in the world. The Hirshhorn presents diverse exhibitions and offers an array of public programs on the art of our time—free to all. The Hirshhorn Museum is open Tuesday–Sunday, 10 a.m.–5:30 p.m. The outdoor Sculpture Garden is open daily 10 a.m.–5:30 p.m. For more information, visit hirshhorn.si.edu. Follow the museum on Facebook, Instagram, Twitter and YouTube.
Images:
Sam Gilliam portrait by Fredrik Nilsen Studio.
Sam Gilliam, "X for X," 2021, acrylic and mixed media on panel in beveled frame, 48 x 48 x 4 inches (121.9 x 121.9 x 10.2 cm). Photo: Jonathan Nesteruk. © 2022 Sam Gilliam /Artists Rights Society (ARS), New York.