Oldcastle Theatre Company Announces Its Season
Season Begins on June 23
By:
Oldcastle

-

Apr 12, 2019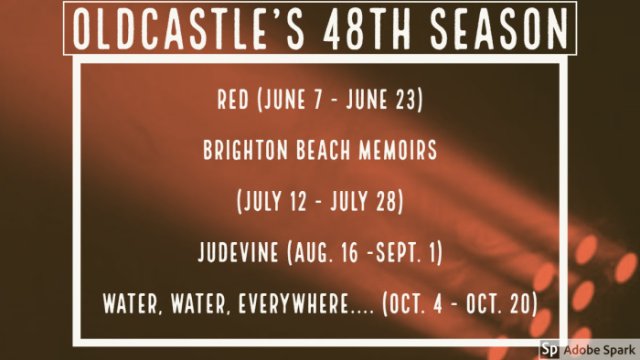 Oldcastle Theatre Company
331 Main Street
PO Box 1555
Bennington, VT 05201
802.447.0564
Playwright John Logan's Tony Award winning Best Play, "Red", opens the season with master abstract expressionist Mark Rothko having just launched the biggest commission in the history of modern art, a series of murals for New York's famed Four Seasons Restaurant. Rothko works feverishly with his young assistant, Ken, in his studio on the Bowery. But when Ken gains the confidence to challenge him Rothko faces the agonizing possibility that his crowning achievement could also be his undoing. The New York Times called the play: "Intense and exciting." the New Yorker: "smart. eloquent entertainment." The play will feature long time Oldcastle favorite Peter Langstaff and Brendan McGrady who made his Oldcastle debut in last season's "Long Days' Journey into Night."

"Brighton Beach Memoirs" won the New York Drama Critics Award for Best Play. It is the first of the playwright's semi-autobiographical "B Plays." Eugene is a 15 year old preoccupied with sex and the Yankees: a writer-to-be, an alternately perplexed and perceptive observer, and our guide to life with the Jerome family. It is September 1937, late in the Depression, the Jeromes have relatives living with them, and life is by no means easy. There are troubles including illness, unemployment, poverty, deep resentments and foreboding signs of World War II. Yet the family meets challenges with enormous spirit, dignity, and vigor that life—at once humorous, and poignant—is something to celebrate. The play will be directed by Oldcastle Artistic Associate, Nathan Stith who, last season directed "The Almost True and Truly Remarkable Adventures of Israel Potter" and in 2017 acted in Moonlight and Magnolias." Stith teaches at Trinity University in San Antonio and this is the beginning of a collaboration between the theatre and the university. Two students from Trinity will join Stith; Karen Herink, who will play 13 year old Laurie, and Alexandra Parris who will serve as Assistant to the Stage Manager.


"We're excited by this new alliance and hope it will continue and grow," Stith said. Oldcastle has fostered a number of working relationships with colleges ranging from Green Mountain College, Massachusetts College of Liberal Arts, Bennington College, and East Tennessee State University. "This is a great opportunity for our students to work with professional actors. I first worked with Oldcastle more than 20 years ago and look forward eagerly to returning each year," Stith said.


Oldcastle presented "Broadway Bound" another of Simon's plays in his trilogy and some of the cast members from that production will again portray members of the Jerome family. Sarah Corey who won raves from audiences and critics playing Kate, matriarch of the family will return as will Anthony Ingargiola who played Eugene in the earlier production but this time will play his older brother, Stan. The cast will also include Eli Ganais, familiar to area audiences for his performances in "Moonlight and Magnolias" and "Talley's Folly."


Perhaps the most beloved play in Oldcastle Theatre's nearly 50 years is David Budbill's "Judevine." Last produced at Oldcastle 15 years ago, Oldcastle "Judevine" is returning in its fourth incarnation. "We love this play, our audience loves this play and theatres, like libraries exist to make available artistic treasures. "Judevine" is certainly that," according to Oldcastle's Associate Artistic Director, Richard Howe who has appeared in all of the previous productions. The play introduces more than 30 Vermonters rich and poor, young and old. They struggle. They strive live; and love. Win and lose. But lose more often. Six actors create the inhabitants of the fictional town of "Judevine."
Poet Wendell Barry has written, "Judevine is full of loving interest in other people and in what I insist on calling the real world. Budbill both informs and moves and he, in short, a delight and a comfort."
"Water, Water, Everywhere…" is set in a fictional small town Walloomsac, Vermont where a factory has been spewing Perfluorootaonic acid (PFOA) from exhaust stacks and then built up over several years in the groundwater and soil. Similar things happened in Bennington and nearby Hoosick Falls, New York. But playwright and Oldcastle's Producing Artistic Director, Eric Peterson, cautions that the play is fiction, not a documentary.
"It certainly was inspired by what occurred locally," Peterson said, but plot elements have been added to make it both a mystery and a play focusing on many people affected by the contaminated water."


Much of the play revolves around the local newspaper which is facing a difficult financial situation and is in danger of closing. Two young reporters team up with a veteran editor to bring the story to their readers. Peterson, a former columnist for both the Bennington Banner and the Berkshire Eagle, has written often about Vermont themes in plays such as "Civil Union," His new play had a successful reading at Writer's Theatre in New Jersey early this year. "The reading was a great help in the development process," according the Peterson. We had done a reading at Oldcastle in-house without an audience, then it was substantially rewritten. The Writer's Theatre reading had an attentive audience and a lively Q and A followed. Then more rewriting. I hope to have one more reading with an audience before rehearsals begin."


The cast of seven is scheduled to include Howe and another Oldcastle favorite, Christine Decker who received plaudits for her performance as Mary in last season's "Long Day's Journey into Night." Peterson will direct.