Les Arts Florissants at Versailles
William Christie Brings Us Charpentier
By:
Susan Hall

-

Apr 12, 2021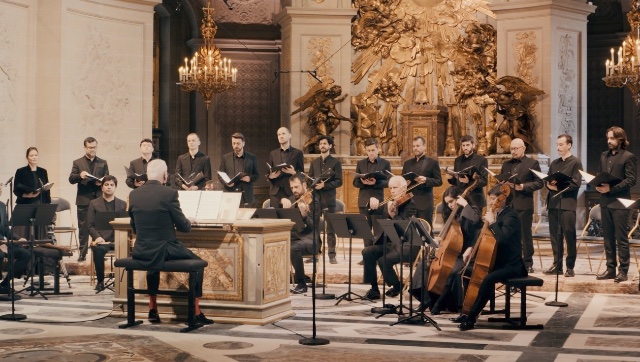 Les Arts Florissants
William Christie: Musical direction, organ
Vocal and musical Ensemble: Les Arts Florissants
Coproduction Les Arts Florissants - Château de Versailles Spectacles
Marc-Antoine Charpentier
Te Deum H. 147
Pange lingua H. 61
Litanies à la Vierge H. 83
Pestis Mediolanensis H. 398 & H. 398a
Sonate pour deux flûtes allemandes, deux dessus de violon, basse de viole, basse de violon à cinq cordes, clavecin et théorbe H. 548, extracts : Grave - Chaconne Nuptiae sacrae H. 412
The always purely delightful Les Arts Florissants' brings us a performance of Marc-Antoine Charpentier's Grand Motets. It is available on Qwest TV (seven day free trial). Qwest was developed by Quincy Jones, whose middle name is Delight. And delight is what he brings us in the 17th century music of Marc-Antoine Charpentier.
Charpentier was appointed to the court of The Dauphin in 1679. He did not last long because the politically powerful Jean-Baptiste Lully made sure he was ousted. This concert is performed in the gold-encrusted Royal Chapel at Versailles where it may have been originally heard.
Grand literally refers to size. We have a choir of singers, who also perform solo and duets. The Music Director performs on the organ, accompanied by violins, viola and cello as well as recorders and viola da gamba.
Charpentier was a prolific composer of the grand motet. He composed over 70 of them. One attraction of the form is operatic quality. Charpentier lived in Rome as a young man. His mixture of both Italianate and French styles gives punch to the motet.
During Louis XIV's reign, the court controlled the production of music. Louis' son, The Dauphin, was trained in this tradition. He hired Charpentier. While Charpentier may have been as his master's beck and call, his music has the freshness of originality as well as the glory for the King.
Some musical creations are too beautiful for ordinary humans to regard or to hear. William Christie and Charpentier understand this. As gorgeous and perfect as the production is, its operatic qualities give an edge. Some moments are harsh. Deep feeling breaks through the perfection. Drama is often high This makes the performance compelling in the overflowing goldness of the Royal Chapel.
Additionaly, Charpentier chose text which offers dramatic possibilities. The Te Deum honored St. Ambrosius and is a ambrosial, fragrant and worthy of the Gods. The Pange Lingua may have come down from the marching song of Caesar's legions. This most beautiful of St. Thomas Aquinas' hymns gives a captivating rhythm to one of the seven great hymns of the Catholic Church.
The Litanies in honor of the Blessed Virgin became popular in the Counter-reformation, as the effort to connect Mary to church tradition advanced. Prior to his assignment at Versailles, Charpentier was composer-in-residence for the powerful Mademoiselle de Guise, whose birth date fell on the Feast of Assumption of the Virgin. In her youth she made trips to the shrine of Loreto, another name fot this Motet. All the possibilities for combining and contrasting symmetrical singing groups are explored. A male trio sings Mater Christi against a female trio at Salus informorum. All six parts are expressed in complex counterpoint, which intrigues us in a variety of guises through the entire work.
Lyricism, polyphony and harmony are all sensitively deployed. The setting, the quality of performance and the crucial understanding of the crew gathered to record this performance combine to make it a highly satisfying hour of listening.