Endlings by Celine Song
Produced by Oakland Theater Project
By:
Victor Cordell

-

Apr 12, 2022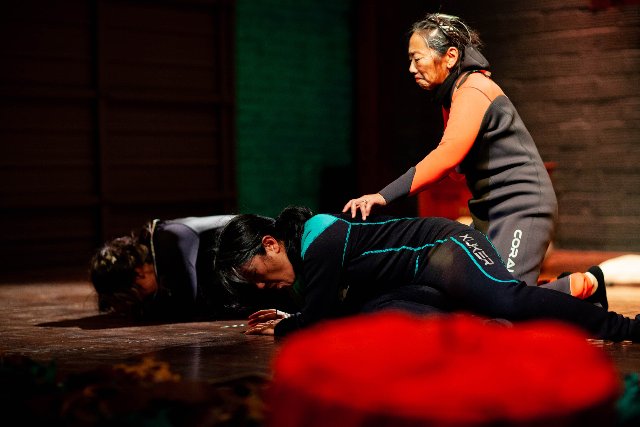 The main subjects of "Endlings" seem like inspiration for the kind of article you would see in "Parade" magazine – "World's Most Unusual Occupations." Three Korean women, aged 78 to 93, are the last of a dying breed in a centuries-old occupation. As recently as the 1970's, over 15,000 women made their living in this manner in a matriarchal society. They free dive as deep as 65 feet without additional air supply, repeatedly throughout each day, to harvest seafood and seaweed from the ocean's bed. Because more efficient means exist for capturing these delicacies, their earnings are subsistence level. But they live on a small island, Man-Jae, with minimal commerce, and it's the only income producing skill that they possess.
Playwright Celine Song honors these haenyeos, or "sea women" with an insightful and charming narrative about their daily cycles. Each woman has her own schtick. The eldest, Han Sol, is generally cheery and copes with the boredom of their existence best as indicated by her mantra "television rules." Go Min, the middle one by age, is somewhat dour and the saltiest of the salty mouths. She insisted that her kids get as far away from the island as possible, and since her husband died, she finds nothing to stimulate her. Sook Jo is the youngest (at 78!). Never having married, she still thinks she knows how best to raise kids, and still concerned about appearance, she applies lipstick to dive. Keiko Shimosato Carreiro, Mia Tagano, and Pauli N. Amornkul respectively provide moving and authentic representations of these women.
As might be expected, much of the women's conversation centers on work, but with an uncommon focus – death. The risks of their work are ever present, and they recount how other haenyeo have lost their lives during dives. But the obsession with death goes beyond work, perhaps because of their ages. There is even a recurring theme in which the pecking order of age plays a role, in which Han Sol insists that she must die first. In this near-solitary existence, there is also concern about who would attend their funerals as the elder two's families have dispersed, and Sook Jo has none.
What dissipates the attention from the main theme is that the playwright imputes herself into the play with a second story, but that scenario is full of perception. The scene shifts to Manhattan, where we meet an ethnic Korean woman, Ha Young, in her late 20s who has just written the first act of a play, which is presumably the act that we just saw. She feels that she had previously sold out to whiteness in her writings, and this is her first effort at a story that reflects her ethnic heritage.
Ha Young's internal identity conflict is revealed in a play-within-a-play-within-a-play that concerns the perceived whiteness all around her. Her husband really is white, but in the skit she envisions, white actors live in an all-white world with white prayer, white money, white rage, white everything. The preoccupation with all things white is equaled by her world view centered on real estate, where all is reduced to "location, location, location" and the fixation on apartment rental prices. The whiteness speaks to cross-cultural differences that she confronts, and real estate presumably is a commentary on comparative values and materialism.
The Manhattan act does try to tie back to Korea with the immigration story of Ha Young's ancestors, but it still seems like the playwright wanted to force all of her ideas into one play, even getting into the political division of Korea and how it affected her fictional family. The good news is that the playwright is portrayed by a delightful Joyce Domanico-Huh who informs the role with boundless freneticism and juicy sarcasm.
Happily, both acts have something to say, and those interested in cross-cultural issues will find the evening rewarding. Typical of Oakland Theater Project plays, Director May Liang makes good with limited resources and creates a total environment feel. Karla Hargrave's spare scenic design with fine use of props offers enough tangible detail to give a good sense of place. OTP stalwart Stephanie Anne Johnson does wonders with the lighting as we have come to expect. Elton Bradman adds an extra dimension with the background sounds of sea and storm.
"Endlings," written by Celine Song, is produced by Oakland Theater Project in association with Ferocious Lotus Theatre Company and plays on OTP's stage at Flax Art & Design, 1501 Martin Luther King Way, Oakland, CA through May 1, 2022.