Boston Modern Opera Project to Carnegie
Gil Rose Celebrates 25th anniversary
By:
Susan Hall

-

Apr 12, 2023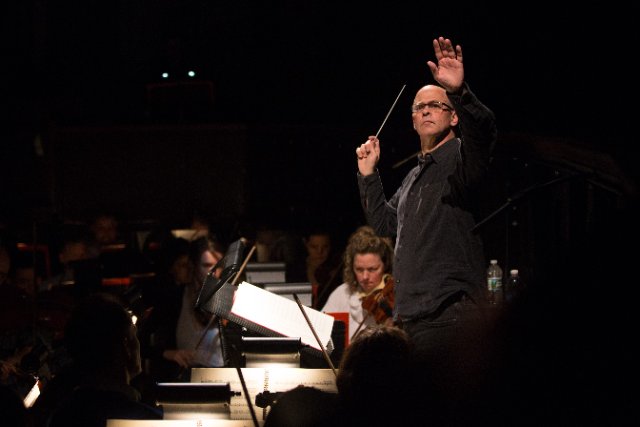 The Boston Modern Opera project is making its Carnegie Hall debut this weekend (April 15). Bostonians have had the privilege of hearing and seeing this company for many years. The program at Carnegie is enticing.
The program caps BMOP's quarter-century celebration with three New York premieres commissioned, premiered, and recorded by BMOP: the Grawemeyer Award-winning pieces Play by Andrew Norman and A Thousand Mountains, A Million Streams by Lei Liang, and In medias res by Lisa Bielawa.
"On behalf of the musicians as well as both the artistic and administrative staff, I cannot overstate how exhilarated BMOP feels to be back in New York City!" exclaimed Gil Rose, Conductor and Artistic Director of BMOP. "We are thrilled to be presenting music by three of BMOP's longtime friends who have established themselves as significant voices in American classical music. Their acclaimed works represent the power and potential of 21st-century orchestral music: provocative, meditative, and whimsical."
The evening begins with Play, a 47-minute orchestral work by Los Angeles-based composer Andrew Norman (b.1979). Play was written for BMOP, during Norman's tenure as the orchestra's 2011-13 Music Alive Composer-in-Residence. BMOP premiered the piece in 2013, and later released it on its own record label in 2015.. "If you've ever wondered how much raw power a symphony orchestra can unleash, you must hear Play…as executed by the Boston Modern Orchestra Project under the direction of Gil Rose."
Chinese-born American composer Lei Liang (b.1972) is known for his ear-stretching soundscapes and for drawing from Chinese history. His largest orchestral work to date, A Thousand Mountains, A Million Streams, was written for BMOP in 2017, premiered then recorded by BMOP in 2018, and later received the 2021 Grawemeyer Award for Music Composition. "In A Thousand Mountains, A Million Streams, Liang's tonal and textural palettes become ever more exquisite, ranging from sonorities at the edge of silence in 'Healing Rain Drops' to full-orchestral might describing the shredding of landscapes. Liang's Chinese-inflected sound world is never less than fascinating and always deeply involved. The BMOP navigates their way through his precisely calculated sonorities with aplomb and accuracy." Liang currently serves as the Chancellor's Distinguished Professor of Music at the University of California, San Diego.
Completing the program is In medias res by BMOP's 2006-09 Music Alive Composer-in-Residence Lisa Bielawa (b.1968). Premiered by BMOP at the end of her residency in 2009, it was later released on BMOP/sound in 2010. This piece is one of the most intimate and collaborative showcases of BMOP's musicians. During her residency, Bielawa drew inspiration from her relationships with the other musicians, creating short solo pieces especially for and expressing the personality of each core ensemble player. In media res expertly weaves together these 15 synopses into a larger framework for orchestra. According to Bielawa, "this piece, in essence, is my thank you and farewell gift to Gil Rose, the players of BMOP, and the many wonderful individuals of the Boston music community who welcomed and integrated me into their lives over three years."
The Boston Modern Orchestra Project (BMOP) is the premier orchestra in the United States dedicated exclusively to commissioning, performing, and recording music of the twentieth and twenty-first centuries. A unique institution of crucial artistic importance to today's musical world, BMOP exists to disseminate exceptional orchestral music of the present and recent past via performances and recordings of the highest caliber. Founded by Artistic Director Gil Rose in 1996, BMOP has championed composers whose careers span nine decades.
BMOP 25th Anniversary Activities:
2022 - Launch of As Told By, a five-year initiative to perform and record five seminal operas by Black composers in partnership with Odyssey Opera
2022 - BMOP's Artistic Director/Conductor, Gil Rose, named one of the Top Professionals of the Year 2022 by Musical America
2022 – BMOP/sound album releases of Gail Kubik: Symphony Concertante, Roger Reynolds: Violin Works, John Corigliano: To Music, and Anthony Davis's X: The Life and Times of Malcolm X
2022 – Best Opera Recording Grammy nomination for Anthony Davis's X: The Life and Times of Malcolm X (BMOP/sound)
February 2022 – Free concert at Symphony Hall, Boston, MA
April 2022 – Composer Portrait Concert of Ellen Taaffe Zwilich in partnership with the New England Conservatory, NEC's Jordan Hall, Boston, MA
June 2022 – New England premiere of Anthony Davis's X: The Life and Times of Malcolm X, in partnership with Odyssey Opera, at The Strand Theatre, Boston, MA
November 2022 – East Coast premiere of John Corigliano's The Lord of Cries opera, in partnership with Odyssey Opera, NEC's Jordan Hall, Boston, MA
December 2022 – Best Rediscovered Work nomination by International Opera Awards for Anthony Davis's X: The Life and Times of Malcolm X
February 2023 – East Coast premiere of Tobias Picker's Awakenings opera, in partnership with Odyssey Opera, Huntington Theatre, Boston, MA
April 2023 – Carnegie Hall debut featuring New York premieres by Andrew Norman, Lei Liang, and Lisa Bielawa, New York City, NY
2023 – 11 more BMOP/sound album releases (Surinach, Picker, and more) culminating in the label's 100th release