New York City Opera's Love of Three Kings
Montemezzi's Potboiler at the Rose Theater
By:
Susan Hall

-

Apr 15, 2018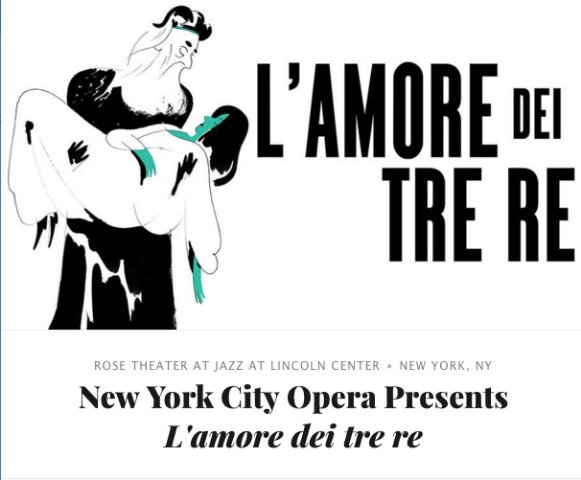 Love of Three Kings
by Italo Montemezzi
Conducted by Pacien Mazzagatti
Directed by Michael Capusso
New York City Opera
Rose Theater of Lincoln Center
New York, New York
April 15, 2018
Italo Montemezzi's Love of Three Kings has been more popular in America than anywhere else in the world. First produced at the Metropolitan Opera in 1914, it was a staple of opera repertory until the Second World War. It's popularity faded. A revival by the New York City Opera 1982 created renewed interest in the opera. Now NYCO has mounted it at the Rose Theater.
The opera is set in the palace of Archibaldo, ruler of Italy. A courtyard in the remote castle where Archibaldo lives provides access to Princess Fiora's bedroom. Like all well-positioned castles, this one is set high above the land. Archibaldo cannot survey from a turret for an approaching enemy. He is blind, but is still able to see things like treacherous deceit and infidelity. Therein lies the turning point of this drama.
Princess Fiora, once a mere village girl, has been married to Archibaldo's son, Manfredo. Fiora is still in love with Avito, a man from her native village. If Manfredo would stay home more and not constantly run off to war, their marriage might progress more rapidly toward love. Instead, a hot romance ensues between the wife and another man.
The ubiquitous handkerchief of opera is replaced by a scarf. As Fiora wraps it around her neck to mount the castle's turrets, one fears for an Isadora Duncan moment. A much more sinister outcome is in store.
Archibaldo, a blind loner, is adrift until he seizes on the vengeance of his son. He is a hard-boiled pessimist, which the director, Michael Capasso, magnifies for his 'noir" take.
Fiora is the femme fatale, beloved by her husband, her former boyfriend, and maybe even Archibaldo. However, instead of surviving the crisis and returning to normality, everyone ends up dead.
Capasso moves his singers to the music and to the emotional moment. Philip Cokorinos is compelling in the Archibaldo role. His voice is deep and rich, yet he can use it for both tender moments of great feeling and big blasts of anger. His first Act aria in which he sings of coming to Italy, falling in love with the country and conquering her to stay forever, is memorable.
Daria Masiero thrills as the dark lady, loved by all. Giuseppe Varano glued himself to her with his clear and often imploring tenor voice. The love duet between Avito and Fiora feels almost Wagnerian and is ravishing.
Joo Woo Kang as her husband Manfredo proves to be a star in the making. Kang has a very big voice, which he seems to shape at will. From time to time, it takes on helden edge. When Manfredo asks Fiora to give him something of hers to hold close to his heart while he is away, Kang delivers exquisite phrasing.
Montemezzi's score is exciting and attracts with smooth tones and distinctive harmonies. An ensemble piece when mourners gather about Fiora's body on the bier is expressive and sensitive.
The orchestra had a good afternoon conducted by Pacien Maggatti. Montemezzi is a fine orchestrator, and the textures of brass and strings were inventive for each emotional context.
New York City Opera is bringing us unique operatic experiences in different settings. The Rose Theater seemed just right for this noir opera. Next up is the New York debut of Charles Wuorinen's Brokeback Mountain.