Steinberg/ ATCA Award for New PLay
Lauren Yee's Cambodian Rock Band Takes The Honors
By:
Aaron Krause

-

Apr 16, 2019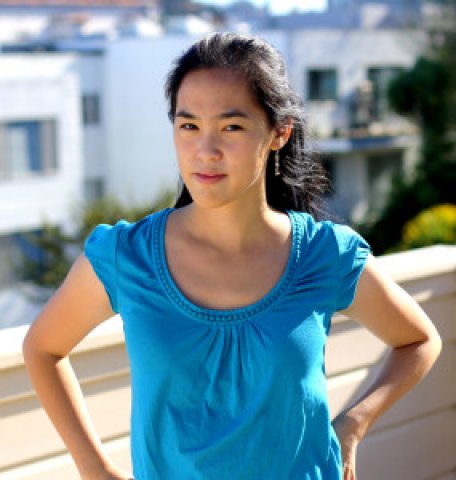 A play with music that explores the Cambodian holocaust in an "absolutely inspired" manner is this year's winner of a top prize presented by a national critics organization.
Cambodian Rock Band by Lauren Yee is the most recent winner of the Harold and Mimi Steinberg/American Theatre Critics Association (ATCA) New Play Award.
The honor recognizes the best scripts that premiered professionally outside New York City the previous year, in this case, 2018.
Last year's winner was Lauren Gunderson for her play, The Book of Will, about contemporary people trying to preserve Shakespeare's words.
The award carries a $25,000 prize.
Playwright Noah Haidle received $7,500 for his piece, Birthday Candles, and Jen Silverman took home the same amount for her play, Witch.
Cambodian Rock Band debuted at South Coast Repertory Theatre in Costa Mesa, Calif. from March 4-25. The theater's website, www.scr.org, describes Yee's piece as "part comedy, party mystery, part rock concert."
Adjudicators on ATCA's New Plays Committee raved about Cambodian Rock Band as a "very involving story about war, selfishness, atrocity, betrayal, revenge, retribution, and guilt-laden survival.
"The notion of exploring the Cambodian holocaust through contemporary investigation, past survivor memories, and rock and roll is absolutely inspired, and to execute it with such unexpected humor and supple time shifts is a real accomplishment. It's refreshing to see a playwright move so deftly between three eras. The transitions felt seamless. This play felt at once fresh and deeply grounded in history."
In addition to its world premiere in California, Oregon Shakespeare Festival also staged Cambodian Rock Band.
Critic Victor Cordell, writing in Berkshire Fine Arts, hailed Yee's play as a "tense and scintillating comedy/drama."
Further, Cordell wrote, "Yee masters the tonal changes of the narrative that are both vibrant and unsettling in a positive manner."
In addition, "the band's high-energy performances of rock music written by Dengue Fever punctuates the action. Merging Cambodian lyrics into the rock and roll genre produces a uniquely Southeast Asian authenticity."
To read the full review, visit http://www.berkshirefinearts.com/03-17-2019_cambodian-rock-band-by-lauren-yee.htm
While Yee scored a triumph with her play, Haidle concocted a piece chronicling a woman's life as she prepares a cake onstage.
ATCA adjudicators praised Haidle for blending the "simple and the cosmic into a profound experience."
In particular, Birthday Candles "is far from a gimmick play. It's a beautiful one that walks a fine line that stays specific while occupying the universal."
Haidle's play experienced its world premiere at Detroit Public Theatre in the spring of 2018.
Also, Silverman's play apparently bewitched ATCA panelists. Regarding her play, Witch, the critics opined that it is "a beautifully balanced play" centered on a "silver-tongued Devil, and a gutsy unpopular woman with a great head on her shoulders."
One panelist marveled "I've never seen a 'deal with the devil' concept blow away my expectations the way this one did."
Witch world premiered at Writers Theatre in Glencoe, Ill. In the fall of 2018.
***
In addition to the awardees, this year's six finalists for the Harold and Mimi Steinberg/American Theatre Critics Association New Play Award were: Downstate by Bruce Norris (premiered at Steppenwolf Theatre in Chicago), Lettie by Boo Killebrew (premiered at Victory Gardens Theatre in Chicago) and Plainclothes by Spenser Davis (premiered at Chicago's Broken Nose Theatre and received ATCA's Osborn Award, which the organization presents to an emerging playwright).
Since 2000, the Harold and Mimi Steinberg Charitable Trust has funded the award. The late Harold Steinberg, a prominent real estate developer, founded the trust on behalf of himself and his late wife. The trust, with a primary mission to support the American theater, has provided grants totaling millions of dollars for new productions of American plays and educational programs for those who may not ordinarily experience live theater.
***
ATCA began as an organization in 1974 to raise public awareness of a theater critic's role and to raise critical standards within the profession. ATCA is the only national association of professional theater critics, with more than two hundred members working in print, broadcast, and online media.
Other playwriting awards the association presents include:
* The M. Elizabeth Osborn Award, honoring emerging playwrights.
* The Francesca Primus Prize, bestowing an annual $10,000 award funded by the Francesca Ronnie Primus Foundation, to honor outstanding contributions to the American theatre by female artists who have not yet achieved national prominence. In 2016, Yee won this honor for her play "in a word."
Additionally, ATCA members recommend candidates for the Tony Award for Regional Theatre presented annually by the American Theatre Wing/Broadway League. The association also vote on the annual inductions into the Theater Hall of Fame.
For more information, visit americantheatrecritics.org.