Alan Shestack, 1938 to 2020
Former Director of the Museum of Fine Arts
By:
Charles Giuliano

-

Apr 16, 2020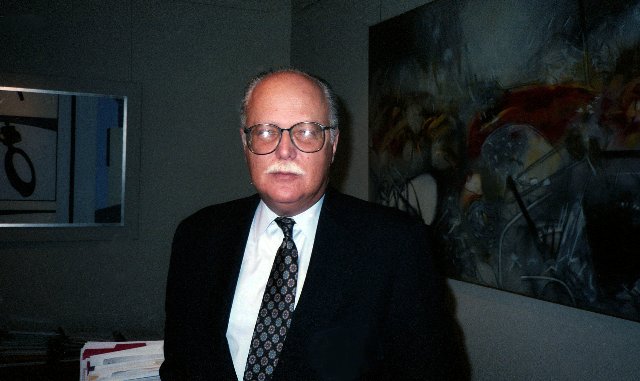 From 1987 to 1993 Alan Shestack was director of the Museum of Fine Arts. He followed Jan Fontein who was director from 1975 to 1987.
Today we learned that he passed away after a long illness.
It was a time of transition, controversy, renovation and change for the museum.
That started in 1970, when during the museum's centennial celebration there was the Raphael Scandal which truncated Rathbone's otherwise high profile and successful career.
While a search was conducted the classical curator, Cornelius Vermule, was acting director.
During an interview with a relatively obscure candidate, the board president, George Seybolt, took a shine to Merrill Clement Rueppel. A bad hire (1973-1975) was almost immediately apparent. He announced an unpopular suggestion to remove the museum's central grand staircase. The special exhibitions galleries flanked it and led to the rotunda with its renowned dome and Sargent murals.
New to the job he was called into an acquisitions meeting and nixed Jackson Pollock's masterpiece "Lavender Mist." Not long after it went to the National Gallery.
There was a cabal of curators who pushed for the removal of Reuppel. That was exacerbated by a Boston Globe expose by Robert Taylor. Elevated from within, Fontein the curator of Asiatic Art, became acting director then director. Much was accomplished on his watch particularly seminal exhibitions of Asiatic art. A new wing was designed by I. M. Pei and with it a new orientation of the museum. The European paintings galleries were renovated.
Turbulence of Fontein's administration was a common art world topic. There were leaked reports of an emotional board meeting with his position in question. Word was that the board was looking for stability and a career administrator.
Not long after Shestack became director I interviewed him for Art New England. He told me that taking over at the MFA was "Like boarding a fast-moving express train." By some accounts too fast. After six years he was appointed deputy director at the National Gallery of Art.
Shestack never appeared to have a firm hand on the MFA's tiller. In that context it is not surprising that the board turned to a strong man, Malcom Rogers, with the next appointment.

Below is a summary of the career and appointments of Alan Shestack.

Museum curator graphic art, National Gallery Art, Washington, 1965-1967; associate curator prints and drawings, Yale Art Gallery, New Haven, 1967-1968; curator prints and drawings, Yale Art Gallery, 1968-1971; director, Yale Art Gallery, 1971-1985; adjunct professor of history of art, Yale University, 1971-1985; director, Minneapolis Institute Art, 1985-1987; director, Boston Museum Fine Arts, 1987-1993; deputy director, National Gallery of Art, Washington, since 1994. Member of advisory committee Art Museum, Princeton, 1972-1975. Member visiting committee Harvard University Art Museum, 1990-1995, Davis Museum Wellesley College, since 1997.

Member music panel National Endowment for the Arts, 1974-1977. Member committee prints and illustrated books Museum Modern Art, New York City, since 1972. Member Federal Arts and Artifacts Indemnification Panel, 1979-1983.
MFA remarks about Alan Shestack from director Matthew Teitelbaum.