How the Other Half Loves by Sir Alan Ayckbourn
Classic Comedy at North Coast Repertory Theatre
By:
Jack Lyons

-

Apr 19, 2018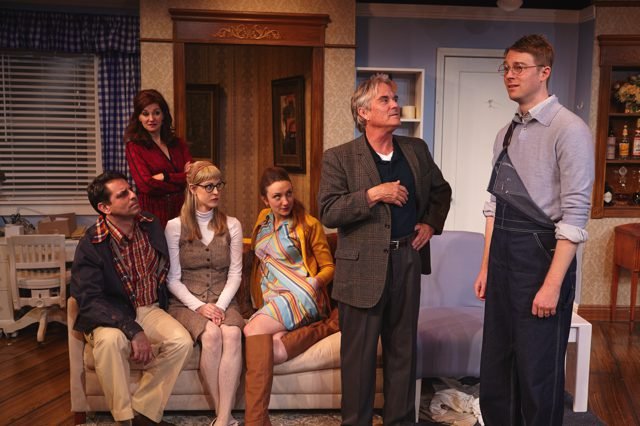 There ought to be a law stating all British farces and comedies must be staged by British-trained directors in order to get the full impact of their special, zany, erudite, and/or silly brand of comedy. Old-timers will remember the joys of listening to the BBC's "The Goon Show" on radio or viewing "Fawlty Towers", on TV with the incomparable John Cleese or enjoying the wackiness of the "Carry On" series of movies at one's favorite neighborhood cinema.
Well, the North Coast Repertory Theatre (NCRT) of Solana Beach will satisfy any aficionado of British 'humour' (Please note English spelling) with their current production of Sir Alan Ayckbourn's classic comedy "How the Other Half Loves"; directed by award-winning dual-citizen Geoffrey Sherman.
NCRT artistic director David Ellenstein has a knack for selecting plays and directors that appeal to his theatre-savvy audiences. With his choice of British born directors from which to choose, Ellenstein has selected one of the best professional directors in Geoffrey Sherman. Sherman directed one of three iterations of the original production and revivals when he lived in 'Jolly Ole England'. Alan Ayckbourn, is to the English stage, what Neil Simon is to Broadway. Both are prolific playwrights of the comedy-farce genre, and both are comic geniuses when it comes to making audiences laugh.
The play is a riotous peek into the peccadilloes and shenanigans of how the Brits handle marital infidelity. Although the whole world, it appears, has at one time or another engaged in some form of 'no-no' behavior. It's only the English, however, who appear do it with impeccably good manners.
The story, in short, revolves around three couples: Frank and Fiona Foster (James Newcomb and Jacquelyn Ritz); Bob and Teresa Phillips (Christopher M. Williams and Sharon Rietkerk); William and Mary Featherstone (Benjamin Cole and Noelle Marion). All are accomplished comedy-farceurs, and it shows from the minute the play begins.
The plot addresses the consequences of an adulterous affair between Bob (Mr. Williams) and his boss' wife Fiona (Ms. Ritz) and their attempts to cover their tracks by involving William (Mr. Cole) and his wife Mary (Ms. Marion) by asking the unwitting Featherstone's to be their alibi, resulting in a chain of misunderstandings, conflicts and revelations. All components that are required for a successful farce production are present and are delivered at warp-speed. There is even the obligatory slamming of several doors during the performance for the purists in the audience.
Comedy/farce productions are usually an ensemble effort, making it difficult in separating individual actors and their special moments in the production from the tricky ensemble work in a setting that has two households, side by side, on a stage that is occupied by six characters. This is where the seamless directorial touches of Geoffrey Sherman shine. There is no substitute for experience and creativity when it comes staging a theatrical production, especially a farce production. It's usually populated with lots of dialogue and movement, and this production is no exception. Director Sherman neatly solves the tricky onstage traffic management issues and the precise timing required by each cast member in order to visually pull it off.
"How the Other Half Loves", is blessed in having six talented actors who know their stuff; perform on NCRT's stage and have fun in doing it. Mr. Newcomb, is an absolute delight as Frank Foster, the trusting, clueless, cuckolded husband of Fiona. Ms. Ritz as Fiona is perfect as the bored wife looking to widen her sexual horizons by having a fling with her husband's employee Bob Phillips, solidly played by Mr. Williams. Teresa, Bob's unhappy, shallow, wife and new mom, is looking for ways to get out of doing housework and taking care of their new son, is impressively played by a striking Sharon Rietkerk. Noelle Marion's timid, shy, quiet as-a-church-mouse Mary is the exact opposite of the party girl role she played in NCRT last season's "Last of the Red Hot Lovers". William, the bright up and coming young manager in Frank Foster's company, is nicely played by Benjamin Cole.
The technical credits at NCRT are always first rate, The Set Design by resident designer Marty Burnett, is always a clever and visual feast for the eyes, thanks to Lighting Designer Matt Novotny who paints the stage with just enough mood lights, yet illuminates the costumes of Eliza Benzoni to be appreciated by the audience. Aaron Rumley's Sound Design and Props designer Holly Gillard complete the creative team. Cindy Rumley Stage Manages the production.
"How the Other Half Loves," is a fun and entertaining evening of theatre that performs at North Coast Repertory Theatre and runs through May 13, 2018.
Posted courtesy of Desert Local News.