Letter from Hancock Shaker Village
Three Little Lambs
By:
Jennifer Trainer Thompson

-

Apr 19, 2020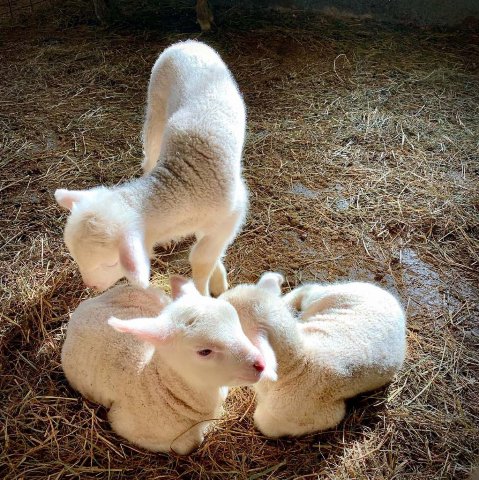 As head gardener Lauren Piotrowski reminded me the other night in the above note, while the museum at Hancock Shaker Village is closed, the farm is alive and noisy (and multiplying). Though we're not sure when the museum will open this year, we decided to plant our vegetable gardens anyway. It felt like the right thing to do.
Each year we farm five acres. We sometimes call our gardens our "Renoirs," for they offer beauty and inspiration to museum visitors. But we're also a working farm providing a food source. Those five acres fill stomachs. Our community-supported agriculture (CSA) program for the summer/fall just sold out, and 60 households will receive produce directly from the farm for five months of the year. (Our winter CSA still has room.) We also donate approximately 15% of our harvest to local food organizations that help people who are experiencing food insecurity. That's dozens of families. We believe it is vitally important that regional food systems remain intact and strong in the face of today's challenges.
Our farm and CSA are an essential part of the Berkshire agricultural landscape, and we're committed to local, sustainable food production—like the Shakers, who began farming this land in 1783. Much of our garden operations are financed by ticket sales (and since we are closed - no ticket sales!). We are a farm within a museum and operate as such – creating an interactive place for our thousands of visitors to experience and learn about livestock and regenerative farming on the oldest working farm in the region. This model has allowed us to develop other initiatives: we have expanded our summer internship program to include farm & garden interns, not only to strengthen the idea of using the farm to help those in need, but to help train the next generation of committed social justice food leaders. We've partnered with makers such as an artisanal hard cidery in North Adams to use our heirloom apples. We just entered our fourth season with Roots Rising, a Pittsfield-based organization that empowers youth and builds community through food and farming.
We believe these initiatives stay true to the Shaker spirit and our mission, and help define who we are. As the Shakers said when neighbors stole their vegetables, next year we need to plant another row. Our CSA covers a fraction of what it takes to run the entire garden (the remainder is covered by admission fees) so this year we're doing what we can to make the gardens lean (limiting decorative, high-maintenance crops), think of creative revenue streams, and operate with minimal staff and volunteers.
There's much life and excitement in the barn. To stay connected with you while we're closed, we're starting a free weekly virtual Farm Friends tour streaming on Facebook (and posted afterwards on YouTube and Instagram). Join Farmer Billy and others every Thursday at 11am, starting this week. It's perfect for teachers, parents, kids at home, and anyone who loves animals. If you're lucky, you might even catch a piglet being born (they haven't arrived yet).
The Shakers said there's as much reverence in singing Hallelujah as there is in pulling onions. I'm betting I end up doing a fair amount of both when we finally open. In the meantime, we are so grateful for your kind words and support. Thank you. Be well, and enjoy the farm.