Raul Castillo's Chicago World Premiere
Between You, Me and the Lampshade at Teatro Vista
By:
Nancy Bishop

-

Apr 20, 2015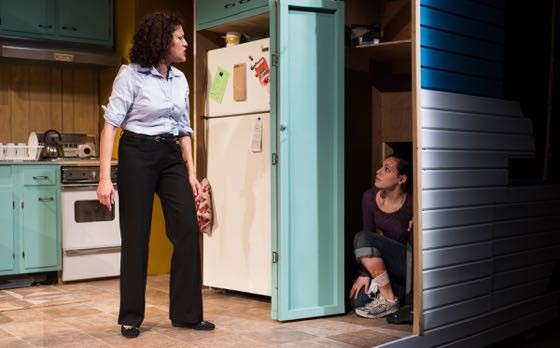 Family secrets and dreams are explored in Raul Castillo's Between You, Me and the Lampshade in a world premiere being staged by Teatro Vista. Set in a barren area of Rio Grande County in south Texas, the play addresses immigration issues as well as family tensions.
Jesse (beautifully played by Sandra Marquez) is an attractive Mexican-American woman with a teenaged son, Woody (Tommy Rivera-Vega), and a career as a social worker. ("Likes to fix other people's problems. Not so good at taking care of her own," Woody tells a friend.) They live in a trailer outside town. Late one night, a Mexican border crosser named Amparo (Aysssette Munoz in a fine performance) breaks into the trailer. Jesse confronts her with a gun. The young woman doesn't speak English and has suffered a serious snakebite. How Jesse tends to Amparo's wounds and her dilemma plays out for the next 100 minutes.
After Jesse (short for Yesenia) decides to help Amparo, she hides her from Woody as well as from her admirer Max, a customs and border protection agent (James Farruggio). ("I believe everybody's hiding something. Everybody has a dark side that they hide from
others. For fear of being rejected," Max says at one point.)
Whether delirious from the snakebite or just dreaming, Amparo summons up Meme (Steve Casillas), her hombre, and they converse in English, much to Amparo's surprise. ("Wait! Why the hell am I speaking in English?") Amparo and Meme were part of a group of Mexicans who crossed the river from Mexico during the night. Meme was killed in a shootout and grows more and more decomposed during Amparo's dreams. Because he's gone, Amparo despairs of getting to Chicago, where Meme has bought them a house.
Jesse's efforts to keep Amparo's presence secret take on a slapstick tone when Max arrives and invites Jesse to go out with him. But Woody, who knows a little Spanish, finds and befriends her. Jesse also is keeping another secret from Woody, who doesn't know who his father was.
Woody is a video game player and, in one story thread, he's playing with Kristen (Bryce Gangel), an LA girl. Their flirtatious gaming turns into a travel itinerary for Kristen, who ends up on Woody's doorstep. How did she get there so fast? "Well, an Uber, two planes, a bus and then a cab. Pretty smooth all things considering."
Later Jesse and Max go out on a date and Max shows his softer side when he discovers Amparo and speaks to her in her own language. Woody and Kristen seem ready to get Amparo to Chicago, so a happy ending may be in store.
Between You, Me and the Lampshade is an entertaining and poignant story told by an excellent cast under the capable direction of artistic director Ricardo Gutierrez. Original music and sound design by Victoria Deiorio create an authentic sound landscape for the story. Jose Manuel Diaz-Soto's scene design is very much an aging trailer interior, including the turquoise kitchen.
The dialogue is lively and well written, with some conversational exchanges in Spanish. The general tenor of the conversation will be fairly clear (although you may miss a few jokes). The script could stand to be tightened up by judicious editing and/or eliminating one character, to cut 15-20 minutes from the running time. The Kristen story easily could be trimmed from the play. She and Woody have some funny lines and an LSD experience, but the relationship doesn't add anything to the story flow...and perhaps detracts from it.
Playwright Castillo may be familiar to audience members as an actor. He plays Richie in the HBO series Looking and costarred with Sandra Oh in Victory Gardens' production of Death and the Maiden last year. He has written several other plays and is a member of LAByrinth Theater Company and a writer in residence with the Atlantic Theater Company, both in New York. He grew up in McAllen, Texas, in the Rio Grande Valley, across the border from Reynosa, Mexico.
Teatro Vista's staging of Between You, Me and the Lampshade continues at Victory Gardens Theater's Richard Christiansen Theater, 2433 N. Lincoln Ave., through May 10. Performances are Thursday-Saturday at 7:30pm and Sunday at 3pm. Tickets are $25-30 and can be purchased online or by calling 773-871-3000.