The Great Animal Orchestra at Peabody Essex Museum
Collaboration Between Bernie Krause and United Visual Artists
By:
PEM

-

Apr 22, 2022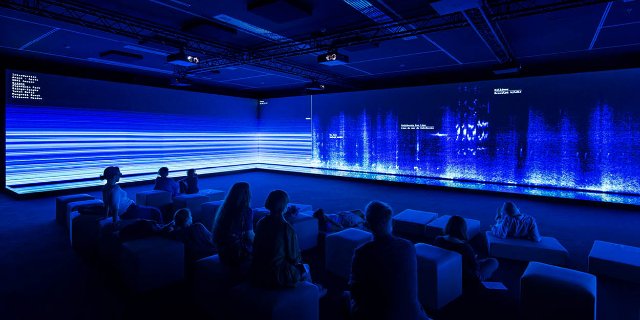 The Peabody Essex Museum (PEM) and the Fondation Cartier pour l'art contemporain are proud to announce a seven-week extension of the North American premiere of The Great Animal Orchestra, a collaborative work between pioneer soundscape ecologist Bernie Krause and United Visual Artists. Due to the overwhelming popularity, the exhibition will remain on view at PEM through July 10, 2022.
Over the course of nearly 50 years, Bernie Krause collected more than 5,000 hours of recordings of natural environments, including at least 15,000 terrestrial and marine species from around the world. Museum visitors can step into an immersive audio-visual experience that celebrates our planet's rich biodiversity and raises awareness of its alarming decline. Along with the installation, a new documentary about Bernie Krause, directed by French filmmaker Vincent Tricon and produced by Fondation Cartier, is part of PEM's exhibition presentation.
Bernie Krause's research offers a wonderful immersion into the sound universe of animals, otherwise known as biophony. Before developing a passion for recording wild soundscapes, Krause worked as a musician and sound designer in the 1960s and 1970s, collaborating with artists like The Doors and Van Morrison. Krause listens to animal vocalizations with a musician's ear and studies his field recordings from the perspective of a scientist. He has become a master in the art of revealing the beauty, diversity and complexity of the languages of wild animals, increasingly silenced by the din and intrusion of human activity. In the 1970s, Krause recorded soundscapes across North America, Latin America, Kenya, Rwanda and Zimbabwe, as well as a collage of soundscapes from the depths of the world's oceans. In recent years, he has returned to these exact sites only to find that more than 50% of the recorded biodiversity has been lost. This unique installation thus makes a plea for preserving the wondrous diversity of the animal world. Krause implores us to listen to these voices from the living, non-human world before they are forever silenced.
To produce The Great Animal Orchestra, Krause collaborated with United Visual Artists (UVA), a London-based art practice led by Matt Clark, whose installations and collaborations integrate new technologies and traditional media. UVA developed computer software that creates extraordinarily detailed, immersive, animated spectrograms generated by Krause's soundscapes to form a visual interpretation of the various global locations and times of day that Krause's original recordings were made. In this environment, we are guided into the interrelationship of the many species performing in the world's great animal orchestras.
"We can solve climate change ... It's not all doom and gloom! That's why the Earth figure is holding up a golden circle — to show viewers the greener future we could have if we helped out and started changing the way we live for the better."
— Artist Jada Mensah, whose work is featured in the exhibition

How can we transform the climate crisis into hope for our shared future? PEM's timely exhibition brings together dynamic contemporary art, hands-on experiences and inspiring works by youth artists to help guide us toward making a difference for the planet.
The majority of Americans are anxious about the climate, yet only a small percentage of us actually talk about it or know how to make a positive impact. Our choices and actions regarding the environment will require imagination and vision, and the steps we take today will have far-reaching ramifications. Now is the time to be bold!
Climate Action leverages creativity, science and participation to raise awareness about the underlying issues of climate change, focusing on known solutions, including Indigenous practices, to foster action. The goal is for each of us to move beyond our fear and feelings of helplessness and make informed choices to take positive steps forward. Collectively, as a growing community, we can take actions that will help lead to a climate-stable and environmentally-just future for all.
On view in the Dotty Brown Art & Nature Center, this exhibition highlights local and regional climate issues and opportunities. Most of the 29 featured artists are based in New England — including works by 9 award-winning youth who participated in the Climate Hope: Transforming Crisis international student art contest in 2020 organized by Bow Seat Ocean Awareness Programs.
Climate Action features works by the following artists. Nelson Andrews (Mashpee Wampanoag), Wes Bruce, Silvia López Chavez, David Greendeer (Narragansett and Ho-chunk), Elisapee Ishulutaq (Pangnirtung Inuit), Moon Hee Kim, Courtney M. Leonard (Shinnecock Nation), Nathalie Miebach, Greg Mort, Rosemary Mosco, Randall Munroe. Jill Pelto, Naima Penniman, Emma Quateman, Susan Quateman, Cara Romero (Chemehuevi), Madeleine Jubilee Saito, Laurie Sproul, and Alan Syliboy (Mi'kmaq). The show also includes award-winning artworks by the following youth: Emily Cai, Dora Chen, Jennifer Liu, Xingfeiyan Liu, Emily McNichols, Jada Mensah, Anjali Mitra, Jasmine Wang, and Michelle Zhan.
To create Climate Action, PEM partnered with The Climate Museum in New York, the first museum in the nation dedicated to the climate crisis. The exhibition is presented as part of PEM's Climate + Environment Initiative and is made possible by the Dorothy Brown Bequest for Art and Nature and the Albert M. Creighton Jr. Fund for Art and Nature. Special thanks to the Creighton family for their generous gift. Additional support was provided by Susan and Appy Chandler, Peter and Sandra Lawrence and individuals who support the Exhibition Incubation Fund: Jennifer and Andrew Borggaard, James B. and Mary Lou Hawkes, Kate and Ford O'Neil, and Henry and Callie Brauer. We also recognize the generosity of the East India Marine Associates of the Peabody Essex Museum and the support and guidance of the Art & Nature Center Visiting Committee.
MORE RESOURCES

To prepare for your visit to The Great Animal Orchestra at PEM, please read this short list of FAQs. You can find artist interviews with Bernie Krause and Matt Clark on PEM's blog, Connected; listen to an episode featuring The Great Animal Orchestra on the PEMcast; and watch this nine-minute video with Krause and Clark on PEM's exhibition page.