Bragan Thomas Provincetown's Theatrical Polymath
From Odets to Caligula
By:
Charles Giuliano

-

Apr 27, 2015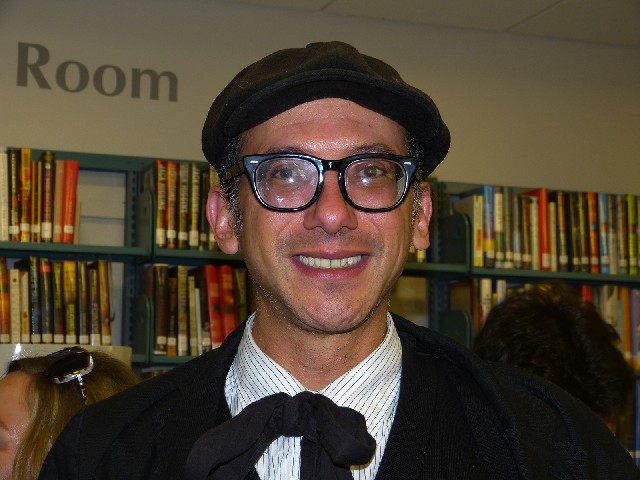 During our recent week on Cape Cod we enjoyed a production of "Waiting for Lefty" by Clifford Odets at the Provincetown Theater.
Overall the production was funky, gritty and uneven. By far the most compelling and eccentric presence on stage was Bragan Thomas in a variety of roles. He is Co-Chair of Programming for the Provincetown Theater Foundation.
Several days later we attended a reading of his play "Caligula and the Three Daggers" with a cast of twelve at the Provincetown Library.
In the title role of Caligula again there was a compelling, quirky, unique and expressive quality to his acting.
I wanted to know more about the theatre and its plans for the coming season. In the process of doing a background check I was surprised to find that we had things in common. In addition to theatre Bragan is a scholar, classicist and specialist in art history and Egyptology. He studied at the renowned Institute of Fine Arts of NYU. He is an ABD in the field who has taught at Rutgers and other institutions.
After two and a half years as an intern in the Egyptian Department of the Museum of Fine Arts I went on to the Institute where I lasted for just a semester. I later returned to art history at Boston University where I am also an ABD in American Art and Architecture.
As a graduate of Boston Latin School I had six years of Latin now largely forgotten. We also studied French and German. Unfortunately languages must be used or they erode. But all that background informed why I was interested in learning more about Bragan's Caligula project. It proved to be an intriguing and insightful dialogue.

Charles Giuliano The historic Provincetown Players were established briefly in 1915. So this, in a sense, is a centennial year for theatre in Provincetown.
The season was launched with the recent production of "Waiting for Lefty" by Clifford Odets.
It is an iconic play of the 1930s. What other plays of an historical nature do you plan for this summer?
In addition to Eugene O'Neill and later Tennessee Williams what other theatre people are a part of the Provincetown legacy?
What has been the motivation and challenge to bring viable and progressive theatre back to Provincetown?
How has the audience responded in terms of supporting your efforts?
Bragan Thomas We have opened the season with "Waiting for Lefty" by Clifford Odets. Our next foray into classic American drama in Provincetown will be a very special presentation called, "Provincetown Theater: Then/Now", to run from July 2 to July 18. This presentation is meant to honor the 100th anniversary of the founding of the Provincetown Players in July 1915. Four plays will be presented as part of the program:
"Constancy" by Neith Boyce
"Suppressed Desires" by George Cram Cook and Susan Glaspell
"Trifles" by Susan Glaspell
"The Sniper" by Eugene O'Neill
The first play famously dramatizes the end of the relationship between Mabel Dodge and John Reed. The two by Susan Glaspell were both written in Provincetown and first read here in 1915-1916, and "The Sniper" was written at Harvard and done in the Provincetown Players' first New York season in 1915-1916. These four plays present a wide range of themes and motifs, ranging from light comedy, to domestic drama, to the horrors of war.
The shows will be presented under the aegis of the Provincetown Theater, with the participation of Wellfleet Harbor Actor's Theater and Payomet Performing Arts Center.
An astounding number of individuals associated with the Provincetown Players were, or later became, leading cultural figures in the United States, including Susan Glaspell, Edna St. Vincent Millay, Wallace Stevens, Edna Ferber, and Theodore Dreiser. Later on, such notable authors as John Dos Passos also worked and lived on Cape Cod.
On July 11th, the Provincetown Theater will host the Eugene O'Neill Society and the Susan Glaspell Society for a special day of presentations in the theater. The plays will be presented at 6PM, followed by a Humanities Panel at 8PM with O'Neill and Glaspell scholars Robert M. Dowling, Linda Ben-Zvi, and Jeffrey Kennedy, moderated by noted O'Neill scholar Susan Rand Brown. The evening will close with a Gala Reception for both the Societies and the production companies. On Sunday, July 12th a breakfast brunch will honor the Societies at 11:00AM, followed by a book talk by Robert M. Dowling, author of "Eugene O'Neill: A Life in Four Acts." Dowling will be available to sign copies of the biography, chosen by the Los Angeles Times as a Book Prize finalist.
In November, the Provincetown Theater will be staging Susan Glaspell's rarely-seen, "The Verge" from 1916. This fine play is noted as the first Expressionist drama in the English language, and concerns itself with the life and loves of a Marie Curie-type female scientist.
The motivation for opening the Provincetown Theater was a collective desire to provide a state-of-the-art black box theater for the use of the Cape Cod and regional arts community. Now in its eleventh year, the Provincetown Theater Foundation has been managing the theater building at 238 Bradford Street as a performance space for a very wide range of theatrical events - concerts, staged readings of new works by emerging authors, our well-known Playwright's Festivals, dance festivals, film screenings, and benefit events have also been done at our theater, along with major shows produced by the Foundation.
Our recent work includes stagings of challenging shows like "Bent" by Martin Sherman, and "A Perfect Ganesh" by Terrance McNally. We encourage presentations by a wide range of regional, national, and international theatrical figures. Some of our shows have toured locally, but we are still in the process of generating additional outreach to expand our ability to promote tours.
CG During our recent week in Provincetown we attended the reading of your play "Caligula and the Three Daggers." There was a cast of twelve with you as the demented Roman emperor.
The naughty history of "Lives of the Twelve Caesars" by Suetonius inspired the Robert Graves novels and PBS series "I Claudius" with the great Derek Jacobi. Gore Vidal took his name off the credits for the Bob Guccioni film "Caliugula." It had an amazing cast and production values. The Penthouse publisher took control and ruined the film by post production inserts of orgies and porn. If the film could be recut we might see that Vidal had intended in taking on that project.
Several years ago in London was saw a production of "Caligula" by Albert Camus in the intimate Donmar Warehouse. This existential play actually managed to humanize a monster with stunning insights to his atrocities.
With this background I much anticipated your new play which as you stated is a work in progress.
Perhaps you might tell us why we need another "Caligula" in 2015? What was your motivation in this project?
BT An excellent question.
The version of the show which you saw was draft number 43. This long and complex script has taken me three years (off-and-on, due to my extensive activities as a performer and my work on a wide range of other scripts) to compose. My academic background is in archaeology and ancient history (I was a Lila Acheson Wallace Fellow in Egyptology at the Institute of Fine Arts, NYU, and taught ancient art at Rutgers, for example).
I am of course, familiar with Suetonius. One thing worth mentioning is that we have literally zero contemporary writings about Caligula - Suetonius wrote a century after his death, for example - with the exception of the work of Philo of Alexandria, who accompanied King Herod on Herod's journey to Rome to plead with Caligula for the Jews to be released from the Emperor's Edict requiring him to be worshipped in their temples.
The section of the play dealing with this event is adapted from Philo (as Shakespeare adapted Plutarch's "Lives" for his plays set in the ancient world). The remaining textual evidence is slender at best - Josephus, for instance, offers a few interesting anecdotes - but the problem with Suetonius is that he does not bother to distinguish fact from fiction.
Of course, Tacitus' "Annals" are critical for anyone writing about or researching the Julio-Claudians, but sadly, that portion of the "Annals" which would have covered Caligula's reign have vanished - the extant "Annals" breaks off in the last part of Tiberius' reign, and picks up again after Claudius comes to the throne.
Another critical missing text would be the "Memoirs of Agrippina Minor," Caligula's sister, Nero's mother, and Claudius' third wife. Written during her forced retirement in Antium, these memoirs chronicled the sufferings of her family, and justified her own career. Agrippina also wrote a "Life" of her mother, Agrippina Major, but that too has been lost.
Robert Graves wrote "I Claudius" many decades ago, and there have been significant advances in the study of the Julio-Claudian period since then. The Bob Guccione film I find utterly worthless as either entertainment, or as history, and while I am an admirer of the Camus play, my aims in "Caligula and the Three Daggers" were quite different.
First, you might have noted the prominence given to the Imperial women - the story is actually not really about Caligula himself, but about the Lady Agrippina and her ambitions. During my research, due to my own training as an Egyptologist and my familiarity with the Ptolemaic Dynasty, I began to wonder if our conception of Caligula as a "monster" or "maniac" might in fact be a gross distortion based on the inability of the Emperor's contemporaries to understand his aims and goals. As you may be aware, Caligula was fascinated by Egypt, and was in fact planning to move the capital of the Empire from Rome to Alexandria before his own assassination.
In my play, I have chosen to depict Caligula as modeling his principate on the example of the Hellenistic monarchies, particularly the Ptolemies, themselves worshipped as incarnations of the divine in Egypt. As a descendant of Mark Antony, Caligula was well aware of his ancestor's relationship with Egypt's last queen, and the extraordinary attention he paid to his three sisters in his lifetime, in my view, can only be explained through comparison with the powerful women of the Ptolemaic dynasty, such as the famous Cleopatra or her predecessor, Arsinoe II, both of whom married their own brothers. Acts which we - and Caligula's own contemporaries - might consider "insane" become much more comprehensible when one considers the possibility that Caligula was remodeling the Augustan principate on the Pharaonic model.
After some years of preliminary research, I sat down to write the piece in September 2011, because of an event in our own world which made me compare the political circumstances of our own day with that of Imperial Rome...The event was President Obama's decision to order the drone killing of Anwar al-Awlaki (an American citizen) and his 16-year old son (also an American citizen, in fact born in this country).
While I take no political stance on Awlaki's anti-American activities, the fact remains that to me, this was a watershed moment in US history - the President of the US now has the power to order long-distance, extra-judicial killings of US citizens without charges or due process. To me, this meant that the US President now is virtually identical to the Emperors of Rome, who also had the authority to kill real or imagined enemies at a distance, without the need for a trial. That same night, I sat down and wrote the opening sequence of the play.
I would not necessarily call the script a "work-in-progress" per se - I'm quite satisfied with Act II, and based on the reading, I may continue to streamline Act I to make it a little shorter, but after 43 drafts, one has to stop sometime and start performing what one has!
The show also treats a period, and a moment, which Robert Graves and other writers have chosen to ignore - the Conspiracy of the Three Daggers was real, and we know that Marcus Lepidus and General Gaetulicus were executed in October 39, and the Imperial sisters stripped of their privileges and sent into exile, but we do not know why, or exactly what happened.
Given my own belief that the real Caligula saw himself as a quasi-divine ruler (albeit one with a peculiar sense of humor), and that his attempts to refashion his role along Pharaonic lines would have been incomprehensible to his contemporaries. I saw this moment as ideal for the drama. No one has ever before covered this period - Robert Graves totally neglected the importance of Caligula's sisters at court (you may recall that the TV series of "I, Claudius" omitted Agrippina and her sister completely) - and so, I saw a gap in the record which I thought it would be interesting to fill.
The play is the first in a series of four works which will examine the decline and fall of the Julio-Claudian dynasty, with Agrippina emerging as the central character throughout. The second play is entitled "The Fall of Messalina" and covers the conflict between Claudius' wife and Caligula's sisters, after Claudius recalled them from exile and brought them back to Rome; the third play, "Agrippina Augusta" will cover Agrippina's career as Claudius' principal wife and her advancement of her own son to the status of heir presumptive (a moment dealt with in Racine's "Brittanicus", but Racine cannot be translated into English with his full power intact) & then Claudius' assassination, while the fourth play (currently titled, "The Singing Emperor") will cover Agrippina's eventual decline and assassination at the hands of Nero, and then Nero's own madness and forced suicide.
One reason why this play took me three years to write is not only because of its own length and complexity, but because I have also been writing its successors at the same time.
I have relied on close readings of many authors, both ancient and modern, in several languages, to compose these works. Historically, "Caligula and the Three Daggers" is as accurate as I could make it - all of the characters, with the exception of Myrrhine, are based on real people who once lived, and whose activities are known and discussed in the ancient texts.
Once, study of the passage of Rome from Republic to Empire was seen as the foundation of what used to be called a classical education. One might claim that our own society is experiencing a similar transformation, and that is partly why I wanted to deal with this subject now. Another reason was to give the Lady Agrippina - perhaps the most powerful woman in Imperial history - her proper due.
CG You write with passion and insight about the history that informs your drama. Indeed a cycle of plays.
As a member of the audience I experienced the reading on several levels. As a scholar with background in the classics I was interested in that detail and its accuracy to the best of my understanding. I am not a specialist of the period. There was another part of myself listening as a critic.
Ultimately the work has to be compelling as drama. That entails decisions about what to embellish or not. This is after all a play and not a book or dissertation.
Only later did I learn of your background in art history and Egyptology. Which I have noted we have in common.
The passage describing "Agrippina Landing at Brundisium with the Ashes of Germanicus" for me vividly evoked the painting of that subject by the history painter Benjamin West. The widow of the brother of Tiberius, a successful general widely loved by the citizens of Rome, has with her two boys who will become emperors. In addition to Caligula she was the mother of the younger and equally decadent Nero.
It seemed that the audience was not really informed about Germanicus and his significance in the play. Later the boy and his uncle are mentioned but not identified. Why not state that they are Claudius and Nero? Of course that introduces complications that require further explorations.
Your play gives a lot of emphasis to bisexuality. It is accurate historically but tilts the drama toward the campy. Pushed a bit further it could be a comedy. Indeed a rather dark one. Or, like Sondheim, perhaps a musical comedy.
It begs the question of decadence as a signifier of the fall of Empires. Arguably that includes both the Romans as well as our own culture. The Romans were about to be overrun by Barbarians while we are facing the threat of fundamentalist, terrorists, ISIS and the Tea Party. Would the drama work differently were it to make these connections?
As a critic I have had intensive dialogues with actors, playwrights and critics about developing plays.
In the Berkshires we have been exposed to being the first to write about plays that went on to Broadway. Of course by then there were changes but it is always interesting to see how our views as first responders compared to the often brutal New York critics. I am always interested to see what they pick up on that I may well have missed.
Of course the ultimate criticism is the response of the audience. In that sense what did you learn from the audience in this first full reading? What changes might we anticipate as the project moves forward?
BT Just two quick things:
1. Agrippina's son was not named Nero at the time of the play - he was only renamed upon his adoption by Claudius about ten years after the events of the show. So rather than confuse the issue by calling him "Lucius," which was his name at the time, I chose not to identify him altogether by name;
2. Claudius is identified as their uncle several times in the course of the piece, right in the opening sequence, for example...
3. I think you are right about finding a spot to disclose a little more about Germanicus, probably during the conspiracy scene between Marcus and Gaetulicus - an excellent suggestion;
4. The Brundisium episode should have evoked the Benjamin West painting because that is the image I had in my mind when I wrote it - good call!
5. I don't mind the tilt towards a slightly campy quality in certain sequences - the play is designed to teeter on the border between reality and fantasy, so this element is meant to sustain that tension - the mix of drama and dark ironic camp comedy is wholly intentional.
Regarding the decadence issue, I have no desire to make a more explicit connection between Rome and our own time - everything you bring up is totally accurate, but I would prefer that the audience make the connection on their own, if they wish.
CG What's next for Caligula?
BT One thing I have learned, structurally, from the Caligula reading is that I am going to have to trim and streamline the first act to cut out about 15 minutes of running time, for the sake of the audience - this means, I think, trimming down some of King Herod's speeches and shortening the laconicum sequence slightly.
I tend to write long shows, as a rule, and one of the most difficult decisions I had to make for Caligula was where to put the intermission - it has to come after the end of the banquet/audience sequence to give the actors time to change during the intermission, which means that I cannot have the first act be as long as it is. One of the most interesting challenges about writing plays is always keeping in mind the problems involved in actually staging the work for performers - do they have breaks? Is there enough time between character appearances so as not to exhaust them?
In the final fight sequence, I also may have to add a few stage directions to make the action a bit clearer. I am one of those writers who tries to cut stage directions down to an absolute minimum, and I can go a bit too far with that choice sometimes. I'm also probably go to extend the Caligula/Mnester/Vinicius play-within-the-play (the pantomime from Book 4 of the Aeneid, for which I relied on John Dryden's 17th century translation) by a few more lines, as I thought that was too short a setup for the last scene. On the whole, though, I am satisfied with the general pacing and flow, overall. Audiences have been responding with enthusiasm to this material, so for me the next stage would be a workshop production.


CG What else is happening?
BT It might interest you to know what else I have been writing other than the quartet of Roman plays, at least as far as full-length shows go...a brief summary is below:
"One Drop: A Story of Old New Orleans" - this piece is about Marie Laveau, Vaudou Queen of New Orleans, and her sister, Madame Legendre, who is "passing" as white;
"A Thousand Miles to Freedom," is a dramatization of the escape of William and Ellen Craft from slavery in 1848 - Ellen disguised herself as a male Caucasian cotton planter traveling with "his" body servant, and the pair successfully made it north;
"Madame Delphine," a dramatization of a George Washington Cable 1881 short story about a New Orleans quadroon who rejects her own daughter so the daughter can marry a white aristocrat legally (this one's a real tearjerker);
"The Lodger," a dramatization of Marie Bellocq Lowndes' 1914 novel about a mysterious lodger in a middle-class English couple's household whose presence causes emotional havoc when those around him begin to suspect he may be "The Avenger," a Jack-the-Ripper-type serial murderer terrorizing London;
"The Girl of the Long Stemmed Roses," - this original backstage comedy about what happens when naive entertainment reporter Barbara Pembroke comes to the dressing room of great star Maud Lamont for a private interview - it's about Hollywood mythology, Broadway legends, betrayal, and friendship.
These are pieces I've finished over the past few months. I'm in the middle of revisions and editing & writing a ton of other stuff too...