Hold These Truths at CV Rep
Last of Series Focused on Immigration
By:
Charles Giuliano

-

Apr 27, 2015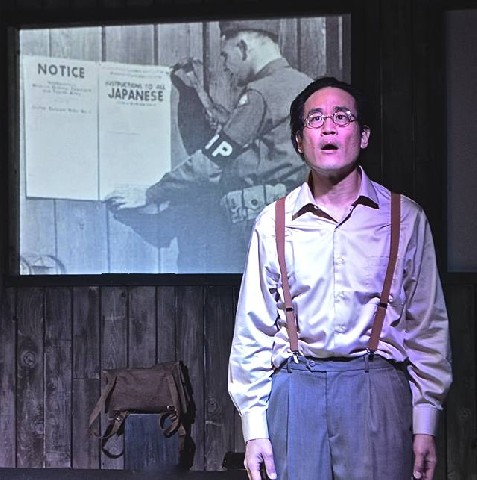 Courage, principle, and perseverance to stay the course despite all odds and pressure is not easily achieved by many people. Also, it's very intimidating for any individual to stand up and legally challenge The United States of America, whatever the circumstances.
Following the December 7, 1941 Pearl Harbor attack by Japan, war-time America and its people were in no mood to listen to reason concerning thousands of natural born citizens of Japanese ancestry whose loyalty was, not only being decided in the court of public opinion, but also in the government's rush-to-judgment decision to suspend the Constitutional rights of all natural-born and naturalized citizens of Japanese ancestry. Thousands of American citizens were placed in hastily built and isolated internment camps around the country. It was a shameful period in American history.
"Hold These Truths" compellingly written by Jeanne Sakata and insight-fully directed by CV REP artistic director Ron Celona is the journey of American-born Gordon Hirabayashi and his pursuit of justice for himself, his family, and for all people who stand up and fight for their guaranteed right during periods of national hysteria, paranoia, and fear. The condition that drives these actions is very much alive and well today, not only in America, but in countries and cultures around the world.
Sakata's wide ranging play that affected many people and generated many stories is synthesized down into one real life character: Gordon Hirabayashi. He is portrayed by talented LA-based actor Blake Kushi. It falls to Kushi, who plays multiple roles, to vividly bring to life the events that occurred over a four year time frame, and its aftermath.
First, is the disbelief by Hirabayashi that his government could or would actually round up some of its own citizens and place them internment camps for "their own safety and the country's national security". This is the very same activity that was going on in Hitler's Germany. This was America not Europe. These abhorrent actions were the reasons the world was fighting in WW II.
Hirabayashi's decision to challenge the country's extra-legal law was a no-brainer. He respectfully declined to sign his own internment papers which launched him onto a historic legal battle and journey: Gordon Hirabayashi vs. The United States of America. It was a journey that would take over forty years for him to be eventually vindicated. He received the nation's highest civilian honor The Medal of Freedom in 1989.
Director Celona very creatively utilizes existing photos, and documents by juxtaposing the material into projection images surrounding the various playing areas; reinforcing the narrative being performed by Kushi. It's a creative blending of theatrical conventions that lend weight and heft to the captivating, and at times, poignant onstage performance of Blake Kushi.
This is one of CV REP's most technically ambitious productions to date. The blending of Jimmy Cuomo's intriguing set design, with the splendid lighting design of technical designer Eddie Cancel is becoming a solid team effort. Ditto, the spot-on Sound designs of John Zalewski, along with the velvet touch of technician Karen Goodwin. Thanks to stage manager Louise Ross, the production and action flows fluidly and smoothly.
"Hold These Truths", is the last production in CV REP's series of plays centered around the theme "America's Melting Pot" – the plays and the stories of the American immigrant experience.
This profound and impressive production performs at CV REP Theatre in Rancho Mirage, CA – the Valley's only all Equity Theatre – and runs through May 3, 2015.
Reposted courtesy of Jack Lyons and Desert Local News.