Uncanny Valley at San Diego Repertory Theatre
New Play by Thomas Gibbons
By:
Jack Lyons

-

Apr 27, 2015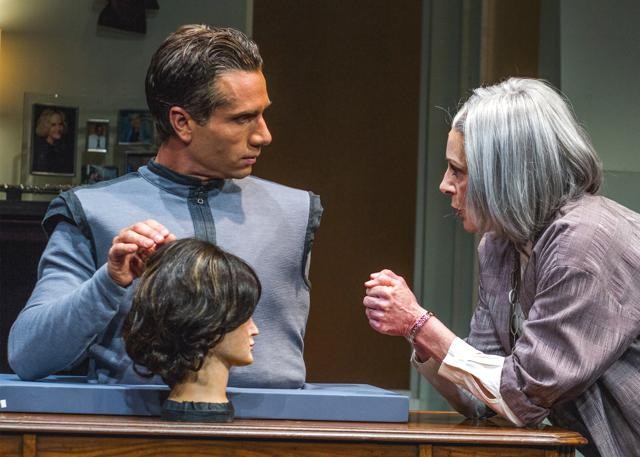 Chasing immortality by downloading one's thoughts and memories into an everlasting human-shaped computer may sound like science fiction, but current research in robotics and artificial intelligence make it possible now. The challenge is to get past the "uncanny valley," the discomfort-zone people experience when seeing electronic recreations of human beings that are not quite believable.
Computers and robotic interaction in every form have been part of our society for some time now. The subject matter of cognitive robots playing an increasing role in our culture is not only intriguing, it now has captured the imagination of playwrights. In October last year I reviewed playwright Jordan Harrison's take on the subject in the Mark Taper Forum production of "Marjorie Prime", starring Lois Smith.
San Diego Repertory Theatre has mounted a National New Play Network Rolling World Premiere of "Uncanny Valley," written by award-wining playwright Thomas Gibbons; performed in their Lyceum Space theatre. The intellectual think-piece, seamlessly directed by Jessica Bird, stars Rosina Reynolds and Nick Cagle in a riveting pas de deux involving avatars and their human creators. "Uncanny Valley" is the story of Claire (Reynolds), a PhD neurobiologist and creator of "Project Julian" (Cagle) her technological robotic progeny.
As the story unfolds, one gets the feeling that Claire who is coming to the end of her career is not that happy about the prospects of retirement with a husband rapidly slipping into dementia and an estranged daughter. She has been "living" with her creation Julian for a long time and the relationship is like that of a mother and her child. There are echoes of the Geppetto/Pinocchio dynamic of one wanting to become a real boy and the creator gaining a real live human as a son.
In the opening scene we see only the head of Julian on top of Claire's desk as if floating in space. We also witness the progress of Claire's work scene by scene as Julian grows in physicality and intelligence; eventually becoming a full grown adult. As the "Julian Project" continues Julian increases his human/avatar persona, to the point where he and Claire now engage in various discussions as most normal friends would do. It's a little surreal observing a machine and a human interacting as equals. One wonders if Julian is really capable of consciousness or feelings that have not been programmed into him. Cagle's performance is absolutely astonishing in the early scenes. It's a testament to Cagle's talent as an actor that he flawlessly performs the physical demands of the role.
Reynolds is not only a marvelous actor with tons of experience, she is also an excellent director which gives her an advantage when creating a character she has to perform. She sees her role and understands it from two points of view. In "Uncanny Valley" the on-stage chemistry between Reynolds and Cagle is just mesmerizing.
From the pen of playwright Thomas Gibbons comes a lot of penetrating, sharp, words, along with fascinating concepts and ideas about the future of a society that has embraced a synergistic marriage between technology and human interaction. There is not, however, a lot of action but one will never become bored, disengaged or drift-away with these two dynamic and gifted performers on stage. Gibbons has written a play whose dialogue has the ring of authenticity to it, along with a believable vision of what the future may hold for society.
The highest compliment a director can receive is that the hands and fingerprints of the director are nowhere to be found. If one was to be picky, my only input would be to suggest that the learning curve concerning what Julian has accomplished in order to be ready for prime time performance be increased from two weeks to at least two months. It just sounds more believable considering what hi-tech algorithms have to be introduced, checked, and tested.
The creative team led by director Bird includes Scenic Designer Robin Sanford Roberts who provides a sterile, sort of futuristic look that is lighted by designer Kristin Swift Haynes; both, however, in 'sync' with the production.
"Uncanny Valley" is an impressive production now on stage at San Diego Repertory Theatre that runs through May 10, 2015.
Reposted courtesy of Jack Lyons and Desert Local News.