Mezze Celebrates Morocco
Tagine Djaj Mqualli, from Meknes
By:
Mezze

-

Apr 27, 2021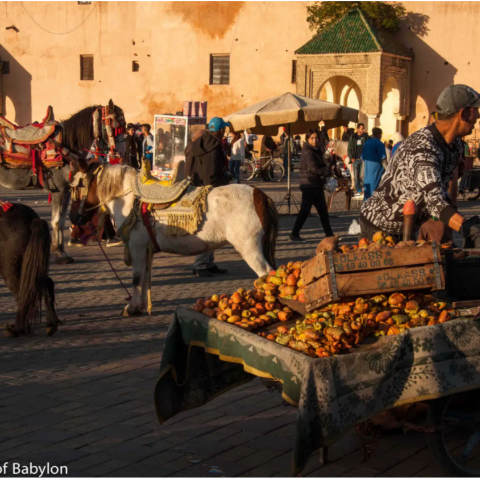 This week we travel to Nancy's mother's homeland of Morocco, a great influencer throughout Mezze's 25 years. The Muslim calendar is in its ninth month, which means it's Ramadan - a 30-day period of reflection and prayer and daily fasting from dawn to sunset. Ramadan ends on May 12 this year, and concludes with a three-day celebration Eid-al-Fitr, which means "breaking of the fast," where communities gather to enjoy festive meals.

Our staff pick is inspired by tagine Djaj Mqualli, from Meknes, one of Morocco's imperial cities and an incredible agricultural region producing and trading olive oil since Roman times. This dish is often featured as part of Iftar, the evening meal following 15 hours of fasting, prayer, and reflection that is eaten at sunset during Ramadan.

Chef Nick's version takes chicken marinated in garlic, ginger, olive oil, paprika, and cumin, which he then slowly cooks with chicken liver, grated onions, parsley, cilantro, and saffron. Towards the end of cooking, the livers are mashed into the sauce to enrich the flavor, then he adds an abundance of olives and preserved lemon.

Moroccan-Style Chicken and Olives
preserved lemon, saffron,
couscous and herbs
$24

To those observing, Ramadan Mubarak!