Dudamel in New York
Old Stalin's Ghost
By:
Paul J. Pelkonen

-

May 01, 2018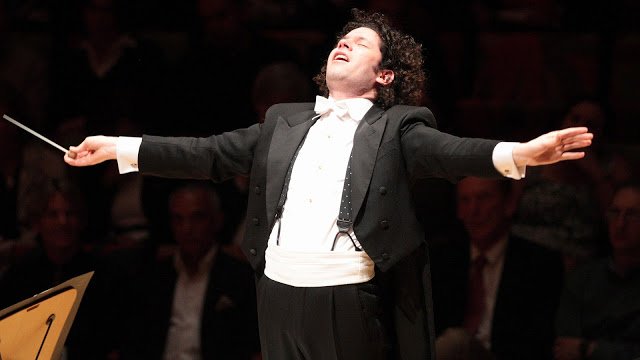 The arrival of the sensational conductor Gustavo Dudamel and the Los Angeles Philharmonic is always a cause for celebration at Lincoln Center. Dudamel remains the leading musical export of Venezuela, the proof that that country's El Sistema program is an entirely successful social experiment in producing quality musicians under difficult circumstances.

This program was a challenging one, pairing Dmitri Shostakovich's Symphony No. 5, a piece written to appease the musical sensibilities of Soviet dictator Josef Stalin in 1937 with two compositions that, had they been performed in Russia at the time would doubtless have drawn the wrath of that music-loving mass murderer. It made for a gutsy, challenging evening but for Dudamel's loyal fans, one that they were willing to endure.

First up was Pollux by former L.A. Philharmonic music director and contemporary composer Esa-Pekka Salonen. This is a tone poem (its twin, "Castor", is already in the works) that explored the composer's influences, with gray, slab-like chords that loomed in a series of progressions. About these stony cliffs, storm-birds whirled and twittered in a series of high musical runs that evoked the ornithological ideas of Olivier Messiaen. It will be interesting to hear this in context with its twin when that work arrives. At its end, Salonen and Dudamel took a bow together, grinning and holding hands.

Then came the boldest part of the evening, Ameriques by Edgar Varese. There would have been a time when playing this riot of squawks, yaps, yips, bangs and wailing sirens (the latter is in the percussion section) would have been akin to the comedy of Spike Jones and P.D.Q. Bach. But no, this is high art now, and it was presented solemnly but exultantly by Dudamel and his vast L.A. forces. This was the revised version that uses a slightly smaller percussion section, but its impact was still physical and jarring. Stalin would have torn out his mustache.

The Symphony No. 5 is one of Shostakovich's most popular works. It was written hastily as a reaction to the Stalin-approved article in Pravda that attacked the composer as "muddle instead of music" following the dictator's attendance of a performance of Lady Macbeth of Mtsensk. In the interest of self-preservation, Shostakovich hid his Symphony No. 4 (already in rehearsals) in a locked drawer. However, the Fourth lived on, its ideas recycled and reshaped into four traditional movements that proved acceptable to the government. And yes, it saved his career and possibly his life.

Dudamel swept into the unsettling intervals that lurched out of the strings, swinging back and forth like a great pendulum with a razor-sharp blade. And then it was off onto the ride into the abyss of the composer's subconscience, with bold and searing themes roaring out of the percussion and brass. The expanded first movement gave way to the thundering Scherzo, with lurching rhythms that recalled the still new influence of Mahler. The Adagio was a frozen lake of sound held still and controlled by Dudamel. The final movement was the most impressive of all, seeming to weep beneath its empty military parade of brass and percussion.

However, this triumphal procession was not enough for the always hungry conductor. He decided to give an soprano-less version of the Liebestod from Wagner's Tristan und Isolde as an extended encore. Without the words, and more importantly without the angst and suffering of the long opera that precedes it, this flowering of dioatonic bliss came across as an empty gesture, the replacement of a night of passion with a quick and necessary exercise of self-satisfaction at the end of a long and ultimately fruitful evening.