Berkshire Cartoonist Howard Cruse
Stuck Rubber Baby's 25th Anniversary Edition
By:
Charles Giuliano

-

May 01, 2020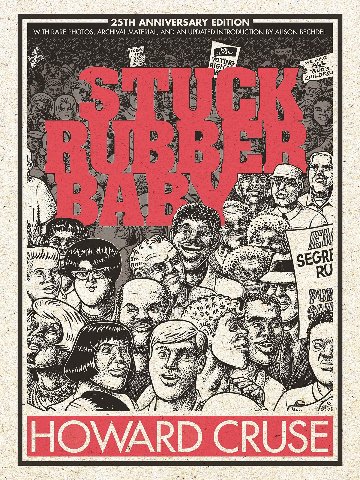 Howard Cruse (May 2, 1944, Springville, Alabama, U.S. Died: November 26, 2019, Pittsfield, Massachusetts, U.S.) was an American alternative cartoonist known for the exploration of gay themes in his comics. First coming to attention in the 1970s during the underground comix movement with Barefootz, he was the founding editor of Gay Comix in 1980, created the gay-themed strip Wendel during the 1980s, and reached a more mainstream audience in 1995 when an imprint of DC Comics published his graphic novel Stuck Rubber Baby.
With his husband, Ed Sedarbaum, for a time they hosted gatherings of the arts community in their North Adams home. I attended a number of those pot luck occasions.
For the Eclipse Mill Gallery, I curated a group show What's So Funny on the theme of humor in art.
It took some persuasion as Cruse was not used to exhibiting work that was created for publication. There was also the matter of the expense of framing.
We settled on getting sheets of glass cut to dimensions of the images. They would then be attached to the walls with clips.
Truth is I'm a better curator than installer.
Handling the glass, we really struggled and his fingers were getting more and more bloody. But the result was quite wonderful and a great addition to a diverse and fun exhibition.
His manner was so refreshingly understated that I had little sense of his fame and reputation. When he passed there were feature obituaries in the New York Times, Washington Post. and the gay media.
What follows is an update by Ed that was sent to friends by e mail.
Yesterday I returned from a walk to find the advance copy of Stuck Rubber Baby's 25th anniversary edition on my doorstep. It's wonderful, with lots of new material: letters from me and his daughter, a brief biography Howard put together, essays by Howard about how the book originally came together, the development of the characters, and pictures from Howard's life and our life together. It becomes available on July 21. I can't tell you how sad I am that he never got to see it. Love Eddie