Tru at Music Theatre of Connecticut
Jeff Gurner Plays Truman Capote
By:
Karen Isaacs

-

May 01, 2021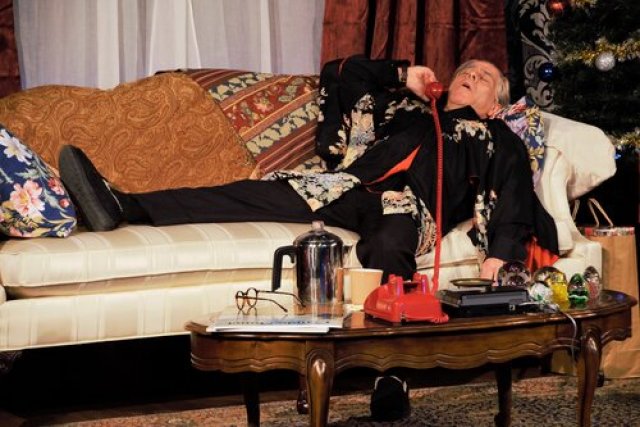 MTC in Norwalk has been one of the intrepid theaters in Connecticut that has done live productions. Even rare it has combined live streaming with a limited audience actually sitting in the theater. The five productions this season have varied in their degree of success. I saw two in person and the others live streaming.
The current production Tru demonstrates some of the problems inherent in trying to do two things at once.
Tru, written by Jay Presson Allen based on the words and work of Truman Capote is a one-person show that almost demands a tour de force performance, which Robert Morse gave in the original production in 1989.
It is set on Christmas Eve 1975 when Capote was in decline. He had become a caricature of himself as the brilliant young writer and become like a camp impersonation.
In the month before the play begins, Capote had sold Esquire magazine the rights to publish an excerpt from Answered Prayers, his unfinished most recent work.
He is astounded by the response to the work from the many wealthy socialites who have been "friends." But what did he expect? Like any writer he used his life and the people met to in his works, and these women easily recognize themselves in the less than charitable characterizations of them, their husbands and their marriages that Capote wrote. He suddenly was a high society pariah – William Paley, head of CBS and his socialite wife, Babe never spoke to Capote again.
What we see is Capote alone in his apartment, drinking and justifying himself. It's not a pretty picture to see this fine writer reduced to a bundle of stereotypes of the alcoholic and drug using homosexual. As the evening goes on, he rambles more and more and makes attempts to make amends to his society friends.
Yet the play has some fascinating moments – aren't we all sometimes attracted to a self-destructive train wreak?
Jeff Gurner plays Capote in this production directed by Kevin Connor. Guner does not hide Capote's self-destructive tendencies and he manages to keep Capote from sounding like a whiner. On some level, he makes us see and feel Capote's pain.
I wish I had seen this in person. I could have focused on Gurner's face. The live stream featured a wide-screen focus that was both distracting and it made it difficult for me on my device to see facial expressions which are so important to a show.
Yet, it is still a show that is worthwhile seeing.
It runs through May 9. For tickets or access to the live stream, visit MusicTheatreofCt.com