Other Than Honorable by Jamie Pachino
Geva Theatre Rochester, NY
By:
Herbert Simpson

-

May 02, 2017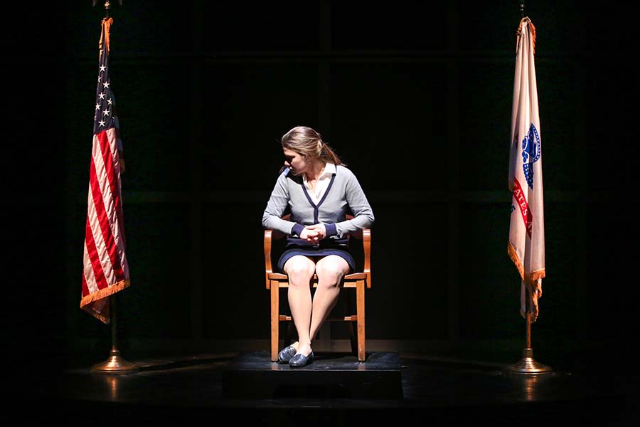 Other Than Honorable
April 25 – May 21, 2017
Geva Theatre – Wilson Mainstage Season
75 Woodbury Blvd., Rochester, NY 14607
By Jamie Pachino
Director: Kimberly Senior
Cast: Rory Cushman, Jessiee Datino, Christian Hurdle, Aime Kelly, Jason Kolotouros, Elizabeth Rich, Jill Rittinger, Ariana Rivera, Barbara Robertson Juan-Francisco Villa, John Wernke
Technical:
Scenic Designer: Jack Magaw
Costume Designer: Nan Zabriskie
Lighting Designer: Josh Epstein
Original Music & Sound Designer: Lindsay Jones
Projection Designer: Miles Polaski
Dramaturg: Jenni Werner
Stage Manager: Frank Cavallo
I think this is an important play. It has won acclaim in development around the country, clearly knocked out the opening night audience on its world premiere at Rochester, New York's Geva Theater Center, and is most certainly headed for a Broadway debut. Some of award-winning, fearless Jamie Pachino's hard-hitting script and trail-blazing director Kimberly Senior's showy, theatrical second act may get more subtly tuned-up first, but Other Than Honorable is sure to make a lasting impression and win awards.
It couldn't be more timely and appropriate. The swelling outrage at the routine sexual manipulation, exploitation and violence against underlings, employees, children and especially women has been in our daily news and courts with sickening regularity in recent years. And, as one character remarks, we now have a President who boasts of assaulting women.
I remember a forum on gay theater when we were stunned by the great playwright/director/teacher and activist Paula Vogel, whose beautiful play "The Baltimore Waltz" I can't even think of without grins and tears. She recalled losing her annotated script in the theater and finding it with an inscription under her name that said she needed to "learn to suck dicks"! Her deadly comment to us was that for a woman who had worked in the theater for decades as a director "…that advice was redundant"!
In "Other Than Honorable" [the term for a military discharge that perhaps won't penalize the recipient, as a "Dishonorable" one does], the central character is a former Army officer who resigned her commission "under sealed terms." She is persuaded to defend a young female soldier who stabbed her Master Sergeant after he raped her. The case opens up a number of similar instances, and finally threatens the lawyer herself. As the revelations increase in number and intensity we begin to fear that the military "codes" may be a regimen of atrocity that cannot be defeated or escaped.
Although Geva's cast includes several unusually experienced and gifted actors, there are also a handful of supporting, mostly local, actors one or two of whom are very young virtual novices, who each have a significant plot-appearance; and every one of them contributes beautifully.
Jessiee Datino has the lead role of Grace Rattigan, whose scenes range from desperate, burned out misery to loving friendship, horror and despair at her treatment and legal impotence, some very amusing and touching alliances. Climactically, she delivers a killer of a summary court speech that rises to punishing indignation and stops the drama with wild audience applause. Datino manages a persuasive reality throughout and admirably avoids immodestly pigging out on this feast.

Elizabeth Rich provides solid, moving support to Grace as Brenda Kurtz, Grace's friend, confidant and psychologist Aime Donna Kelly moves from pliant victim to desperate survivor and finally increasingly confident conspirator as the young rape victim. Barbara E. Robertson makes the complex Alvina Croft (Grace's former mentor, a slickly manipulative lawyer, and finally the villainous General's polished legal advisor) believably assured, glamorous and formidable. And Jason Kolotouros is handsome and plausible [until his basic villainy gets unmasked]. as the villainous Brig. General Gideon Kane, Grace's former lover, and the enabler of the lower-ranked rapists. Kane is the man with all the power and control and even a seeming necessary command that holds this rigged system together..
John Wernke charmingly plays Grace's supporting, loving, husband, Billy Rattigan. He reveals background, then gets wounded and is entirely likable. But he appears onstage only for the curtain calls. Before that we see and hear a good deal of him, but only in projections. Billy is a captain, stationed overseas in some unnamed location, and we see him as he appears online on his wife's computer. Juan Francisco Villa is well cast as Grace's initially timid but supportive friend Major Hector Nunez, and shows subtle growth in resolve. And the four Witnesses (3 women testifying with varying motivations about being raped by their military superiors, and 1 young man forced to be an accomplice) are touching, pathetic, angry, and sometimes surprisingly comic as they fill in the background narrative. They are Rory Cushman, Christian Hurdle, Jill Rittinger, and Ariana Rivera.
It's a good-looking production. Jack Magaw's scenic design begins simply with spot lit characters sitting in front of a curtain and grows in complexity as the plot does. By the time of the trial, Nan Zabriskie's costumes are impressive and revealing, Josh Epstein's lighting clarifies place and mood. Miles Polaski's projections have presented people and places on different continents simultaneously. And Lindsay Jones' music and sound are defining not just action and attitude but sometimes a clash between them. As we shift from an intimate encounter to the military court, for instance, we can see the elegant Alvina sitting in her elaborate court seat with composure as it glides in a semi-circle on a turntable into place among the court's furnishings. Grander things are happening, and we nod with approval.
I don't think "Other Than Honorable" really needs any major changes to move successfully into a Broadway house.