Gerald Finley and Julius Drake at Alice Tully Hall
Among Lincoln Center's Great Performers
By:
Susan Hall

-

May 03, 2018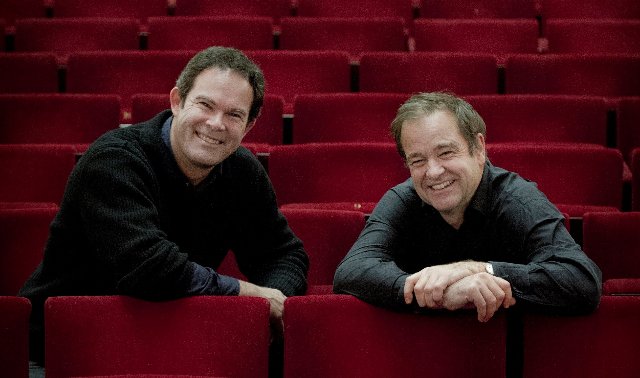 Gerald Finley, Bass Baritone
JuliusDrake, Piano
Alice Tully Hall
Lincoln Center Great Performers
May 2, 2018,
New York, New York
Beethoven: Neue Liebe, neues Leben, Wonne der Wehmut, Mit einem gemalten Band, Aus Goethes Faust.
Schubert: Prometheus Geistes, An den Mond, Rastlose Liebe, An Schwager Kronos, Schäfers Klagelied, Wandrers Nachtlied II, Erlkönig.
Tchaikovsky: Don Juan's Serenade, At the ball, None, but the lonely heart, Over burning ashes.
Rachmaninoff: O stay, my love, In the Silence of the Secret Night, Fate, On the Death of a Linnet, Christ is Risen, Spring Waters.
Gerald Finley, in announcing his program at Alice Tully Hall, said that he and collaborator on the piano, Julius Drake, had selected songs they loved. It is a measure of this consummate bass-baritone and superb piano partner that the songs are also among the most difficult in the literature. These masters of the form did not struggle as they displayed pyrotechnics on the keyboard and a wide-spreading musical and emotional range in the voice.
While we may expect the requited and unrequited angst of love in song, showing off your Peter-Piper-Picked-a-Peck-of-Pickled-Peppers talents not once but twice, is unusual and delightful. Aaron Copland's Ching-a-Ring Chaw was a mouthful of nonsense, delivered with good humor.
Finley started his career as a choir boy. His uncle played the organ at Westminster Abbey and helped pave the way for his gifted nephew to study choral music at King's College, Cambridge.
Only after the pleasures of preparing for a career as a chorister did Finley decide to try the solo voice. He came to New York, where he studied singing "Ah" on A flat, A and G for three years. These drills certainly have paid off. Finley displays a warm, smoothly produced, well-projected bass-baritone which he uses with strength and style. His dynamic range is stunning. He can declaim in the bass, and sing with whispered intimacy in the upper registers, where he often resonates a poignant longing. He moves smoothly over a very wide-range indeed.
Julius Drake, a full partner, makes his comments at the keyboard. For the Beethoven, we heard often beautifully drawn out notes, which are still full of vigor. Drake pointed out that there were three heroes in the first half of the program, Beethoven, Schubert and Goethe whose words provided the text.
The exquisite Schubert group, a series of beautifully crafted miniatures, veered from fun to deeply sad. This contrast was typical of the evening's program. The ballad-like "Prometheus" erupted with resentment and defiance. "Ghost Greetings" was haunting, and "To the Moon," had an innocent simplicity. "Shepherd's Lament" and "Wanderer's Night Song II" were mournful in sharp contrast to the Gothic tale "Erl-King" which terrified and came to a shocking conclusion.
Finley dedicated the Rachmaninoff, set to the late baritone Dmitri Hvorostovsky, as an extraordinary interpreter of these songs. "Fate" with its vocal and pianistic rendering of the lead phrase of Beethoven's Fifth Symphony, was memorable. Finley was careful not to repeat "Stúk stúk stúk" (Tap tap tap) to become comical, keeping all of the menace of fate's repeated knocking. The dark "Christ is risen" and ebullient "Spring waters" made for a triumphant climax.
Folk song arrangements concluded the recital, including Copland's "Ching-a-Ring Chaw," and the Scottish tune "My Heart's in the Highlands," arranged by none other than Respighi. Britten's charming version of "The Crocodile," a very tall tale, was delightful. The actual encore, Haydn Wood's sentimental ballad "Roses of Picardy," honored the centenary of the end of World War I, as well as Finley's young daughter, Rose.
Gerald Finley is a treasure to be heard in any place and at any time.