One More Yesterday
A World Premiere Production in South Florida
By:
Aaron Krause

-

May 05, 2023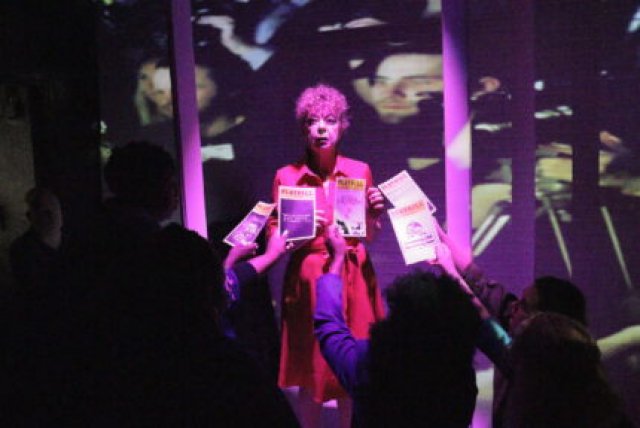 Let's not mince words: Versatile theater artist Ronnie Larsen's new musical, One More Yesterday, is a life-affirming, funny, touching, imaginative, and gorgeous show that will invigorate you.
Indeed, if you are a theater lover, ever thought you were "too old" for a new beginning, or felt it was too late to receive a second chance, get thee, ASAP, to The Foundry. That intimate space near Ft. Lauderdale is where the roughly two-hour-and-15-minute One More Yesterday runs through May 14 in an energetic, eye-popping, and believable production.
Larsen is an actor, director, playwright, and producer. Audiences in most major U.S. cities have seen his work. In addition, patrons in countries such as Canada, Australia, Italy, and England have experienced Larsen's shows. According to Larsen's website, www.ronnielarsen.com, 24 of his pieces have received productions, five Off-Broadway.
You may know Larsen for his risqué, sex-themed pieces that, if they were films, would receive X ratings. Certainly, Cocksucker: A Love Story, Bathhouse the Musical, Making Porn, and The Penis Talk Show come to mind.
Of course, the aforementioned shows carry value. However, lately, Larsen has produced and written more wholesome, substance-filled shows intended for universal audiences.
For instance, last September, Larsen presented his play, The Actors. This meaty piece touches on many themes.
One More Yesterday is also a layered piece. Specifically, it is about dreams, generational differences, new beginnings, finding success in unlikely places, second chances, forgiveness, reconciliation, regret, optimism, life's value and embracing life, the importance of keeping busy, the need to treat senior citizens with dignity, as well as the power and importance of art. These days, with people working well past retirement age, One More Yesterday is timely.
In addition, One More Yesterday is a love letter to live theater and a treat for any aficionado. You will find references to such shows as A Streetcar Named Desire and William Shakespeare's plays. Meanwhile, the song "Tomorrow's Horizon," sounds like a modern-day, "Tomorrow," that anthem of hope from Annie. Undoubtedly, Larsen's love for live theater shines through One More Yesterday.
While Larsen penned the musical's libretto, Dennis Manning wrote the lyrics, and Manning and Bobby Peaco co-composed the bright musical numbers.
This is the same team behind Larsen's Off-Broadway-bound musical, Come Out! Come Out! That 1920s, New York City-set piece tells the story of men who explore their homosexual desires through dance during a time in which sex, or perhaps even a kiss between people of the same gender could lead to beatings and arrests.
Like Come Out! Come Out!, One More Yesterday takes place in New York City. However, the setting for the latter show is 2023.
In One More Yesterday, we meet 83-year-old fictional Broadway star Lydia Taylor. While she has won multiple Tony Awards, Taylor has not worked in many years, and yearns to return to the spotlight. In fact, she itches to simply work (in her field, of course).
Taylor lives in a rent-controlled apartment and receives regular Social Security checks. But when it comes to finding work, she cannot even get her agent to return her calls. Consequently, she refers to her agent as the devil (expect a visual surprise). Further, Taylor is estranged from her daughter, and has never met her grandchildren.
Taylor has told her closest relatives that she is too busy working to see them. In reality, though, Taylor has not worked in many years, and cannot afford to travel. And, apparently, she is too proud to let her daughter pay for her airfare.
Shortly after One More Yesterday opens, Taylor enters her agent's office begging him to find her work. Soon, she becomes cast in a no-budget horror film titled The Vigalanny Granny. In that show, captured by a cell phone, Taylor plays a vigilante Grandma who, with her sewing needles, stabs to death those who intend to harm her. Surprisingly, this small film changes Taylor's life in a huge way. But even with her newfound riches, something is missing from Taylor's life…something she needs to fix.
One More Yesterday is wise without condescending, sweet without being saccharine, and sincere without preaching.
However, nothing is perfect, and neither is One More Yesterday. For instance, when an actor auditioning for the same part as Taylor wishes the senior citizen, "Good luck," Taylor merely thanks her.
It is hard to believe that a veteran performer such as Taylor would not raise her eyebrows at a fellow thespian wishing her "Good luck." Indeed, it's bad luck to say good luck in the performing arts, especially in the world of live theater. Instead, you say "Break a leg."
Also, clearly, Taylor loves performing. In fact, she says she would never do anything else. But why? What about performing does she love so much? What does it do for her? Perhaps a song explaining Taylor's love for acting would be a welcome addition to the script.
Speaking of music, the songs, while not memorable, reinforce the upbeat mood of the musical. Properly, other songs are quieter and more contemplative. In general, the songs help the characters express themselves on a deeper level. The actors sing pleasantly and expressively, under Peaco's music direction. In addition, Peaco deftly accompanies the performers live on piano.
The performers prove to be triple threats; they act, sing, and dance deftly on set designer Melquisedel Dominguez's minimalist, yet striking set. In the singing department, we must especially mention Toddra Brunson, who plays the film's director with vitality. In addition, she demonstrates the ability to hold a high note for an impressive length of time.
Oren Korenblum is the choreographer. He has created elegant and upbeat dancing moves which befit the show and its characters. In particular, it is heartwarming to watch lovebirds Lydia (Angie Radosh) and Benji (Avi Hoffman) dance with flair toward the end. In addition, part of the fun of watching this production is witnessing Benji and the ensemble dance with brooms as dance props (Benji is a janitor for the filming production of The Vigalanny Granny).
Larsen sensitively directs the production with attention to detail. For instance, Hoffman and Radosh display strong chemistry as Benji and Lydia. At one point, Benji kneels before Taylor perhaps as a sign of humility.
A touching tenderness exists between Benji and Lydia. Also, you sense their mutual respect for each other and the zest for life that each character possesses.
Individually, Hoffman imbues Benji with an endearing modesty, politeness, gentility, sincerity, and kindness. Hoffman's Benji is the kind of person we all wish we knew.
Hoffman, who has gained worldwide recognition as an award-winning performer, possesses an impressive naturalness onstage. It is a joy to watch him in action.
Similarly, it is a delight to witness Radosh succeed in portraying Taylor's many layers. With excellent stage presence, shining dark eyes, and a smile that conveys charm and elegance, the award-winning performer, resplendent in a red outfit, excels in her multifaceted performance as the complicated, well-drawn Lydia Taylor.
Radosh's Taylor is, at turns, credibly charming, regretful, determined, desperate, discouraged, optimistic, glamorous, sarcastic, modest, proud, and polished.
Radosh is nimble in the role and speaks and sings with a sharp but pleasant voice. Also, she segues seamlessly from one believable emotion to another.
Sheena O. Murray also delivers a fine performance as Taylor's estranged daughter, Liz. In particular, Murray oozes bitterness as Liz sings a song recalling how, as a child, her mother received all the attention and Liz received none. Murray's Liz is also, at first, convincingly cold to her mother but eventually warms up to the older woman.
The supporting cast also triumphs. It includes Brandon Campbell as a well-meaning agent, JaVonda Carter as the movie's eager writer, and Casey Sacco as young Lydia.
The action flashes back and forward in time, but thanks to Larsen's clear direction and deft pacing, the production is easy to follow.
Also, behind the scenes, Preston Bircher's lighting design contributes positively to the production in several ways. For instance, a clear change in lighting suggests movement to a different location or a change in time. Also, Bircher's lighting gives off varying degrees of intensity, and the artist uses colors wisely.
Dominguez's set design is simple. In addition to realistic looking set pieces that roll on and off the stage seamlessly, the main set features a white wall and door frames.
The light-colored wall, in addition to contrasting well with other dark parts of the stage, emphasizes the general brightness of the show. And the doorframes reinforce the idea that in live theater, not everything is literal. We must use our imagination at times. Besides, George Schellenger's projection design deftly fills in the blanks by placing us, for instance, on New York City's subway.
Sacco, in addition to acting in the production, designed the character-appropriate costumes. Contrast exists in the outfits. For instance, some glisten, symbolizing Taylor's star power, while others are more modest, befitting Benji's character.
One More Yesterday has earned a long theatrical life. Hopefully, more productions will follow this impressive world premiere.
One More Yesterday from Ronnie Larsen Presents runs through May 14 at The Foundry at Wilton Theatre Factory, 2306 N. Dixie Highway in Wilton Manors. The running time is two hours and 15 minutes with one intermission. Show times are 8 p.m. Wednesday through Saturday and 3 p.m. Sunday. Tickets range from $37.50 to $53.50. Call (954) 826-8790 or go to https://www.playsofwilton.com.-