WAM Theatre 2021
Madeline Sayet's Solo Show Where We Belong
By:
WAM

-

May 06, 2021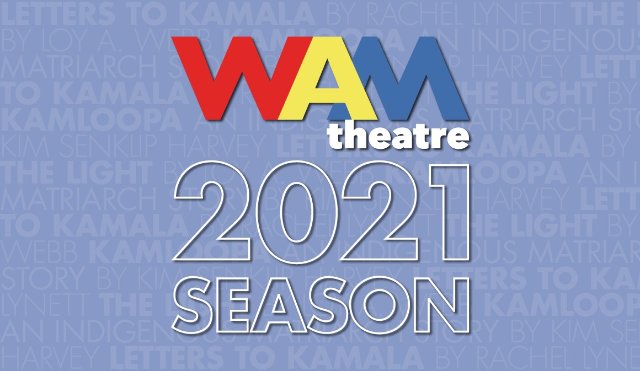 WAM Theatre will present a special limited run of Madeline Sayet's solo show, WHERE WE BELONG, directed by Mei Ann Teo. This Woolly Mammoth Theatre Company film adaptation, produced in partnership with Folger Shakespeare Library, is filming now at Woolly Mammoth in Washington, D.C., and will be available for digital streaming through WAM Theatre June 24-27, 2021 only. This limited engagement for WAM audiences will be a benefit, with proceeds dedicated to furthering and deepening WAM's accountability work.
In 2015, Mohegan theatre-maker Madeline Sayet travels to England to pursue a PhD in Shakespeare. Madeline finds a country that refuses to acknowledge its ongoing role in colonialism, just as the Brexit vote threatens to further disengage the UK from the wider world. In this intimate and exhilarating solo piece, Madeline echoes a journey to England braved by Native ancestors in the 1700s following treatise betrayals – and forces us to consider what it means to belong in an increasingly globalized world.
"Madeline Sayet's WHERE WE BELONG blew me away when I first encountered it. Her openness to sharing her journey across the sea, into the sky, and back home to Mohegan is a deep, insightful, and often very funny, revelation." says Maria Manuela Goyanes, Artistic Director of Woolly Mammoth. "WAM is an ideal partner for this broader visibility because their mission aligns with Woolly's - we both try to create space for stories that have yet to be heard, especially those from women of color. It's so exciting to be able to share this show with their audiences, who may never have seen it in D.C. otherwise."
All of us at WAM are honored to partner with Woolly Mammoth Theatre in D.C., a theatre whose work we've long admired. Madeline Sayet's beautiful solo piece reckons with our past, while honoring the many different stories of the Indigenous cultures surrounding the place we live and work.
Writer/performer Madeline Sayet is someone who understands this power of stories, she says: "For my people, the Mohegans, the ways the stories are passed down is sort of an act of resistance. I grew up knowing the stories were special, because they come from the land we stand on. Both my great-aunt, Gladys Tantaquidgeon, and my mother [Melissa Tantaquidgeon Zobel] have been medicine women. I was raised with this consciousness of story medicine and the idea that stories aren't neutral: They can heal people and they can damage people. A lot of my own work is about the transformative capacity of stories. What stories do we need to bring us together; what stories do we need to imagine a way forward and create hope? What are the stories that enable us to create our best possible futures?"
WHERE WE BELONG features Madeline Sayet and premiered at Shakespeare's Globe in London in 2019 as part of Border Crossings' ORIGINS Festival, the UK's only large-scale multidisciplinary festival of Indigenous arts and culture. While at Woolly Mammoth, Madeline has been adapting the original piece for the digital realm with Director Mei Ann Teo.
PERFORMANCE SCHEDULE
WHERE WE BELONG will be available for streaming on demand June 24-27, 2021. Tickets will go on sale at WAMTheatre.com on Tuesday, June 1st.
ABOUT MADELINE SAYET
Madeline Sayet (she/her) is a Mohegan theatre maker who believes the stories we pass down inform our collective possible futures. She has been honored as a Forbes 30 Under 30 in Hollywood & Entertainment, TED Fellow, MIT Media Lab Director's Fellow, National Directing Fellow, Drama League Director-In-Residence, NCAIED Native American 40 Under 40, and a recipient of The White House Champion of Change Award from President Obama. She serves as the Executive Director of the Yale Indigenous Performing Arts Program (YIPAP), Co-Artistic Director of Red Eagle Soaring: Native Youth Theatre, and is known throughout the field for her work promoting indigenous voices and decolonizing systems. Recent directing work includes: Tlingit Christmas Carol (Perseverance Theatre), Midsummer Night's Dream (South Dakota Shakespeare), Henry IV (Connecticut Repertory Theatre), Whale Song (Perseverance Theatre), She Kills Monsters (Connecticut Repertory Theatre), As You Like It (Delaware Shakespeare), The Winter's Tale (Amerinda/HERE Arts), Poppea (Krannert Center, Illinois), The Magic Flute (Glimmerglass), Macbeth (NYC Parks), Miss Lead (59e59). This fall, she joins the English Dept at Arizona State University with the Arizona Center for Renaissance and Medieval Studies. www.madelinesayet.com
ABOUT MEI ANN TEO
Mei Ann Teo (they/she) is a queer immigrant from Singapore making theatre & film at the intersection of artistic/civic/contemplative practice. As a director/devisor/dramaturg, they create across genres, including music theatre, intermedial participatory work, reimagining classics, and documentary theatre. Teo's international work includes Belgium's Festival de Liege (Lyrics From Lockdown, "Truly polished, meaningful and entertaining" -New York Times), Edinburgh International Fringe (MiddleFlight, "Stunning" -Scotsman), Beijing International Festival (Labyrinth - Top 8 in Beijing News). Dim Sum Warriors the Musical by Colin Goh and Yen Yen Woo, composed by Pulitzer Prize winner Du Yun for national China twenty-five city tour, Jillian Walker's world premiere SKiNFoLK: An American Show at the Bushwick Starr (NYTimes Critics Pick, NYMag's matrix "Highbrow and Brilliant"), Madeline Sayet's Where We Belong at Shakespeare's Globe. Teo is the Visiting Professor of Directing at Carnegie Mellon University and the Artistic Director of Musical Theatre Factory.
WAM 2021 Sponsors
WAM Theatre is supported by the New England Foundation for the Arts through the New England Arts Resilience Fund, part of the United States Regional Arts Resilience Fund, an initiative of the U.S. Regional Arts Organizations and the Andrew W. Mellon Foundation, with major funding from the federal CARES Act for the National Endowment for the Arts.
WAM's current sponsors include Adams Community Bank, Berkshire Roots, Berkshire Taconic Community Foundation, Blue Q, Blue Spark Financial, Brabson Library & Educational Foundation, Canyon Ranch, Chez Nous, The Dylandale Foundation, Greylock Federal Credit Union, Haven Cafe and Bakery, Health Professional Coaching, Heller & Robbins, Interprint, Lake House Inn, Lee Bank, Only in my Dreams Events, Onyx Specialty Papers, Outpost Productions, Prix Fixe, RB Design Co., The Rookwood Inn, T Square Design Studio, Toole Insurance, and a. von schlegell & co.
WAM Theatre's 2021 Season is also supported in part by grants from The Berkshire Film and Media Collaborative, Berkshire Regional Planning Commission, Massachusetts Cultural Council, and Mass Humanities. And also by grants from the Dalton Cultural Council, Lee Cultural Council, Lenox Cultural Council, and the Otis Cultural Council.
ABOUT WAM THEATRE
WAM Theatre is a professional theatre company based in Berkshire County, MA, that operates at the intersection of arts and activism. WAM creates theatre for gender equity and has a vision of theatre as philanthropy.
In fulfillment of its philanthropic mission, WAM donates a portion of the proceeds from their Mainstage productions to carefully selected beneficiaries. Since WAM's founding in 2010, they have donated more than $80,000 to 19 local and global organizations taking action for gender equity in areas such as girls education, teen pregnancy prevention, sexual trafficking awareness, midwife training, and more.
In addition to Mainstage productions and special events, WAM's activities include innovative community engagement programs and the Fresh Takes Play Reading Series. To date, WAM has provided paid work to more than 500 theatre artists, the majority of whom are female-identifying.
As a civic organization that embraces intersectional feminism (feminism that acknowledges how multiple forms of discrimination overlap), WAM understands that to address one piece of systemic discrimination means we have to address them all. This is on-going personal and professional work at WAM for the staff and board, detailed in their recently released accountability plan.
WAM Theatre has been widely recognized for having a positive impact on cultural and community development in the region. WAM is the recipient of the Creative Economy Standout Berkshire Trendsetter Award and previously, was named Outstanding Philanthropy Corporation of the Year by the Western MA Chapter of the Association of Fundraising Professionals. Kristen van Ginhoven, WAM's Producing Artistic Director, was honored by the Berkshire Theatre Critics Association (BTCA) with the prestigious Larry Murray Award, presented at the discretion of the BTCA Board to a person or theatre project that advances social, political, or community issues in Berkshire County.
For more information, visit www.WAMTheatre.com
ABOUT WOOLLY MAMMOTH THEATRE COMPANY
Woolly Mammoth is "the hottest theater company in town" (Washington Post); priding itself on developing, producing, and making theatre that disrupts conventional processes and stimulates transformative experiences. For almost four decades, Woolly has held a unique position at the leading edge of the American theater, earning a reputation for staying "uniquely plugged in to the mad temper of the times" (New York Times). The co-leadership of María Manuela Goyanes (Artistic Director) and Emika Abe (Managing Director) is supported by a core company of artists that holds itself to a high standard of artistic excellence. Woolly is relentless in its desire to take risks, experiment, innovate, interrogate, and create a radically inclusive community. Located in Washington, DC, Woolly Mammoth stands upon occupied, unceded territory: the ancestral homeland of the Nacotchtank whose descendants belong to the Piscataway peoples.
ABOUT FOLGER SHAKESPEARE LIBRARY
Folger Shakespeare Library is the world's largest Shakespeare collection, the ultimate resource for exploring Shakespeare and his world. The Folger welcomes millions of visitors online and in person. With the Folger, you can experience the power of performance, the wonder of exhibitions, and the excitement of pathbreaking research. In addition to being the world's largest Shakespeare collection, the Folger is home to major collections of other rare Renaissance books, manuscripts, and works of art. Located a block from the US Capitol, the Folger serves a wide audience of scholars, visitors, teachers, students, families, and theater- and concert-goers. Join us online, on the road, or in Washington, DC. www.folger.edu