Corona Cookbook: Strawberry Rhubarb Pear Galette
When Life is Bitter Sweet
By:
Pippy Giuliano

-

May 08, 2020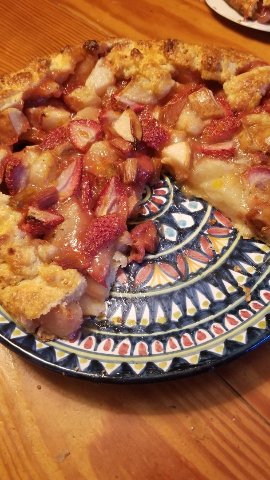 Dessert in the time of Quarantine - Strawberry Rhubarb Pear Galette
Quarantine themes for the baker:
In it together: fruit complements
Forgiveness: a dough that forgives a heavy hand, Amen.
After scoring 25 pounds of flour from COSTCO otherwise unavailable at the grocery store, it felt safe to splurge on a dessert – something new - une galette (open faced rustic tart). The rhubarb patch offers up a few scrawny stems so I paired a cup of rhubarb with sad strawberries from the fridge hanging out with an equally rejected, too soft Bartlett pear.
Dough:
1 ¾ C flour 1/3 C sugar
¼ C Cornmeal (Polenta) 1 stick cold butter – cut into pieces
½ tsp salt 1/3 c buttermilk (or ice cold water)
Mix the flour mixture with the butter. When butter well worked in, slowly add buttermilk. If not enough to shape into a ball add more liquid a little at a time. Wrap up the dough and refrigerate for an hour.
Filling:
4 C fruit ½ C sugar
2 Tbs flour Small amount of cinnamon
Juice of ½ lemon Zest of 1 orange or ½ lemon zest
A couple of splashes of rosewater if you have it
Directions:
Roll out the dough on a piece of parchment paper. (Makes it easier to transfer to the cookie sheet.) Approximately a 14 inch disk.
Dump the fruit on to the center of the disk.
Overlap the dough to seal the fruit from leaking.
Dot the fruit with 1 Tbsp. butter and brush the crust with a beaten egg.
Preheat the oven to 375 degrees. Bake for 1 hour or until the crust is brown and the fruit bubbling.
Serve warm. If available, a dollop of ice cream would be too much to hope for.